It's never too late to plan a weekend away! Whether you're looking for family-friendly fun, a relaxing weekend rejuvenating, or eclectic experiences – Bentonville's got something special for you!
Special shoutout to the companies, partners, and hardworking individuals that keep our community actively engaged and evolving!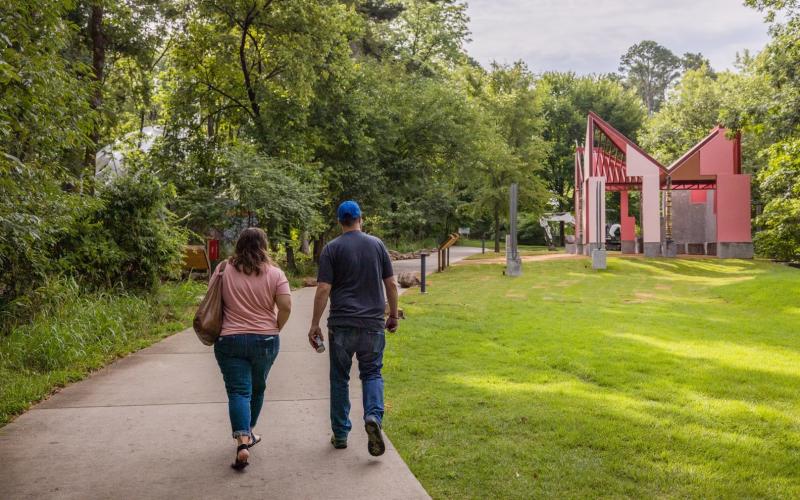 Photo by Stephen Ironside
ART EXHIBITIONS
In addition to the events listed below, Crystal Bridges has launched several incredible exhibitions that will be available on display this Labor Day Weekend.
We the People: The Radical Notion of Democracy, available until January 2nd, 2023
Architecture at Home, available until November 7th, 2022
Listening Forest by Rafael Lozano-Hemmer, available August 31st until January 1st, 2023
Let's Talk: Art of the West, available until September 12th, 2022
Wa Kuk Wa Jimor / Canoe of One Community, available until November 1st, 2022
Loring Taoka: ±, available until March 27th, 2023
The Momentary's current exhibitions will be on display until September 25th, 2022:  
EVENTS
🎶  2+1 with guest Tomoko Kashwag Live at the Five and Dime. Come out and enjoy free entertainment on the beautiful downtown Bentonville square. There are only a few Live at the Five and Dime performances left of the season!
📅  Thursday, September 1st, 5:30 PM - 7:30 PM
🎶 Feisty Femmes is the annual Bartizal Family Memorial Concert, honoring the memory of the fiercely supportive Dolores Bartizal.
📅 Thursday, September 1st, 5:30 PM – 7:30 PM
🎨 Drop in at Crystal Bridges' Art Trail at Night for an evening of creative fun under the stars with music, food, artmaking, and more.
📅 Friday, September 2nd, 8:00 PM – 11:00 PM
📍 South Lawn, Art Trail
🏁 Amped Electric Games is the world's first electric unicycle games EVER! This event will host 15 EUC riders from around the world and more than 60 of the major EUC manufacturers. With an epic agenda like this – you won't want to miss this!
📅 September 2nd - 4th
📍 Benton County Fair Grounds
🚴‍♀️🏊‍♀️🏃Trifest for MS, the largest triathlon in Arkansas, is back for its 11th annual event! Trifest for MS draws people from all over the country to Bentonville to help raise money for multiple sclerosis research.  
📅 September 2nd - 4th
 🎸 Catch Ley Lines Live at Bike Rack Brewing Co. Ley Lines, a Rock & Roll band out of Fayetteville, AR.  Their blend of rock & roll with country and blues influences, gives them a sound that is raw, emotional, and distinctly Arkansan.
📅 Saturday, September 3rd, 7:00 PM – 9:00 PM
✨ There are only 2 more Bentonville block parties on the books for this year. Experience Downtown Bentonville's First Friday next weekend!
📅  Friday, September 2nd, 11:00 AM – 9:00 PM
📍 Bentonville square
🧑‍🌾  Downtown Bentonville's Farmer's Market
📅 Thursday, September 1st, 5:00 PM – 8:00 PM| Saturday, September 3rd, 7:30 AM – 1:00PM
📍 Bentonville square
🍻  Join Bentonville Brewing Co for 90's Themed - Labor Day Trivia! The 1st place winner will receive a $35 gift card and the 2nd place winner will receive a $15 gift card!
📅  Monday, September 5th, 4:00 PM – 6:30 PM