July is National Ice Cream Month! This sweet, month-long celebration came about in 1984 when Ronald Reagan signed a bill stating that we should enjoy the delicious, frozen treat as a way to cool off during the hottest month of the year, according to the International Dairy Foods Association.
In Bentonville, we have lots of flavorful ice cream options sure to cool you off and satisfy your sweet tooth throughout the month of July and beyond. Read on to learn about each of Bentonville's iconic ice cream locations.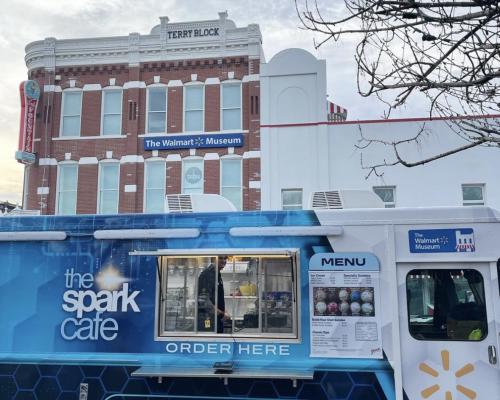 Image courtesy @bentonvillearkansas on Instagram
The Spark Café, located next to the Walmart Museum in Downtown Bentonville, is a tribute to Walmart Founder Sam Walton's love for ice cream. The café proudly serves Yarnell's, a family brand made in Searcy, Arkansas, and the first ice cream Walton ever sold. 
Pro tip: ask for the Spark Cream and get their special, blue and yellow Walmart-themed ice cream! Although The Spark Cafe is undergoing renovations along with the Walmart Museum until 2024, you can still get their delicious ice cream from the Spark Café Ice Cream truck located just outside the shop.
3–9 pm, Monday
12–9 pm, Tuesday–Friday
9 am–9 pm, Saturday
12–9 pm, Sunday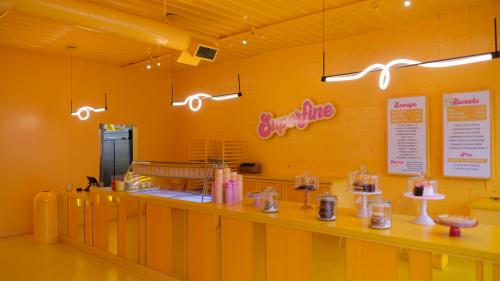 Trendy, brightly colored, and serving all kinds of sweets including cookies, specialty desserts, and ice cream—you can't be sad in Superfine! From the moment you walk in the doors the feeling of summer blasts off the walls and all the kind people serving delicious treats there. Swing by for the ultimate sweet tooth fix. 
2–9 pm, Tuesday–Thursday 
2–10 pm, Friday 
12–10 pm, Saturday 
Closed Sunday + Monday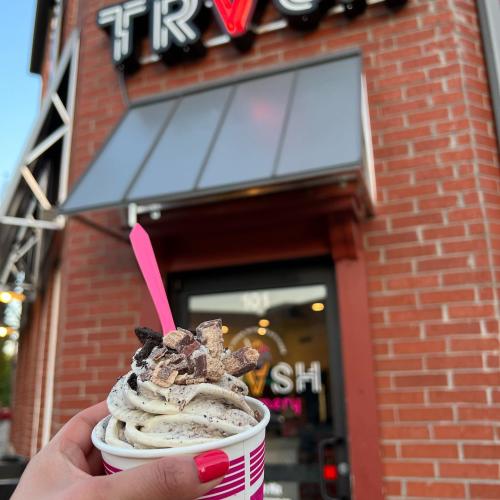 Escape back in time to the 80s at Trash Creamery's neon-themed shop with all the "oldies" you can think of, from movies to music and more! This ice cream shop has a wide variety of delicious toppings, like cereal, fruits, and candies. Some of the greatest mashups come from Trash, swing by to experience it for yourself.
12–10 pm, Tuesday–Sunday 
Closed Monday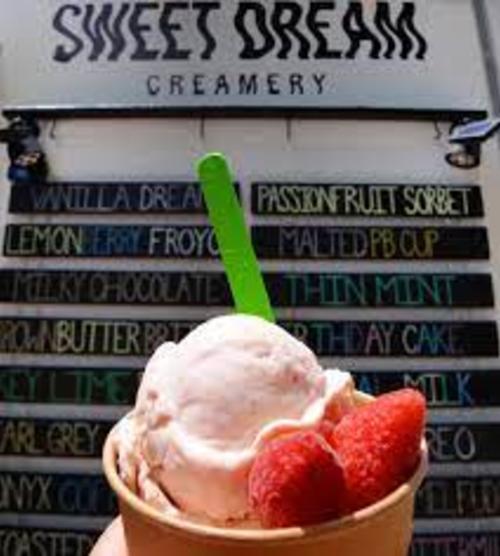 Image courtesy of Sweet Dream Creamery
Sweet Dream Creamery is housed in a cute food truck directly across from Lawrence Plaza, just off the square. Cool off on a hot, summer day with a dance through the splash pad; then find out what ice cream dreams are made of at this delicious shop.
11 am–9 pm, Tue–Sun
Closed Monday
Now that you've learned all about the sweet frozen treats that we have to offer, plan a visit to Bentonville during National Ice Cream Month to try them all for yourself! 
We're happy to help you with any additional information needed during your stay in Bentonville. Our Visitor's Center is open 9 am to 5 pm, Monday through Friday, and 9 am to 3 pm on Saturdays. Stop by and see us at 406 SE 5th Street, Suite 6.