Things to do at Coler Mountain Bike Preserve
Welcome to Coler, where all are invited to adventure. You will find the opportunity to shred on your bike, run on the trail, stroll on the walkway, camp with friends, or relax with your family in nature. With truly something for everyone, Coler is an outdoor destination for all walks (or rides) of life. Its mountain bike trail system is maintained and operated at a world-class level and is the mecca for mountain bikers looking for the most diverse array of options in Northwest Arkansas. For low-key adventure, it offers walking trails and various features for celebrations, events, or reflection.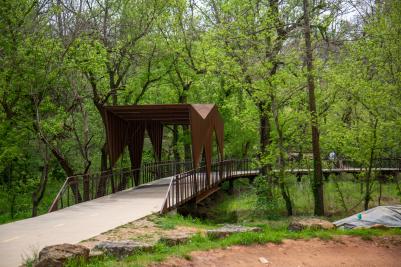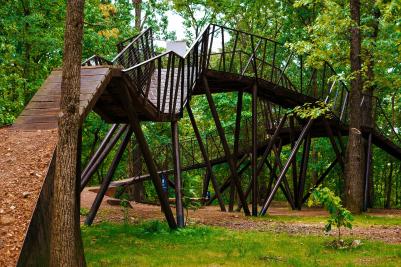 Mountain Bike Trails and Features:
Experience 17+ miles of flow, cross-country, rock, dual slalom, and flyover trails, along with stone, wood, metal, and jump features. At the top of Coler Mountain, riders arrive at the Hub, a 20-foot-tall steel and wood structure that launchers riders into any of three downhill runs: Fire Line, Cease and Desist, and Rock Solid. A comprehensive trail map can be found here.
Modern restrooms with hot showers
Bike wash and repair station
Water bottle refill station
Fire pits
Dispersed tables
Dispersed hammock stands
Wagon for cargo (4 wagons on site, must be returned to wagon station after use)
This one-of-a-kind open-air cafe in the middle of Coler Mountain Bike Preserve is accessible only via paved trail.
More information on Coler Mountain Bike Preserve can be found here.