Welcome back to Northwest Arkansas, Hogs! As you ease into your academic rhythm, we're here to remind you to take time to venture beyond campus and explore all our region has to offer. In Bentonville, just a 30-minute drive north of Fayetteville, you'll find artistic inspiration, outdoor adventures, culinary delights, and lots of picture-perfect spots.
Read on for a Bentonville day-trip guide that's tailor-made for you.
But first, coffee
In Bentonville, not only do we love quality coffee, we love vibey coffee shops too! It's important to the whole experience; wouldn't you agree? No matter what your vibe is, business, outdoorsy, modern, or classic, there's a coffee shop in Bentonville sure to suit both your style and your taste buds.
Airship: Airship has four locations in Bentonville, including their flagship location on Fifth Street; one at Ledger, the first bike-able building and another great study spot; an open-air concept at Coler Mountain Bike Preserve; and their newest location at the Pumphouse in Downtown Bentonville.
ONYX Coffee Lab, or BONYX (iykyk): Located on the Bentonville Square.
Heroes Coffee: Located across from Thaden School on 8th Street.
The Meteor: Located right across from Visit Bentonville's office on Fifth Street.
Kennedy Coffee: Located on 14th Street.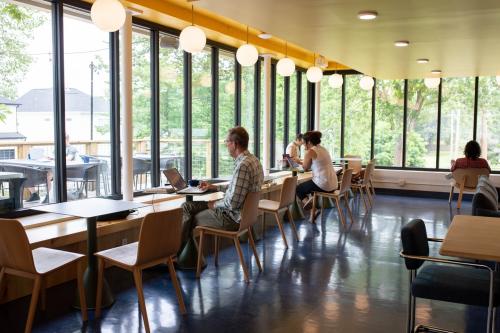 Airship at the Pumphouse. Photo courtesy of Downtown Bentonville Inc.
Free Art Experiences
Crystal Bridges Museum of American Art is a world-class art museum located in the heart of Bentonville. Designed by renowned architect Moshe Safdie, Crystal Bridges Museum of American Art, is a spectacular oasis of art, nature, and architecture. 
The museum's permanent collection spans five centuries of American artwork, from Early American to the present, and is always free to visit. From the trails to the galleries, you can discover works by prominent artists. Pro tip: the museum includes a restaurant and coffee bar and a library, which make top-notch study spaces!
The Momentary is Crystal Bridges's satellite contemporary art space and music venue. With its ever-changing exhibitions, performances, and community events, the Momentary is a hub where you can explore the intersection of art, technology, and culture. General admission to the galleries here is always free. Pro tip: there's normally a beautiful, millennial pink ONYX Coffee Lab, but while they're undergoing renovations, visitors are invited to enjoy coffee and snacks at the Momentary's Tower Bar, overlooking breath-taking views of town.
21C Museum & Hotel is located on the northeast corner of the Bentonville Square and includes 12,000 square feet of exhibition space, The Hive restaurant, and 104 snazzy hotel rooms. Even if you aren't staying at the hotel, it's worth popping in to explore the galleries, open for free every day with rotating exhibitions. 
Public Art is abundant in Bentonville! From murals, to sculptures, to neon installations—keep your eyes peeled because there's art on every corner. Check out our public art map here, and see if you can check off every artwork.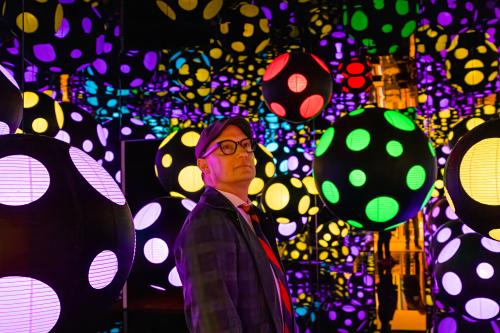 Yayoi Kusama, "INFINITY MIRRORED ROOM—MY HEART IS DANCING INTO THE UNIVERSE," 2018. © Yayoi Kusama. On view at Crystal Bridges Museum of American Art. Photo by Drager Creative.
Lunch & shopping 
8th Street Market is your one-stop shop for lunch, shopping, sweet treats, and public art. This community-focused food hub includes everything from tacos and ramen to cheese and chocolate and a wide selection of food trucks. There's truly something for everyone here—come see for yourself!
The Bentonville Square is another great option for a leisurely stroll and a delightful interlude of lunch and shopping. Amidst an array of charming local boutiques and delectable eateries, you'll find exactly what you need here.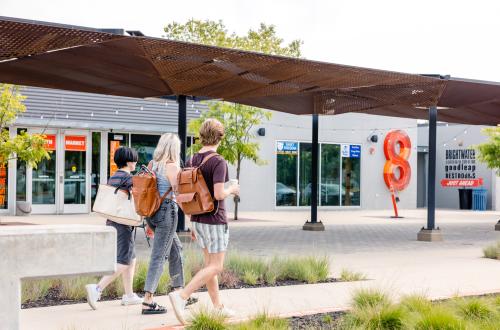 8th Street Market. Photo by Drager Creative.
Afternoon Ride
Coler Mountain Bike Preserve is the perfect spot for an afternoon ride. With over 19 miles of flow, cross-country, rock, dual slalom, and flyover trails, a campground, an open-air coffee shop, and an exercise staircase, opportunities for adventure are endless!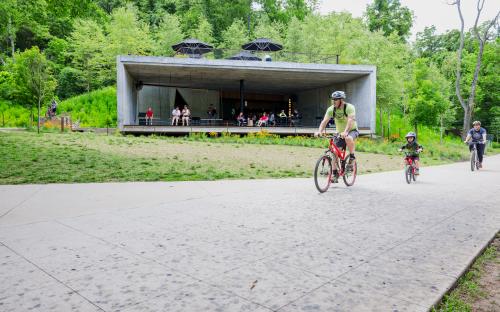 Airship at Coler Mountain Bike Preserve. Photo by Drager Creative.
Dinner & Dessert
Farm-to-table menus, traditional and modern takes on High South cuisine, authentic international palates—you name it. There are so many great restaurants in Bentonville, it's hard to choose just one for dinner! The good thing is you can keep coming back and trying them all. Browse all the restaurant and dessert options in our Bentonville Dining Guide.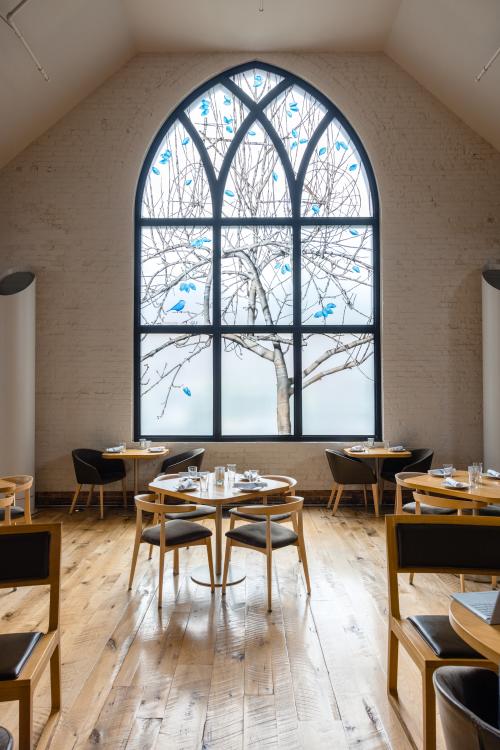 The Preacher's Son. Photo by Drager Creative,
Weekly Events
Every Thursday between 5 and 8 pm and Saturday between 7:30 am and 1 pm, Downtown Bentonville Inc. hosts a Farmers Market on the Bentonville Square that includes a selection of fresh local fruits, vegetables, meats, and cheeses. On Saturdays, an Art Market happens adjacently with unique fine art for sale by local artists.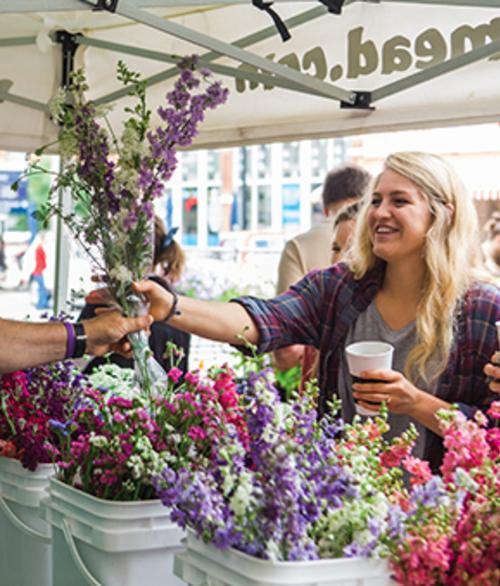 Bentonville Farmers Market. Photo by Drager Creative.
We look forward to welcoming you to our charming city soon!
We're happy to help you with any additional information needed during your stay in Bentonville. Our Visitor's Center is open 9 am to 5 pm, Monday through Friday, and 9 am to 3 pm on Saturdays. Stop by and see us at 406 SE 5th Street, Suite 6.