Nestled amongst the woodlands in north Bentonville is a beloved fifty-two-year-old establishment known for their traditional steak and meat selections. Formerly known as Fred's Hickory Inn, the Table at the Hickory Inn brings the familiarity of the 1970s smoke and steakhouse and mixes it with new, elevated flavors and decor.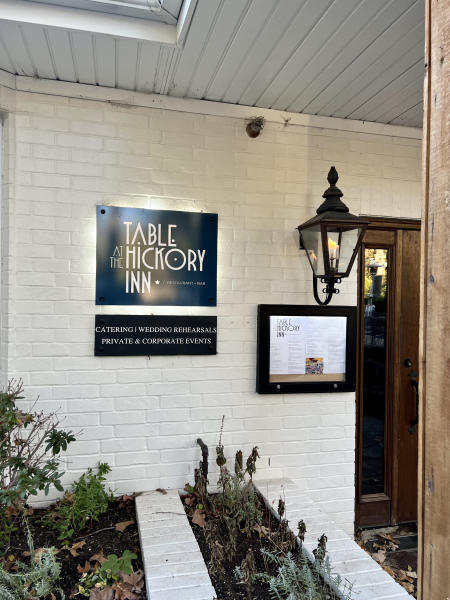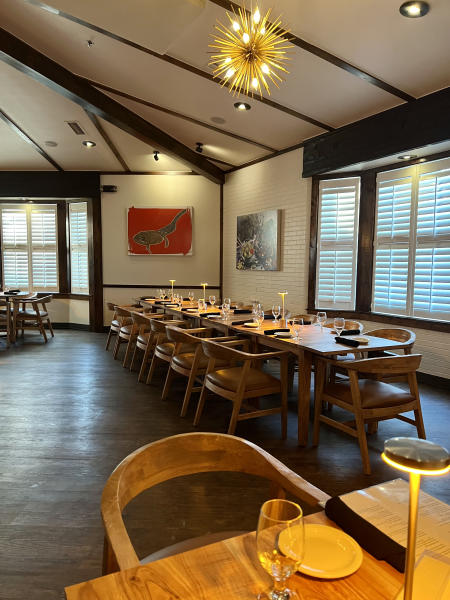 Images left to right: Exterior of Table at the Hickory Inn. Interior of Table of Hickory Inn.
Table at the Hickory Inn is the perfect place when you're in the mood for a good steak (like a really good one). Smoked Prime Rib, Charleston Filet, Ribeye, Smoked Baby Back Ribs—the list goes on. Not a red meat person? Don't fret! They have other delicious dishes from pasta and fish to salad and soups, including their popular starter, Local Goat Cheese Fondue with extra virgin olive oil, Greek olives, roasted tomatoes, and served with grilled sourdough. Another popular starter is their Deviled Eggs that are lightly fried with million dollar bacon and sauteed shrimp. Drooling yet?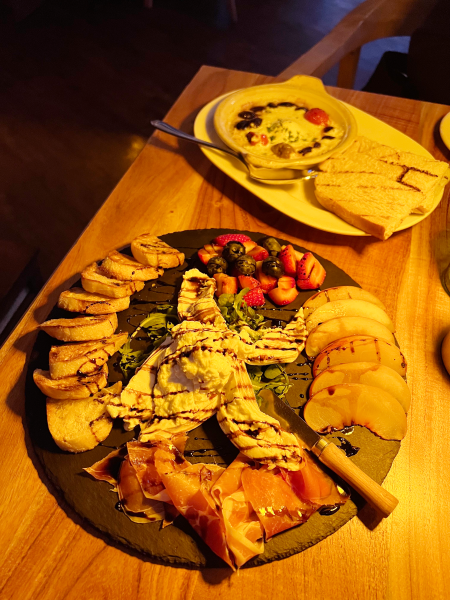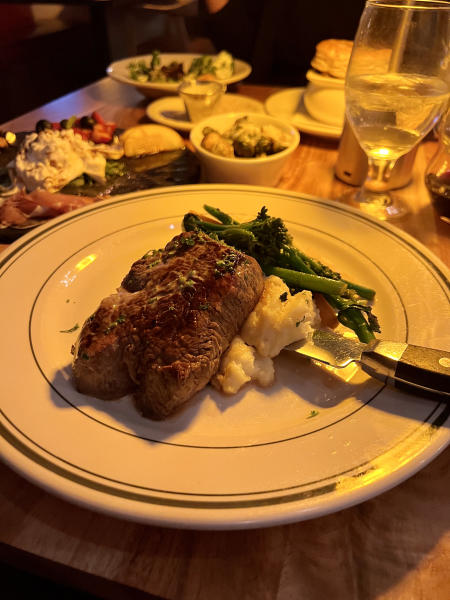 Images from left to right: Grilled Compressed Peach & Burrata Board with prosciutto and compressed mixed berries, and Local Goat Cheese Fondue with extra virgin olive oil, Greek olives, roasted tomatoes, and grilled sourdough. Charleston Fillet with creamy cognac reduction, something green, and smashed potatoes.
The dishes at Table at the Hickory Inn are very filling. They are what my dad calls "a good value," which means you'll be leaving full, happy, and possibly with leftovers to eat on the following day. 
This is a place I enjoy taking my parents and/or grandparents to wherever they are in town. From the nostalgia of the restaurant's history to the diversity of the offerings, we always have a great time. So whether it's been a while since you've been to Hickory Inn or you've never been at all, don't skip out on this treasured restaurant. 
Before your next visit to Table at Hickory Inn, here are some important details to keep in mind:
Location: Located off North Walton Blvd up a slight hill in a charming, historic inn (see map here).

Parking: It's free and located onsite out front. Biking? Unfortunately, there are no bike racks onsite.

Reservations: Table at Hickory Inn does not accept reservations. However, if you have a large group, I'd recommend calling them in advance at (479) 273-3303 to ensure they are able to accommodate. 

Hours: Closed Mondays. Open 11 am–9 pm, Tuesday–Saturday, 9 am–2 pm Sunday for a family-style brunch, and 2–9 pm Sunday for dinner.

Dining Area: Includes seating options of tables and booths. Outdoor seating is available pending weather conditions.
---
ABOUT EMILY NEUMAN
Emily is all about travel, wine, art, and food. She has lived in Northwest Arkansas for over 12 years, and has a bachelor's degree in hospitality management and a master's degree in communications. When not exploring Northwest Arkansas, you can find her traveling to some of her favorite spots around the world and discovering new ones. 
---
LOOKING FOR FOOD RECOMMENDATIONS DURING YOUR VISIT? WE'VE GOT YOU COVERED! BROWSE OUR RESTAURANT GUIDE.
 We're happy to help you with any additional information needed during your stay in Bentonville. Our Visitor's Center is open 9 am to 5 pm, Monday through Friday, and 9 am to 3 pm on Saturdays. Stop by and see us at 406 SE 5th Street, Suite 6.