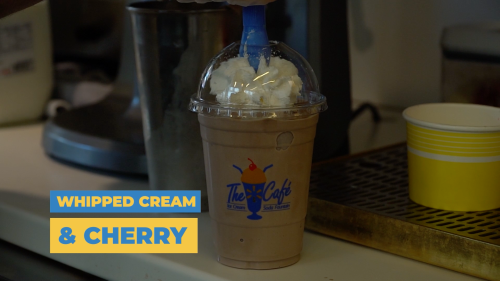 Sam Walton loved his ice cream, so the Walmart Museum truly wouldn't be complete without its final stop: the Spark Cafe & Soda Fountain. The Spark Cafe is a staple on the Bentonville square. It has quickly become one of my favorite places to go for a refreshing drink in the middle of my work day (I order the Five & Dime Sparkler every time). Today, we're showing you the Spark Cafe's rendition of a chocolate shake. 
The special thing about the Spark Cafe's chocolate shake is that it's made with Yarnell's ice cream. "Albert Yarnell, founder Ray Yarnell's son, remembers the days of delivering ice cream with his dad to Sam Walton's Ben Franklin store in Newport, Arkansas. Yarnell's was the very first ice cream Sam ever sold, so the tradition has been kept alive at The Spark Café," the Walmart Museum says. CLICK HERE to watch how this special shake is made!
Visit the Spark Cafe for a scoop or two, a shake, or a soda on your next stroll through the Bentonville square!