Whether you're down to dine, interested in aviation, or sightseeing – don't fly past LOUISE Café at Thaden Field!
---
Treat yourself with a visit to LOUISE at Thaden Field. As known as the Bentonville Municipal Airport (VBT), Thaden Field is home to a flight school, an exhibition hangar, and an FAA knowledge testing center. Thaden offers it all! From food, scenic flights, discovery flights, lawn games, fuel, and provisions. There's an abundance of family-filled fun near LOUISE at Thaden Field. Walk through the wetlands of Osage Park, play a game of pickleball, or get your archery on at the Quiver! 
---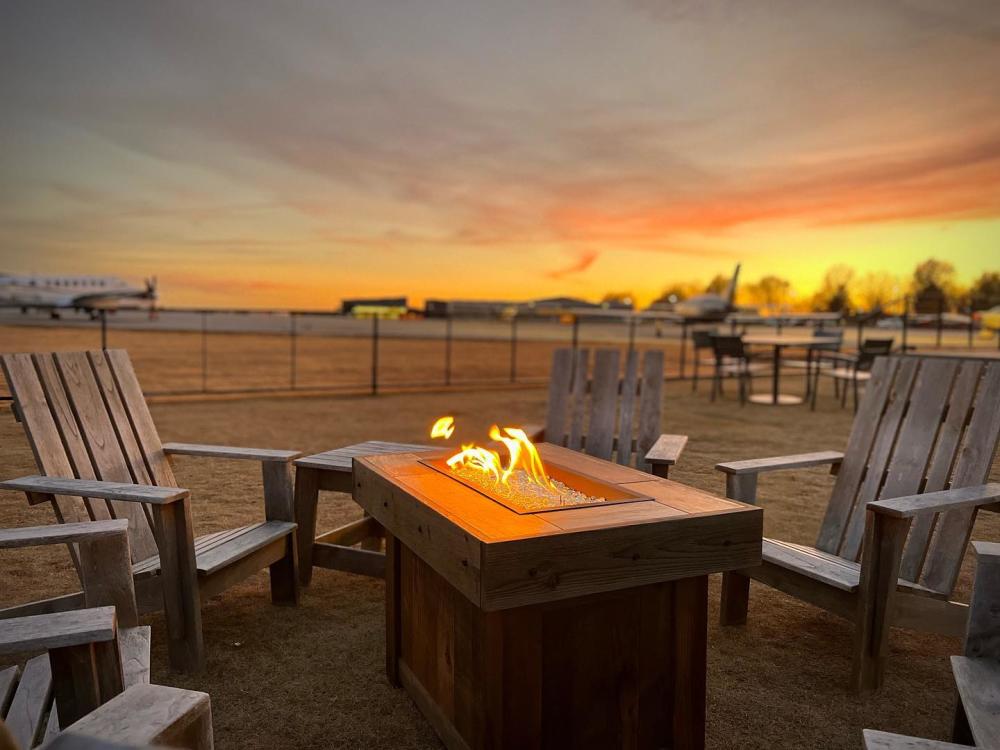 Pictured: LOUISE at Thaden Field. Photo courtesy: LOUISE Café.
---
Down to dine
Fuel up at LOUISE, a modern all-day cafe that serves diner-style breakfast, brunch, and dinner at Thaden Fieldhouse. Treat yourself to a $100 Burger, Hippe Hash, or Fresh Salmon Salad - these dishes are sure to surprise with delight! In addition to the delicious dining and drink options, LOUISE offers both indoor and outdoor seating with beautiful views of planes taking off and landing over Lake Bentonville. 
---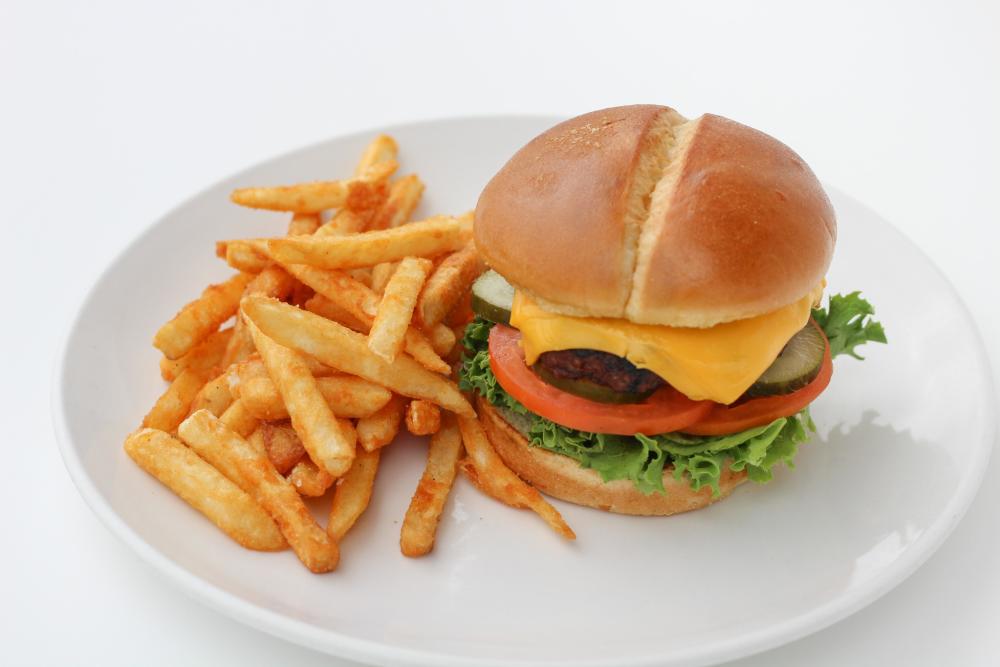 Pictured: $100 Burger. Photo courtesy: LOUISE Café.
---
ALL THINGS THADEN
All things LOUISE and Thaden Field honor Iris Louise McPhetridge Thaden (1905-1979). Born and raised in Bentonville, Louise was a proud Arkansan and one of the greatest aviators of her time. Her pioneering and innovative spirit will inspire all of the guests who dine at LOUISE.  
---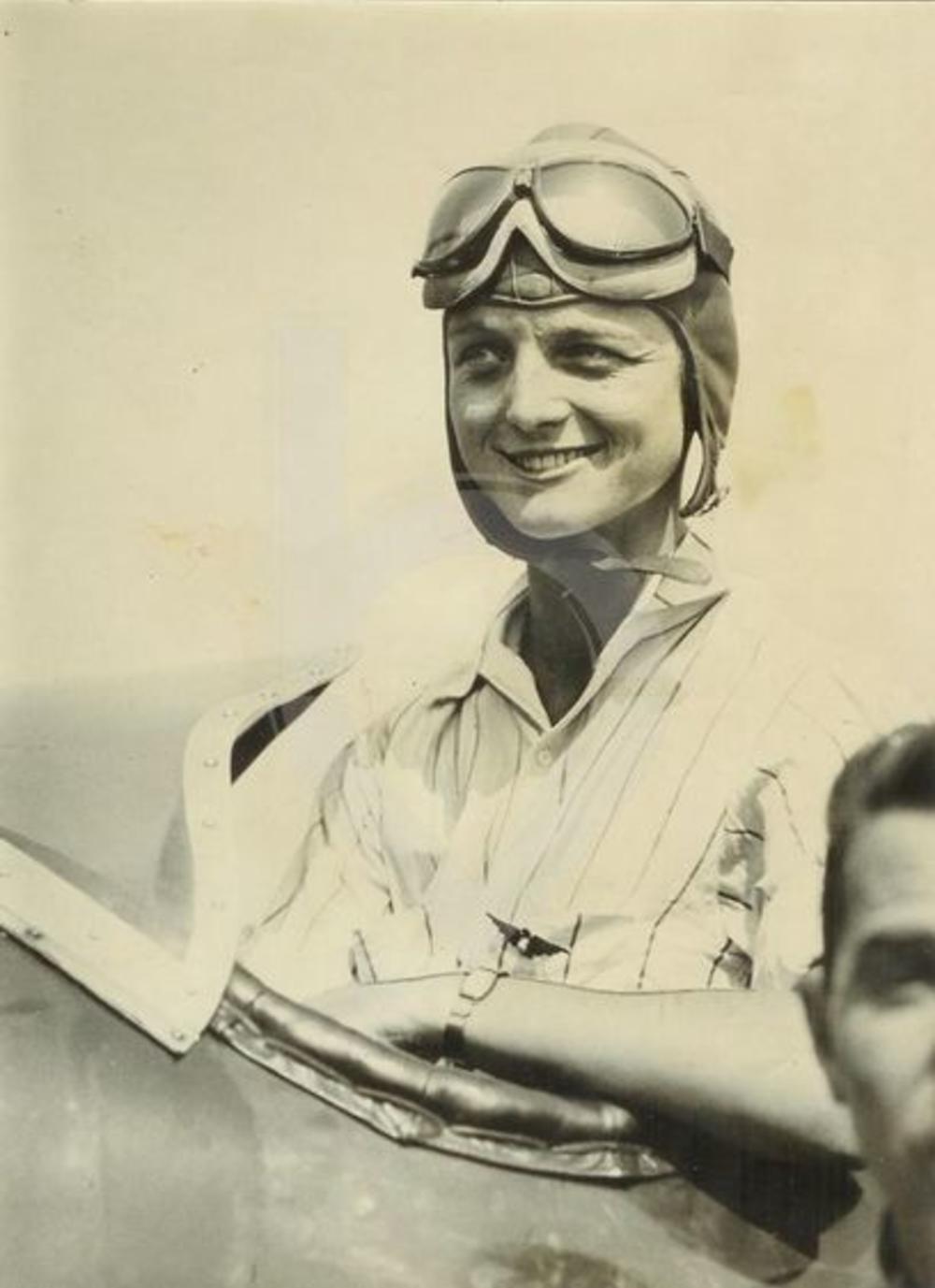 Pictured: Iris Louise McPhetridge Thaden. Photo Courtesy: Thaden Field
---
Louise Thaden is a Bentonville hometown hero. She was a mother, aviatrix, record-setter, and barnstormer. She was the first woman to receive a Bendix Trophy, along with co-pilot Blanche Noyes. In 1951, the Bentonville airport was renamed Louise M. Thaden Field in her honor. She is a founding inductee in the Arkansas Aviation Hall of Fame and is a member of the Smithsonian Institution's Aviation Hall of Fame. In 1976, Thaden returned to Bentonville for a rededication ceremony at Thaden Field, and Governor David Pryor declared August 22, 1976, as Louise M. Thaden Day. Learn more about Louise Thaden!
Louise's Awards:
Women's Altitude Record:  20,260 FT 
Women's Endurance Record: 22 HRS, 3 MINS, 12 SECS
Women's Speed Record: 156 MPH
East-to-West Record: 14 HRS, 54 MINS, 46 SECS
---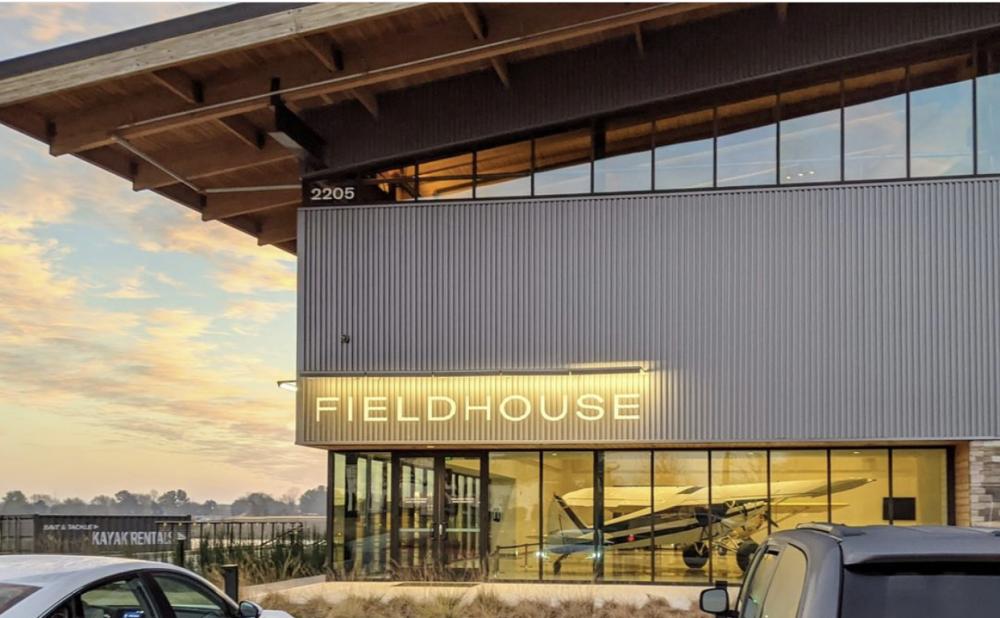 Pictured: Thaden Fieldhouse. Photo Courtesy: Thaden Field.
---
Interested in Aviation and Site Seeing
Thaden Field, also known as the Bentonville Municipal Airport (VBT), shelters a flight school, an exhibition hangar, and an FAA knowledge testing center. It's a jumping-off point for adventure, the portal to the backcountry, and a basecamp. It's the hub of Arkansas' FLY OZ network, Summit Aviation's fix base operation, home of Game Composites, and OZ1 flying club's "hideout". Learn more about the beautiful backcountry. Book a scenic flight for your trip to trip to visit Bentonville! 
Stay in the know with Thaden Field on Facebook and Instagram!
---
Pictured: Hangar Exhibition. Photo Courtesy: Thaden Field
---
FLY OZ
There's something very special here in the Ozarks, and FLY OZ™ strives to share it.  Fly OZ extends the invitation to explore the beauty of the Northwest Arkansas region. Come see the stunning combination of rivers, bluffs, and hills at a relatively low-density altitude. Visit places like Hawksbill Crag, Sam's Throne, Jakes Ridge, and Hemmed-In Hollow. 
If you're into recreational aviation and the activities surrounding it, reach out! FLY OZ will explain the network of airstrips, help you decide which locations best fit your plans and flight experience, get you in touch with guides to organize a float trip, get you on a bike, introduce you to one of the country's finest art museums, or find you the perfect get-a-way cabin. Plan your trip to visit Bentonville and Land Here!​ 
---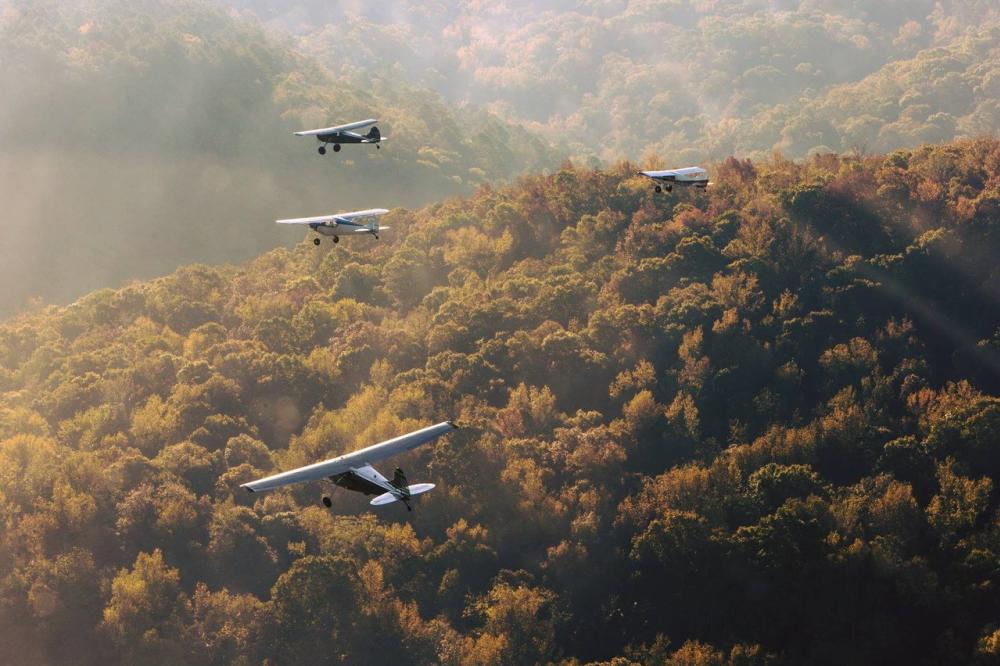 Photo Courtesy: Thaden Field
---
Recent Podcast Release
The Visit Bentonville Team sat down with Jordyn Haught, director of OZ1 Flying Club at Thaden Field. Tune in as Jordyn gives us a rundown on the wide variety of adventures, experiences, and education Thaden Field provides. 
---

---
MORE SIGHTS TO SEE!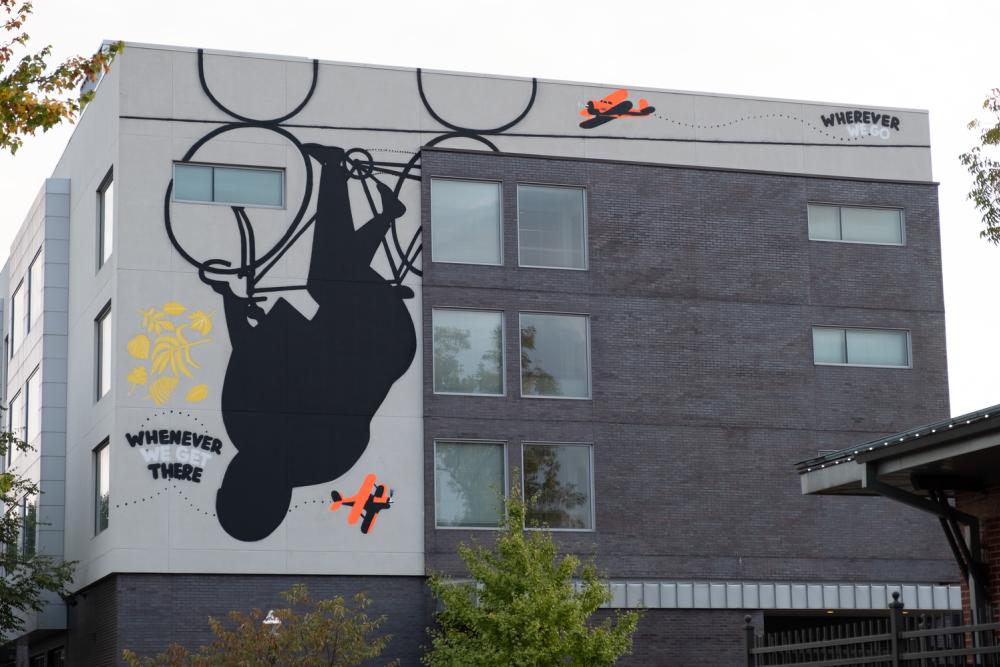 Pictured: Erika and Louise. Artist: Stephen Powers. Photo Courtesy: OZ Art NWA. 
---
Check out Stephen Powers' mural Erika and Louise on the backside of 21c Museum Hotel! This was a part of the OZ Art ARkanvas activation including 13 artworks by 12 artists under 1 theme (Unite), spread across 450 miles in Arkansas. 
When Stephen Powers came to Bentonville, he had a few conversations with the citizens to get a sense of who they are and what everyone is about. Powers knew that bicycling was an essential part of the Bentonville Community. Once he learned of Louise Thaden, a woman aviation pioneer in the 1920s and 30s, he knew she was a great analog to the cyclist.

Powers's body of work focuses on the language of signs, typography, & the visual clutter of our everyday. His work riffs off our emoticon-driven culture, & his lyrical witticisms capture our collective unease with the rapidity—& often vapidity—of instantaneous communication. Powers reminds us of the importance of human connection, the inevitability of time, & the way we craft and re-craft our own personal narratives.
---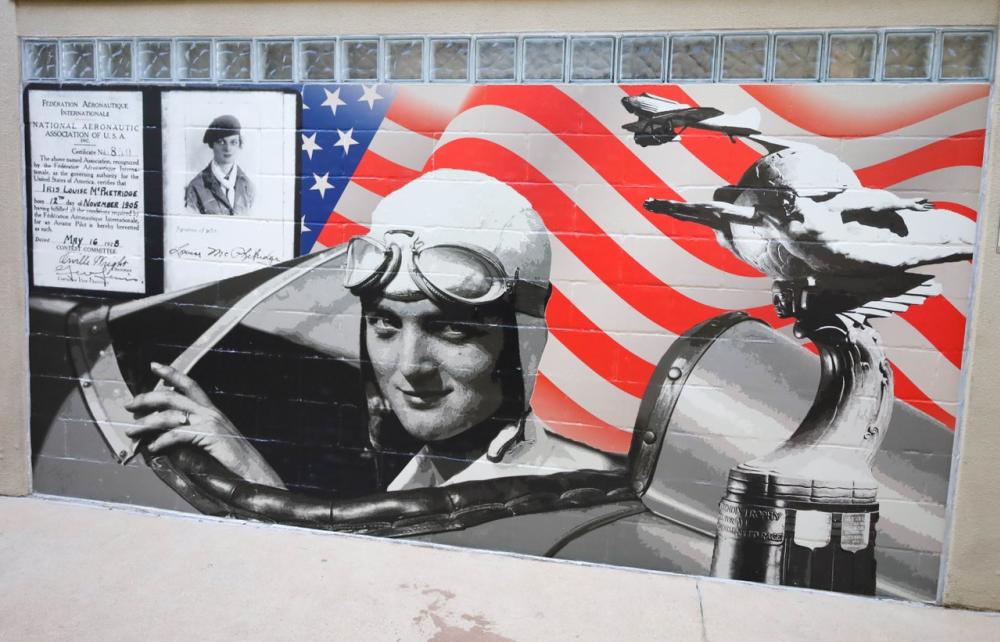 Pictured: Louise Thaden "Aviatrix". Artist: Graham Edwards. Photo Credit: Visit Bentonville. 
---
Discover bits of Louise's legacy throughout Bentonville! Graham Edward's mural Louise Thaden "Aviatrix" is located at 111 N Main Street, in the alleyway between Bentonville Taproom and Tavola Trattoria.
---
Don't fly past LOUISE Café at Thaden Field when you Visit Bentonville!