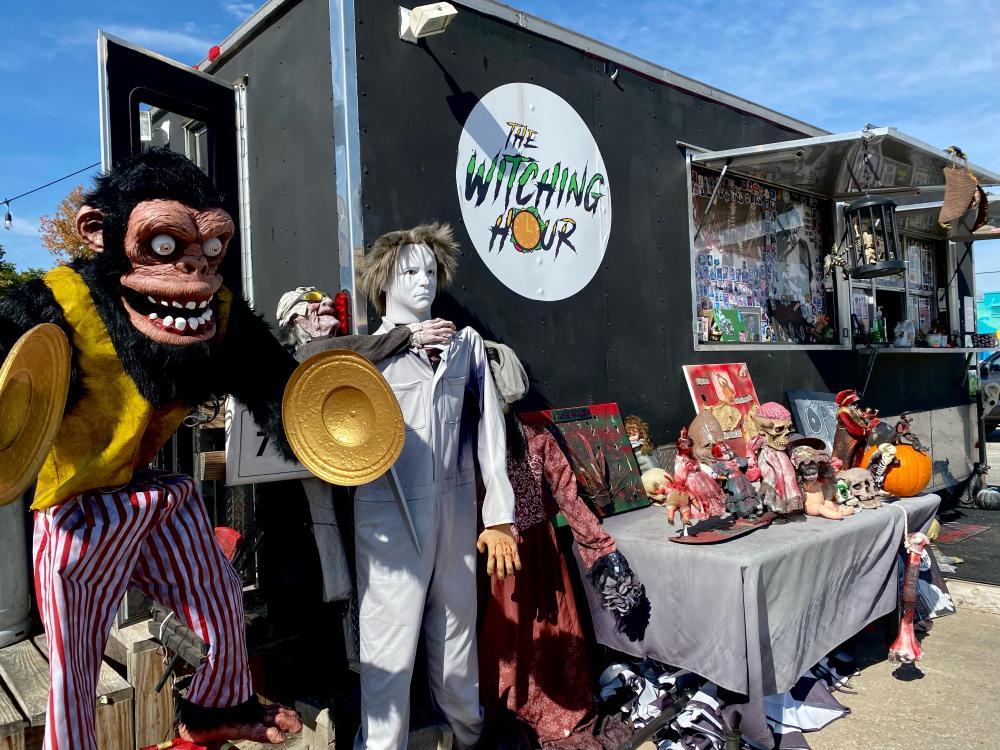 Photo Credit: Visit Bentonville
---
📍 704 SW A Street
The Witching Hour is a horror movie food truck that offers a unique ambiance and some of the best burgers you'll ever taste in downtown Bentonville. From the horror decor and art to the flavorful bites of burgers and fries - The Witching is worth a trip to #VisitBentonville at all times of the year! Start planning your trip today!
---
On Monday, October 31st, The Witching Hour will be hosting a costume contest at 6:15, a Salem Clot Burger Eating Contest at 6:45, and a showing of the 2017 "IT" at 7:30. Horror or horror-esque artists are welcome to sell their art at The Witching Hour on Halloween also! The winners of BOTH contests will receive a $50 gift card to The Witching Hour and awesome horror prizes!
---

Pictured: The Salem Clot Burger. Photo Courtesy: The Witching Hour.
---
"This creature of the night will make you want to take a nap like a vampire in a coffin. One pound of beef, eight pieces of peppered bacon, and four different cheeses. The only cross you'll have to use on this beast is to cross your arms in a recline" 
---
You will have to finish your clot burger and a side of fries. Whoever eats it the fastest wins! The entry fee is $25. Make sure to order your clot and fries before they open on Halloween at 5PM!
Ways to enter the Salem Clot Burger Eating Contest
Through Instagram DM's
Order online through Clover
Call (479) 802-2874
---
Recent Podcast Release
Click here to tune in with the Visit Bentonville team and Zac Slusher, co-owner and operator of The Witching Hour. Hear all about the evolution and their plans for the future!​

---
Stay social with the Witching Hour on Facebook and Instagram!