Written by Hannah Roberts
The Fire Truck is a new food truck in town serving up small bites with big flavor! Founded by Casey and Hannah Roberts, we took a 1972 Ford water tanker fire truck and repurposed it for making fresh food packed with interesting flavors. Our passion for good eats and a great time led us to create The Fire Truck. We love providing a relaxed, chill atmosphere where you can take a load off, eat some killer food, and enjoy the moment. We pride ourselves on being a pet and kid-friendly establishment. We rotate our menu frequently to ensure we use what's freshest each season with a variety of vegetarian options, so make sure to follow us on social media and check our website for the most up-to-date menu offerings.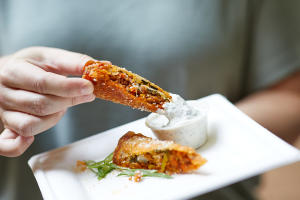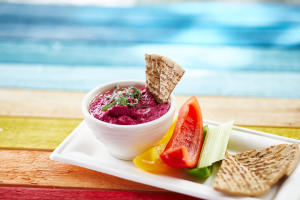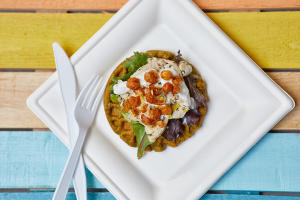 A couple fan favorite menu items are our Monte Cristo and our Classic Slider. This week will be the last week to get our Falafel Waffle, Bacon Jalapeño Wontons, Beet & Ricotta Hummus, Cordon Bleu Balls and our Chorizo Egg Roll. Our executive chef, Matt Drain, will introduce a new menu on November 14th which will include a Vegan Buffalo Cauliflower Egg Roll, Vegetarian Edamame Parmesan Hummus and more!
We want downtown Bentonville, and all of NWA, to have THAT spot where they can hang out and be themselves. Laugh with friends and family. And eat great food while doing it! We're located right in the heart of downtown between Night Owl Tavern and Rope Hounds on SW A Street. So if you are feelin' fuego, come visit us on your next excursion. We'd love to hang out!