Have you had a chance to dine at the Buttered Biscuit this year? It's the first family-owned and operated breakfast restaurant in Bentonville, Arkansas - and it's delicious! 
When Anna Russell and her husband Sam moved to Bentonville several years ago with their family, they immediately recognized a need in the community for a premier breakfast establishment. Falling in love with Northwest Arkansas, they have grown their business in the past four years and are offering locals and visitors alike an amazing breakfast experience. 
"We get to feed the hungry community of Bentonville with an honest breakfast using high-quality ingredients," Anna says.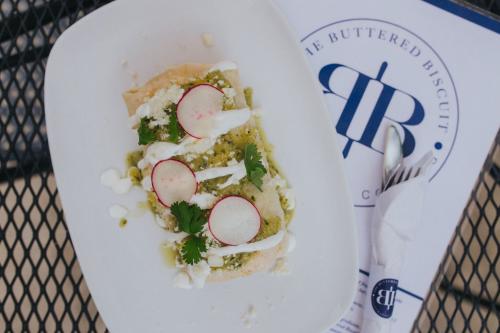 At The Buttered Biscuit, you'll find freshness and quality food that is not compromised. A prime example - we make our biscuits fresh every day, and hand crack every egg that gets put on a plate! Do you have a dietary restriction? The Buttered Biscuit also offers an abundance of gluten-free options. 
Currently, our seasonal menu has some dishes that will make your tastebuds come alive! The Baja Verde Burrito is a fried chicken burrito, stuffed with scrambled eggs and hash browns, covered in homemade salsa verde sauce, cotija cheese, sour cream, and cilantro! Pair it with a Royal Sunrise- champagne, lemonade, strawberry jam, and muddled basil for a morning delight! 
Enticing!?  Plan your trip to Bentonville, Arkansas, and visit the Buttered Biscuit! You don't want to miss out!