Written by C. Taylor Sutton
What happens when you wrap a restaurant in an art museum? For those of us at Eleven, being located at Crystal Bridges Museum of American Art is more than a garnish. It flavors every aspect of what we do.
From sourcing ingredients to returning compost to the museum grounds, everything we do at Eleven is a celebration of place. Our team of culinary artists, led by Executive Chef Timothy Ordway, creates menus that change with the seasons and draw inspiration from the American art and landscapes that surround us.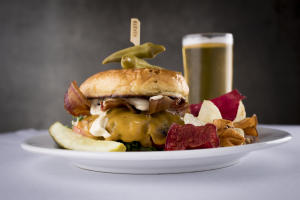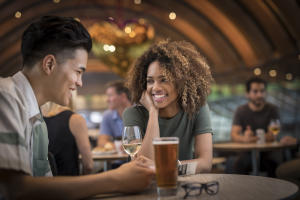 Take our spin on a lunchtime classic: the B.L.S. (Bacon Lettuce Squash). With tomatoes long out of season in the Ozarks, we knew we couldn't insist on a B.L.T. in January. After all, no one likes a sad sandwich. So instead, we paired thick-cut Petit Jean bacon and romaine with roasted delicata squash. Marinated in basil-balsamic and presented on hearty sourdough, the winter squash brings a sweet and creamy authenticity to what is too often a shadow of summer glory. This fresh artistry can be found throughout the menu which also includes gluten-free and vegan options.
The building, too, invites Arkansas to your table. The restaurant, built by world-renowned architect Moshe Safdie and designed by Marlon Blackwell Architects, features floor-to-ceiling windows overlooking acres of forest and the serene waterscape. By day, you can sip Onyx coffee while basking in natural light, and enjoy small plates and drinks under the rosy glow of Jeff Koons' Hanging Heart by night. Whatever time you visit, dining with us is a multi-sensory experience.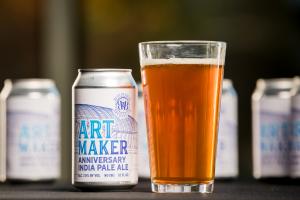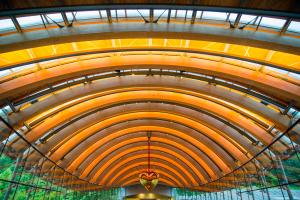 Our hope at Eleven is the same as Crystal Bridges': To be a place that welcomes all and celebrates the American spirit. Whether that means joining us for the communal spirit (and spirits) of a Tap Takeover, a laid-back evening of Bar and Bites, or marking a special occasion at one of our seasonal dinner programs, we're always happy to have one more at the table.