Written by Paula Henry
At Crêpes Paulette, we proudly serve authentic yet unique handheld crêpes, velvety sippable soups, delicious coffees and soft drinks, plus a curated selection of wines, local beers and ciders. Our friendly staff is eager to serve you in our whimsical and lighthearted fast-casual dining room or outside on our dog-friendly patio.
Our savory buckwheat crêpes are a traditional "peasant" food from Brittany, the beautiful and rugged NW region in France where co-owner Frederic grew up. Made from the hardy buckwheat plant that flourishes there, these crêpes (aka "galettes de blé noir") have a distinct, robust flavor, with no gluten, dairy, egg, soy or honey in our proprietary recipe. They are nutritious, delicious, delicate and surprising.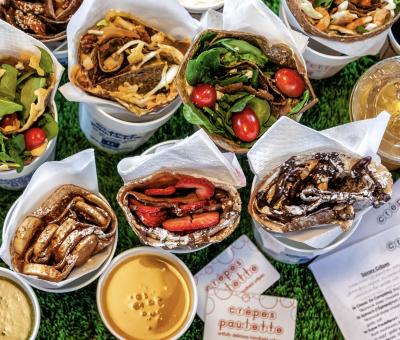 By contrast, our sweet crêpes are chock full of butter, eggs, sugar, flour and whole milk—reminiscent of your favorite fluffy pancake, but spun to thin, crispy, golden perfection by our talented crêpier(e)s. Kids and adults alike will marvel as you watch us prepare your selection with speed and precision at our special viewing window.
From familiar favorites like Nutella, strawberry and banana to our fusion specialties like the "la Thai" with its house peanut sauce, our wide selection of crêpes offers something to satisfy everyone, from the crêpe aficionado to the newbie!  We hope you'll join us!