Written by Ropeswing Hospitality Group
CO-OP Ramen reopened in January of 2021 to serve an amazing bowl of ramen to our community. The striking architecture of Marlon Blackswell welcomes you inside our doors . There you will find billowing steam rising off large soup kettles where our broths are cooked. We prioritize local providers for our chicken and pork and our produce is delivered daily. This ensures we deliver fresh, locally sourced food to our guests. Our broths are made in-house using traditional techniques in a constant effort to improve our offerings and offer a flavorful, consistent product. We want guests to find their favorite item and come back time and again for the flavors they love.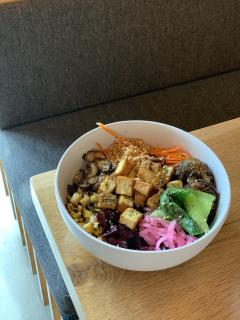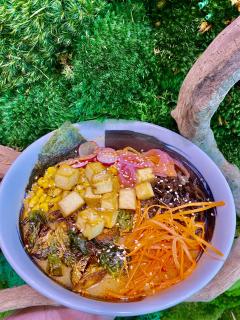 Our most popular bowl is the Spicy Tori Paitan (pictured at top), which comes with a creamy chicken broth, fried chicken, green onions, bean sprouts, a soft egg, and house-made chili oil. If you ask for the fried chicken ramen, this is the one you will always get. Another favorite is our Tonkotsu ramen which uses a pork broth that takes us 15 hours to cook to a rich flavor and texture. This also comes with marinated and rolled pork belly that we get from local provider Bansley Farms. Come try our crispy brussels, blistered shishito peppers, and Japanese fried chicken as well. 
 
It's always a good time for ramen. Come check us out!