In Bentonville, not only do we have world-class coffee, but we also have world-class coffee shop vibes. If you're visiting and looking for a place to start your day, catch up on work, or take an afternoon break, you've got options! 
Read on for the scoop on some of our favorite local coffee shops.
Onyx Coffee Lab
Founded in Northwest Arkansas, Onyx is an internationally recognized coffee brand and local favorite. Onyx has two Bentonville locations, one located right on the Downtown Square and another inside the Momentary. 
Their Bentonville Square location, also known as "Bonyx," welcomes community members and visitors alike to gather in its beautiful, modern space. This location is a classic spot to grab coffee with a friend, especially on a Saturday morning before or after the farmers market.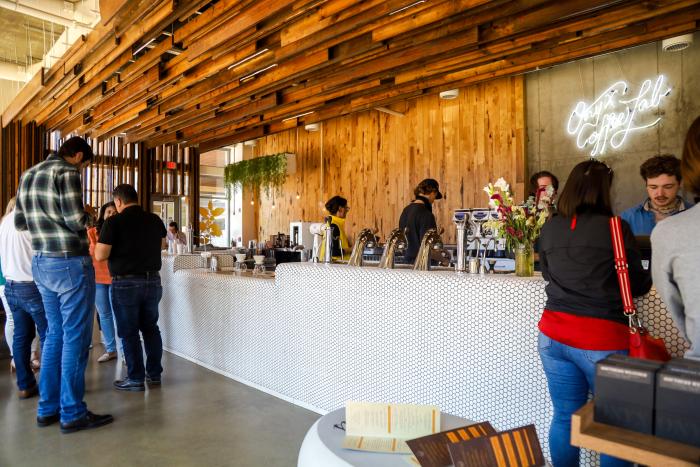 Onyx Coffee Lab in Downtown Bentonville. Photo by Karlene Miller
In our opinion, Onyx at the Momentary is especially vibey—it is housed inside a contemporary art space after all! This location features an incredible mod bar with millennial pink design details throughout the cafe. Grab your coffee off the conveyor belt, take a stroll around the galleries, and enjoy artwork by some of today's greatest artists.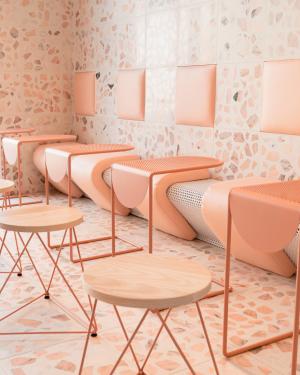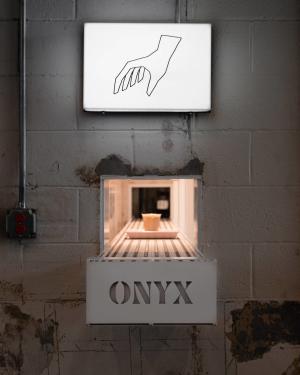 ONYX Coffee Lab at the Momentary. Photos by Keetun Pierce
Bonus: both locations have lovely patios where you can enjoy views of town on a sunny day.
Airship Coffee
Airship is a family-owned coffee brand with four locations in Bentonville, all catered to fit different moods. 
Feeling outdoorsy? Take a bike ride or a walk to Airship at Coler Mountain Bike Preserve. The open-air cafe serves delicious coffee along with a myriad of snack options. Grab a seat on the patio on top of the building or sit on the swings on the lower level. Either way, you'll get to enjoy the nice weather and stunning views of the preserve.
Airship at Coler Mountain Bike Preserve. Photo by Karlene Miller
Talking business? Make your way over to Airship at the Ledger. This stunning cafe is located in the world's first bikeable building and houses several beautiful conference rooms and individual work spaces.
NOTE: if you're looking to do some work on a laptop, be sure to buy a day pass for wifi access.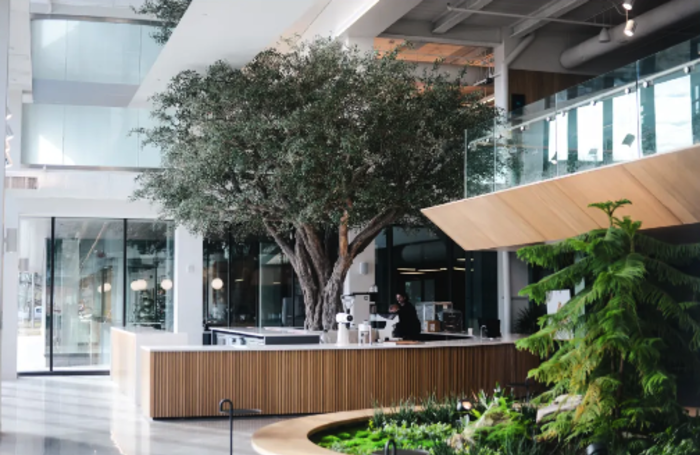 Airship at Ledger. Photo courtesy of Airship
Slowing it down? Airship at the Pumphouse is one of our go-to weekend coffee and brunch spots. With a beautiful, natural design and plentiful indoor and outdoor seating, this location invites you to take a break and catch up with a friend or curl up with a great novel. The cafe is located in a newly renovated space off the Downtown Square.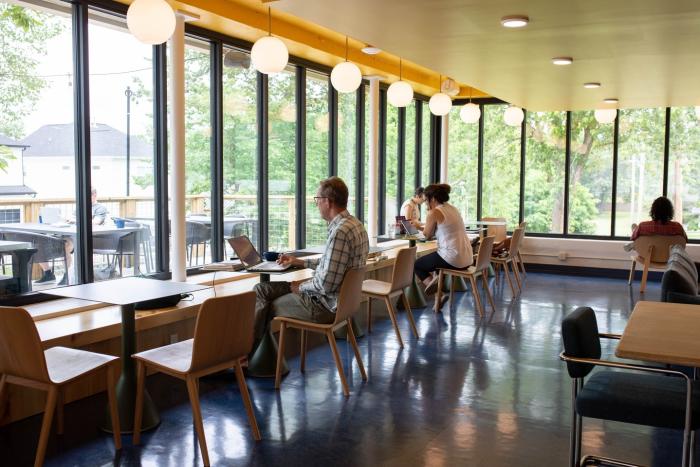 Airship at the Pumphouse. Photo by Liz Gonzalez, Downtown Bentonville Inc.
On the lookout for cute dogs? Airship's flagship location on 5th Street has a great outdoor seating area where you can regularly spot some of the cutest pups in town. This is also a great place to be inspired as it's surrounded by art! Next door, you'll find CACHE Studios, an artist community gallery, and next door to that in the brightly colored building you'll find Fifth Street Studios, a ceramics studio. Plus, take a short walk down the street and you'll find yourself at the Momentary. This location also helps host Fifth Market in the fall and spring. Learn more here.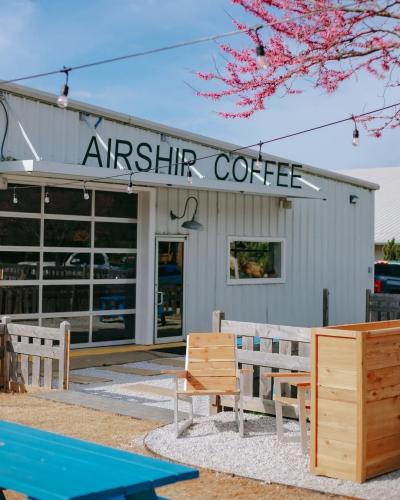 Airship on Fifth Street. Photo courtesy of Airship
The Meteor Cafe
The Meteor Cafe might just be the jack of all trades when we're talking about vibes. This is a place that you can go to for a business meeting or to knock out some work early in the morning, sit out on the patio and catch up with a friend over lunch, or grab drinks after a bike ride! On top of coffee, The Meteor has delicious pizza, wine, beer, and cocktails. Plus, our Visitor's Center is right across the street, so swing by before or after and say hi!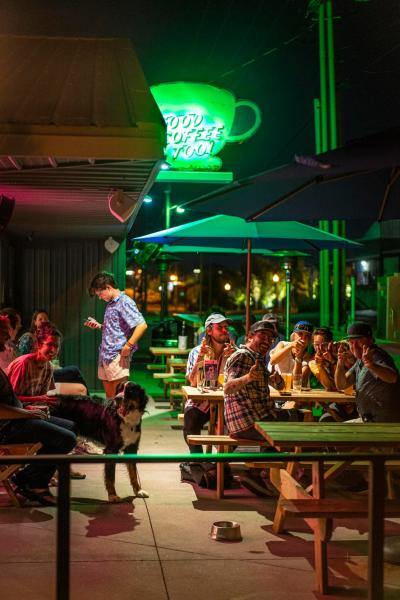 The porch outside of Meteor Cafe. Photo courtesy of the Meteor
Heroes Coffee
Located across from Thaden School and next to Crêpes Paulette, Heroes's Bentonville location is another great option for treating yourself to a delicious little coffee. This location is unique for its bunk-booths. That's right, bunk-bed-style restaurant booths! You can also watch the coffee being roasted from a large glass window across from the coffee bar. Now that's a vibe.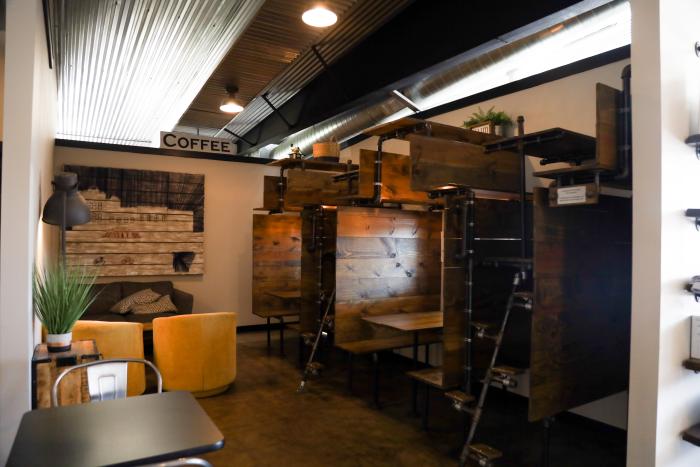 Heroes Coffee. Photo by Karlene Miller
Kennedy Coffee
Established in 2003, Kennedy is a locally-owned coffee shop located on SE 14th St. known for their specialty drinks, community-focused service, and cozy interior. We love Kennedy all the time, but we think there's something extra special and a little nostalgic about sitting in the coffee shop in cooler weather. Check it out for yourself!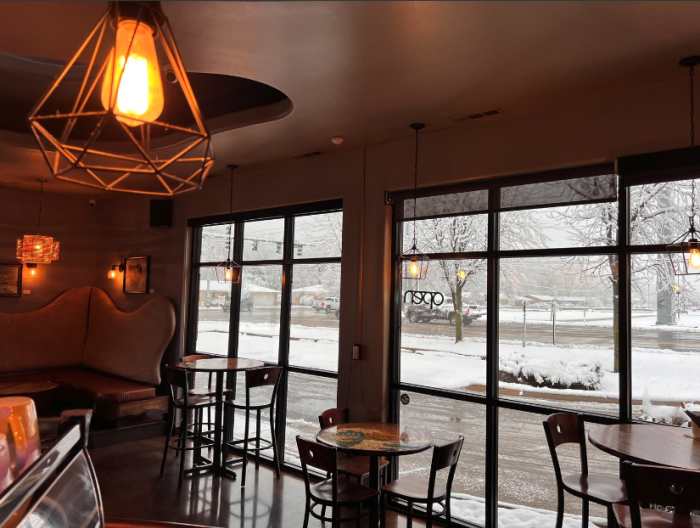 Kennedy Coffee in the snow. Courtesy of Kennedy Coffee
211 Cafe
Located inside the Bentonville Public Library, 211 Cafe serves locally roasted coffee from the owner's friends' coffee farm in Guatemala. Check out a book, grab a coffee, and put the rest of the world on pause for a few hours.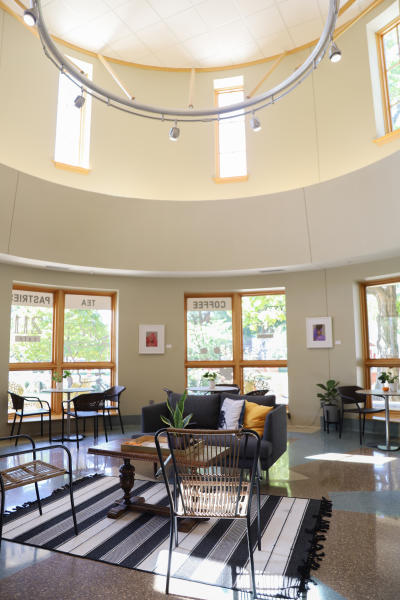 211 Cafe at the Bentonville Public Library. Photo by Karlene Miller
---
We're happy to help you with any additional information needed during your stay in Bentonville. Our Visitor's Center is open 9 am to 5 pm, Monday through Friday, and 9 am to 3 pm on Saturdays. Stop by and see us at 406 SE 5th Street, Suite 6.