Planning a visit to Bentonville for the Fourth of July? What a great idea! A blend of historic, small-town charm and modern, big-city amenities, this "new American town" is the perfect, unique place to celebrate the holiday.
Read on to learn about three exciting opportunities happening in town this year during the Fourth of July weekend:
Discover the artwork in Flagged for Discussion, a free-focus exhibition at Crystal Bridges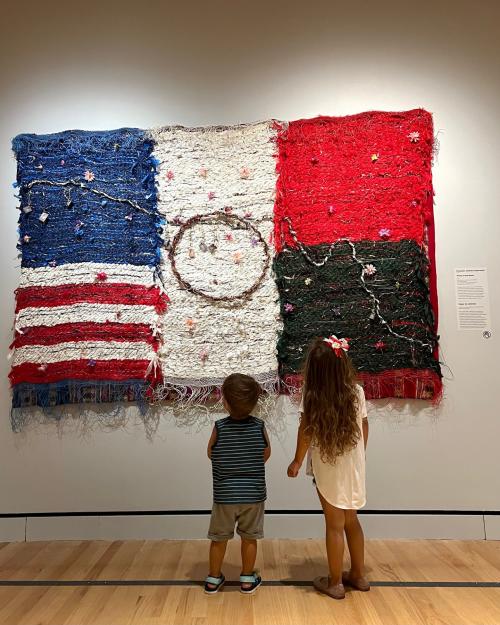 Image courtesy of Crystal Bridges Museum of American Art
The U.S. flag is widely reproduced and circulated by American artists, within works of painting, printmaking, fiber, photography, and mixed media, providing a foundational symbol to rally around, stand against, or identify with.
The exhibition features work by more than 20 artists from the nineteenth century to today and prompts reflection on the question, "What does the flag of the United States of America mean to you?" Drop by the museum to explore the exhibition, and join the conversation.
10 am–5 pm, Sat–Mon + Wed
Closed Tue
10 am–8 pm, Thu–Fri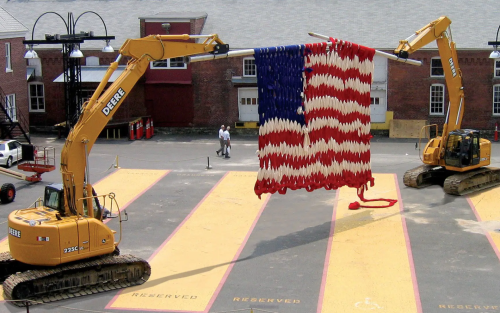 Image courtesy of The Momentary
Looking for a unique way to celebrate the Fourth of July this year? How about witnessing a world record at the Momentary!
Completing work that began on July 1, multidisciplinary artist Dave Cole will use The Knitting Machine—telephone poles as knitting needles and two large excavators as arms—to create the world's largest American flag on the Momentary campus. The flag will remain on view through July 16 as part of an ongoing exhibition outdoors and in the Momentary's Boiler Room gallery.
Drop by starting at 7:30 pm on July 4 to cheer on the final stitches in-person with bites and drinks in the North Courtyard. Then, head up to the Tower Bar at 9 pm for an engagement with the artist from 9 to 11 pm, complete with a Fourth of July-themed cocktail menu and an incredible view of fireworks in town.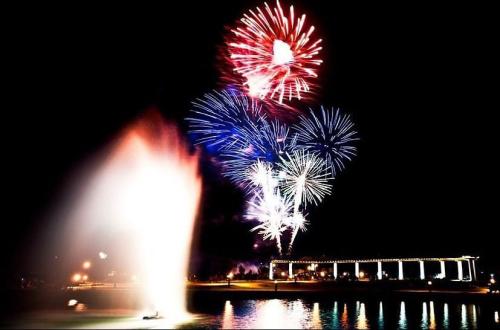 Courtesy @michelledearingevnwa
An Evening at Orchards Park is Bentonville's staple Fourth of July fireworks celebration.
Gather with family and friends starting at 7 pm on July 4, and enjoy live music, concessions, and a sweeping fireworks show starting at 9:30 pm. This event is free to the public. 
Parking will be located throughout Memorial Park. Handicap parking will be located in the parking lot located next to the entrance of Orchards Park with shuttles available to transport those needing assistance to the main stage. Personal fireworks are prohibited.
P.S. Don't Miss Honor Fest July 10–16 in Bentonville!
The inaugural Honor Fest is a week-long festival recognizing veterans, current military, military families, first responders, and their communities. Engage in thoughtful service projects, exciting networking opportunities, and friendly athletic competitions, and join us for a Brothers Osborne concert, movie screening, and more!
Places to Stay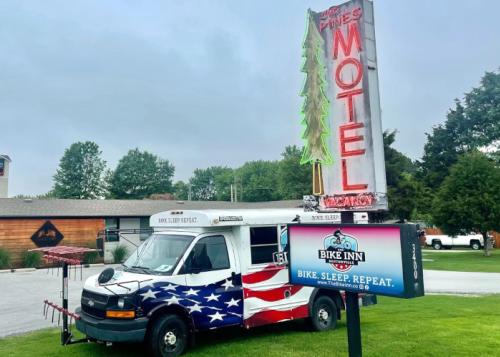 Image courtesy @thirstypigs
Plan Your Visit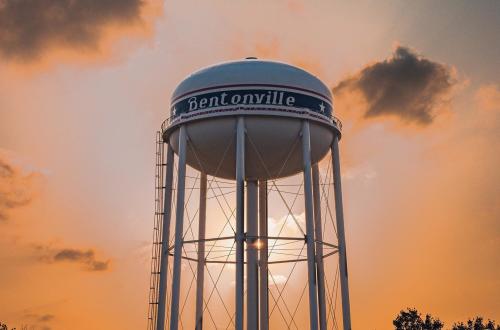 Image courtesy @jerron_davis06