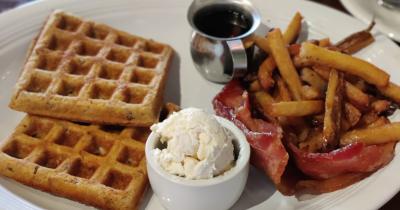 Photo: Tusk & Trotter American Brasserie
Hello springtime! Flowers are blossoming and days are growing longer which means there's no better time to brunch! Bentonville offers a unique culinary experience for every meal of the day, but I want to focus on my favorite one, brunch. Brunch is a meal in between breakfast and lunch, combining all your favorite breakfast and lunch items!
Here are the best places to brunch:
Table Mesa Bistro: Breakfast tacos- Avocado, scrambled eggs, potato, cheddar and salsa

Crepes Paulette: La Classic Crepe- Ham, Tillamook sharp cheddar, egg
The Buttered Biscuit: Lila Lemon Cakes- Blueberry pancakes, layered with lemon curd, topped with mint, blueberries, and whipped cream
First Watch: Bacado Omelete-Bacon, Avocado and Monterey Jack. Topped with sour cream and served with a side of housemade Pico de gallo
Table on 6th Street: The "Saturday Morning"- Two eggs, sausage, bacon, brunch potatoes and sourdough
Yeyo's: Breakfast Burrito- Customize your burrito with steak, potatoes, eggs, cheese, veggies, and more!
Tusk & Trotter: Carrot Cake Waffles- Carrot cake waffles, vanilla butter, maple syrup and choice of two sides
Oven and Tap: Sweet Joe Pizza- Three cheese, pepperoni and local honey
My personal favorite is Crepes Paulette, where your sweet and salty cravings can be satisfied by any of the delicious crepes! You deserve great food and we can give it to you. Dine at any of these restaurants when you visit Bentonville and make your day a whole brunch of fun!