Follow the yellow brick road to the land of OZ, and experience the magic of our region at the 2nd annual FORMAT Festival September 22–24, 2023. This year, the festival takes place at the Momentary in the heart of Bentonville, giving you direct access to outdoor, art, and culinary experiences unique to our city.
Read on to make the most of your festival weekend in Bentonville with information on where to stay, things to do, places to dine, and more.
There are so many things to experience while you're in town. Known as "the mountain biking capital of the world," Bentonville, Arkansas, is a hub for arts, culinary, and outdoor experiences. Hop on a bike and make your way around town to discover inspiring art, incredible flavors, and unexpected gems. 
Bike rentals are available at the following locations: 
e-Bike Bentonville (Mention FORMAT at check-out for $15 off your rental. Call (918) 619-2296 for booking over the phone.)
For real-time biking conditions, check out the Flowfeed App here.
Places to stay
From cozy bed and breakfasts to hotels and Airbnbs, Bentonville has all the options certain to make you feel at home. Browse our lodging selections here.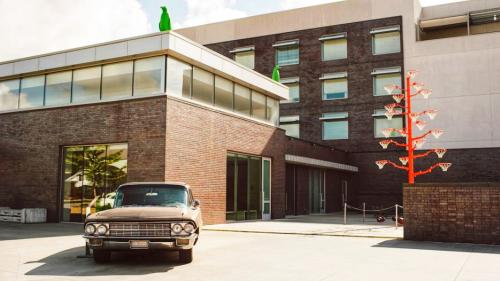 21c Museum & Hotel in Bentonville, Arkansas.
Places to dine
Experience Bentonville's vibrant culinary scene with unique culinary concepts like farm-fresh and gluten-free menus, open-air cafes, and so much more. Browse dining options here.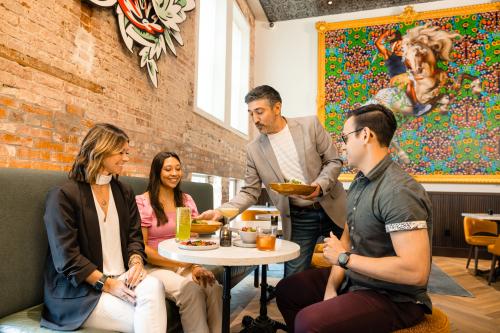 Lady Slipper in Bentonville, Arkansas. Photo by Drager Creative.
Downtown Bentonville Inc. Art + Culinary Week
After parties
13 music performances (including one secret set and one secret band)
3 stages (including silent disco)
Live performance art
Food trucks
Drinks and snacks for sale + free water
Time/Date: 10 pm, Friday, September 22 to 4 am, Saturday, September 23
Location: CACHE Studios, 1004, Southeast 5th Street, Bentonville, Arkansas
Map of Bentonville
There's never a dull moment in Bentonville. Take a look at our Bentonville map and add build your own itinerary!
Heads up
It's Bikes Blues & Barbecue weekend in Rogers, so please be safe, and keep an eye out for motorcyclists on the road.
FORMAT Festival is a three-day multidisciplinary festival combining music, art, and technology. The festival is known for its artist-built venues, eclectic music lineup, and interactive art installations.
Headlined by LCD Soundsystem, Alanis Morissette, and Leon Bridges, this year's lineup includes a diverse range of renowned local and national musicians and artists alongside emerging talent, special performances, and surprise acts. 
View the full lineup: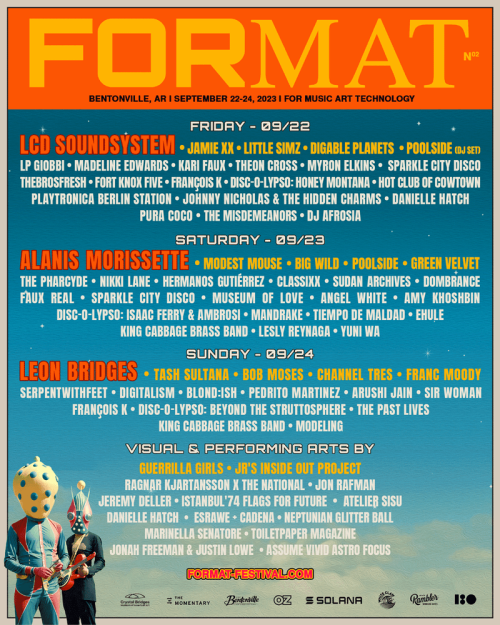 The Momentary is a contemporary art space for visual and performing arts, culinary experiences, festivals, and more located in Bentonville, Arkansas. A satellite to the renowned Crystal Bridges Museum of American Art, the space offers free, general admission.
Situated within biking and walking distance from the Bentonville Square, the venue provides easy access to a variety of restaurants, cafes, boutiques, parks, and public art.
View past exhibitions and projects hosted at the Momentary here.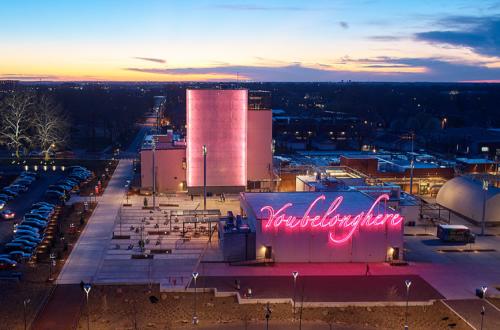 The Momentary in Bentonville, Arkansas. Courtesy of the Momentary.
Please visit
Format-Festival.com
for the most up-to-date information on getting to the festival.
Follow us on Social Media
Stay in the loop on all things Bentonville. Follow us on social media: 
Instagram/Facebook/TikTok/Threads: @VisitBentonville 
Twitter: @BentonvilleCVB
---
We're happy to help you with any additional information needed during your stay in Bentonville. Our Visitor's Center is open 9 am to 5 pm, Monday through Friday, and 9 am to 3 pm on Saturdays. Stop by and see us at 406 SE 5th Street, Suite 6.