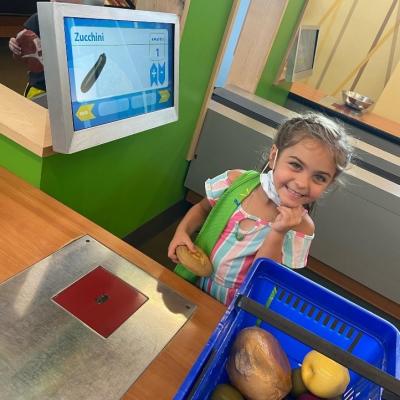 Growing up in Bentonville I was never bored. There were always things to do and places to explore, but now that I have my own children, it's like my kids are getting to experience Bentonville 2.0. As someone who grew up here and is raising a family here, Bentonville is an ideal destination for any family. There are so many kid-friendly finds around town, but here are a few of my favorites.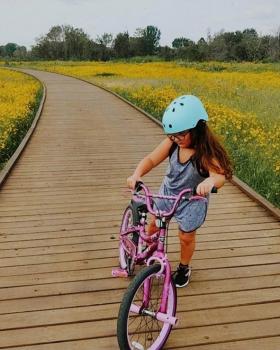 Osage Park is a new favorite of mine. Situated on 12 acres, your family can explore the boardwalks that float over a wetland ecosystem, check out the beaver dam, play a game of pickleball, or even register for an archery class at The Quiver Archery Range. 
Thaden Field is a unique experience for the kids and one of my favorite places to grab lunch. At Louise Café the kiddos will have a front row seat in either their indoor or outdoor seating area that faces the runway, providing incredible views of planes taking off and landing.  
Between Osage Park and Thaden Field sits Lake Bentonville which has always been a popular fishing location, even when I was a kid. But now, it's a full-on adventure experience abundant with canoeing, paddle boarding, fishing, equipment rentals and even a spiderweb of lakeside playground equipment.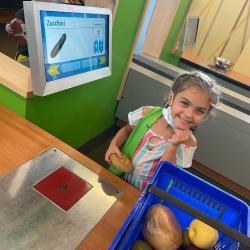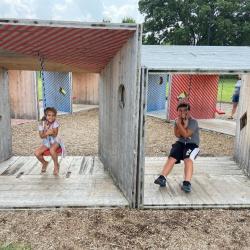 Amazeum - This interactive children's museum is exactly just that, A-mazing. With exhibits like the tinkering hub, a Hershey's Chocolate Lab, and an outdoor playscape you and your family will discover hands-on fun around every corner. My 6-year-old absolutely loves their interactive Neighborhood Market replica and can spend hours "grocery shopping" and restocking the kid size store.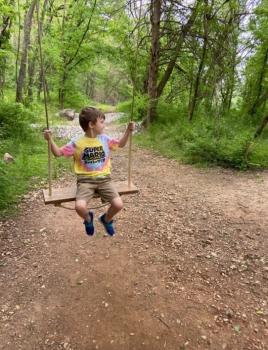 In addition to the miles of bike trails Bentonville is blessed with walking trails and even some pretty amazing hidden creeks that are a perfect way to cool off in the warmer months! If you're looking for a family friendly outdoor adventure destination with all of that and more, Coler Mountain Bike Preserve is a must! Camping, biking, hiking, and even an on-site micro-café called Airship at The Homestead that's designed to enhance the park-goers' experience with convenient access to yummy and nourishing refreshments. And for those parents that need a little pick-me up, they specialize in craft coffee, beer, and barbecue tacos!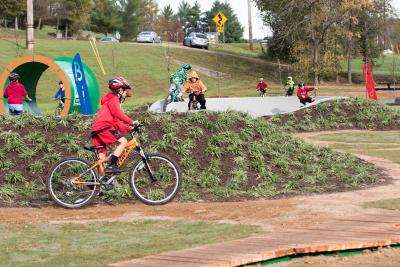 Photo: Bentonville Parks & Recreation
If your kids are like mine, they LOVE riding their bikes! Even though we're the Mountain Bike Capital of the world, humblebrag I know, not all the bike trails around town are just for the advanced athletes. One of our favorite places to let the kids ride is at the Bentonville Bike Playground a one-acre park that features tunnels, bridges, and a pump track that is perfect for the beginner riders that are ready to shed those training wheels.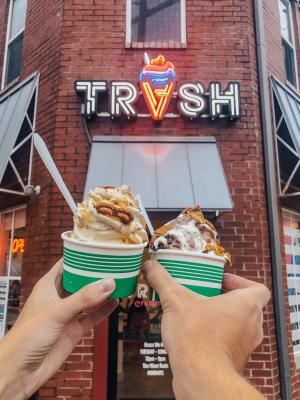 And for the literal and figurative cherry on top, if you're looking for the best sweet treat in town you've got to try Trash Creamery. This 1980's retro-style ice cream parlor features over the top creations loaded with unique and seasonal concoctions. My son likes to create his own crazy combinations whereas my daughter sticks with her favorite flavor "Girls Just Wanna Have Fun," mostly because of the rainbow sprinkles and Lucky Charms. 
If you need help planning your family's visit to Bentonville, call 479-271-9153 or go to VisitBentonville.com!