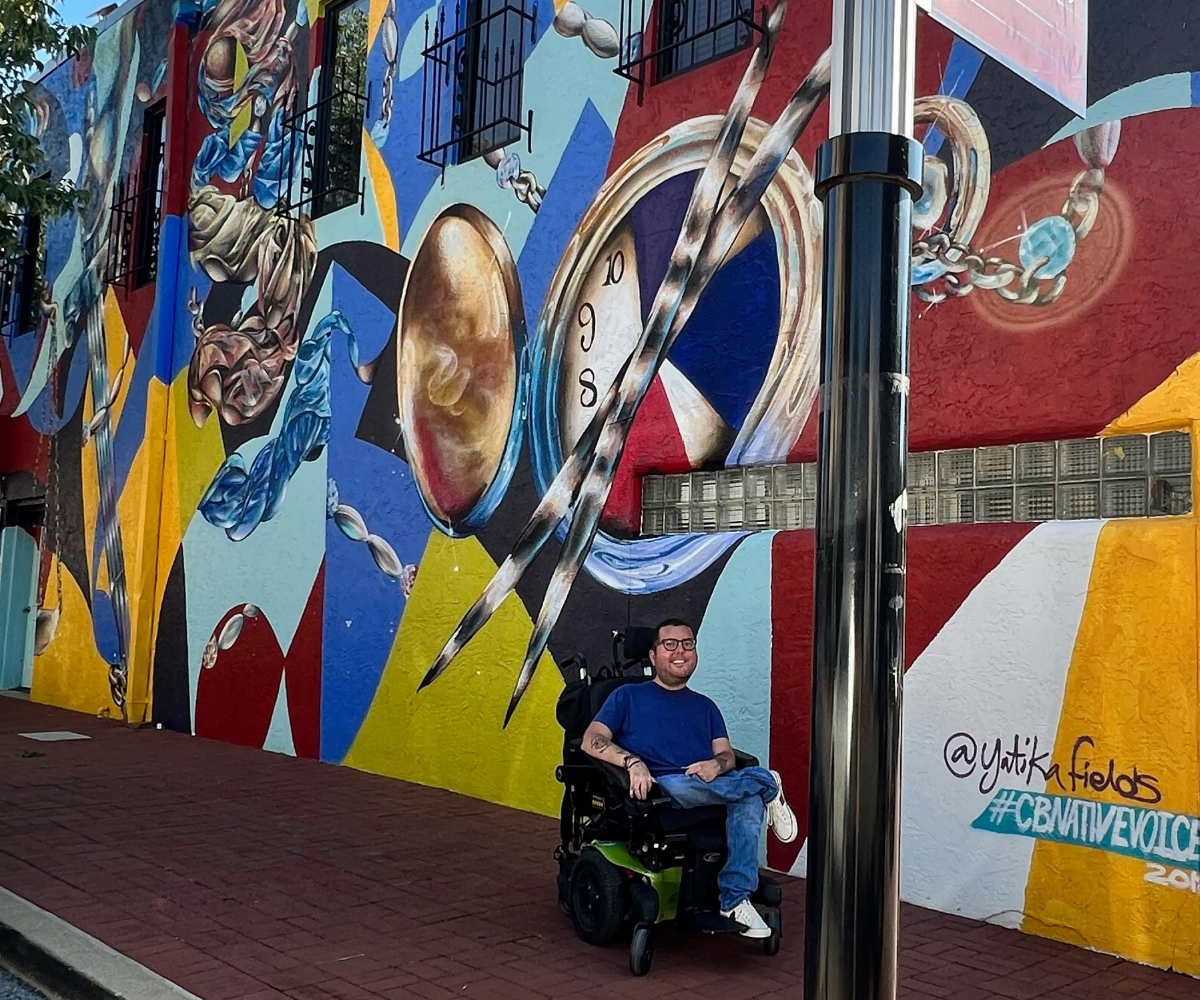 Before my recent trip to Bentonville, Arkansas, I wasn't sure what to expect or how wheelchair accessible the city would be. But wow, I was quickly blown away by this super friendly and gorgeous town, tucked away in Northwest Arkansas. It gave me the feeling of what America must have been like in the 50s, but with a more modern feel. I don't even know how best to describe it, except to say that I could feel the love of the people and the love and respect for their city, and I was excited to be in the city. 
As I rolled throughout Bentonville, I found some incredibly wheelchair accessible things to do that made me love the city, and I want to tell you all about them! So, grab a pen and get your trip planners ready because Bentonville definitely needs to be in your future travel plans, no matter what your abilities are. Read on for five accessible things to do in Bentonville, Arkansas:
1. Crystal Bridges Museum of American Art
Driving up to Crystal Bridges Museum of American Art, you can circle around the front of the building and follow the wheelchair accessible parking signs to the bottom lot in the back. The wheelchair accessible parking spots are plentiful and there is an elevator nearby to get you inside the gorgeous museum. And best of all? The museum is completely free to visit!
This world-class American art museum is very spacious, and the exhibitions kept me captivated. One of my favorite works was the "Infinity Mirrored Room" by Yayoi Kusama. There was a ramp to get inside and the mirrors and colored lights were mesmerizing. 
The staff at Crystal Bridges are very friendly and helpful, and I found several companion care restrooms throughout the museum. Also, don't miss Listening Forest by Rafael Lozano-Hemmer, which runs until December 31, 2023. It is an interactive sound and light nighttime experience located just outside the museum. It is family-friendly, and there is wheelchair accessible parking nearby. The entire experience is wheelchair accessible with smooth, easy trails throughout the woods. Be aware though that it is rather long, so you may want to have a full charge if you use a powered wheelchair. 
2. The Momentary
The Momentary is a cool contemporary art space offering free admission to the Gallery which is wheelchair accessible, as it is all paved and smooth to roll around. The exhibitions are spacious, and I was excited to find some cool photo ops here too. There are accessible all gender restrooms and a gift shop. 
The Momentary is also a music and performance arts venue, so check their schedule and ticket prices and catch a show while you are here! When I visited, I was excited to find the Tower Bar on the sixth floor of the Momentary. While sipping on a delicious drink, I sat back and enjoyed stellar views of the surrounding neighborhoods. 
3. Razorback Greenway
One of my favorite things to do in Bentonville is rolling along the Razorback Greenway. This wheelchair accessible, paved pathway connects communities for 40 miles from Fayetteville to Bella Vista. 
The Razorback Greenway is smooth with minimal inclines, and is the best inclusive outdoor experience. I was able to enter the Greenway through Bentonville's Compton Gardens, and rolling along this for several miles, I saw families with strollers, people walking their pets, and bikers out getting some clean air and exercise.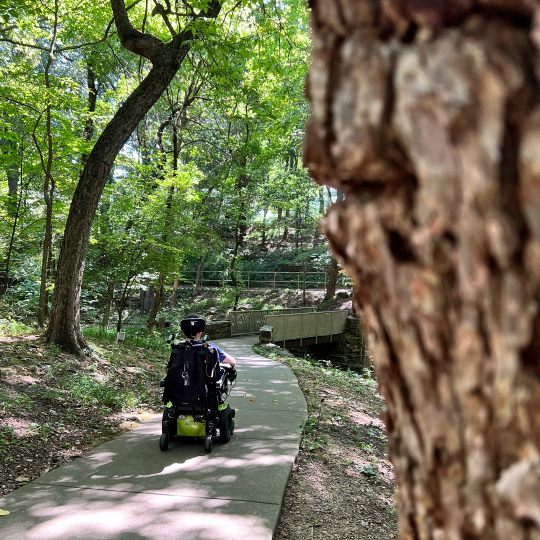 4. Walmart Museum
When you come to Bentonville, you can't miss the Walmart Museum. I mean, after all, Bentonville is home to the very first Walmart and their home office! The original Walmart is now a museum, but it is currently undergoing renovations. It is planned to be open again in Spring 2024. Until then, you can still visit a temporary location just down the street. 
The temporary museum has plenty of nearby accessible parking and is all on one level, being both smooth and flat. The museum tells the history of Walmart and how it was founded by Sam Walton. I was amazed at the interactive, A.I. simulation of Sam Walton.
This museum was really fun, and I saw photos of the Walton family and the very first Walmart uniform. I even learned that Ole Roy dog food, which is sold at Walmart, is actually named after Sam Walton's dog.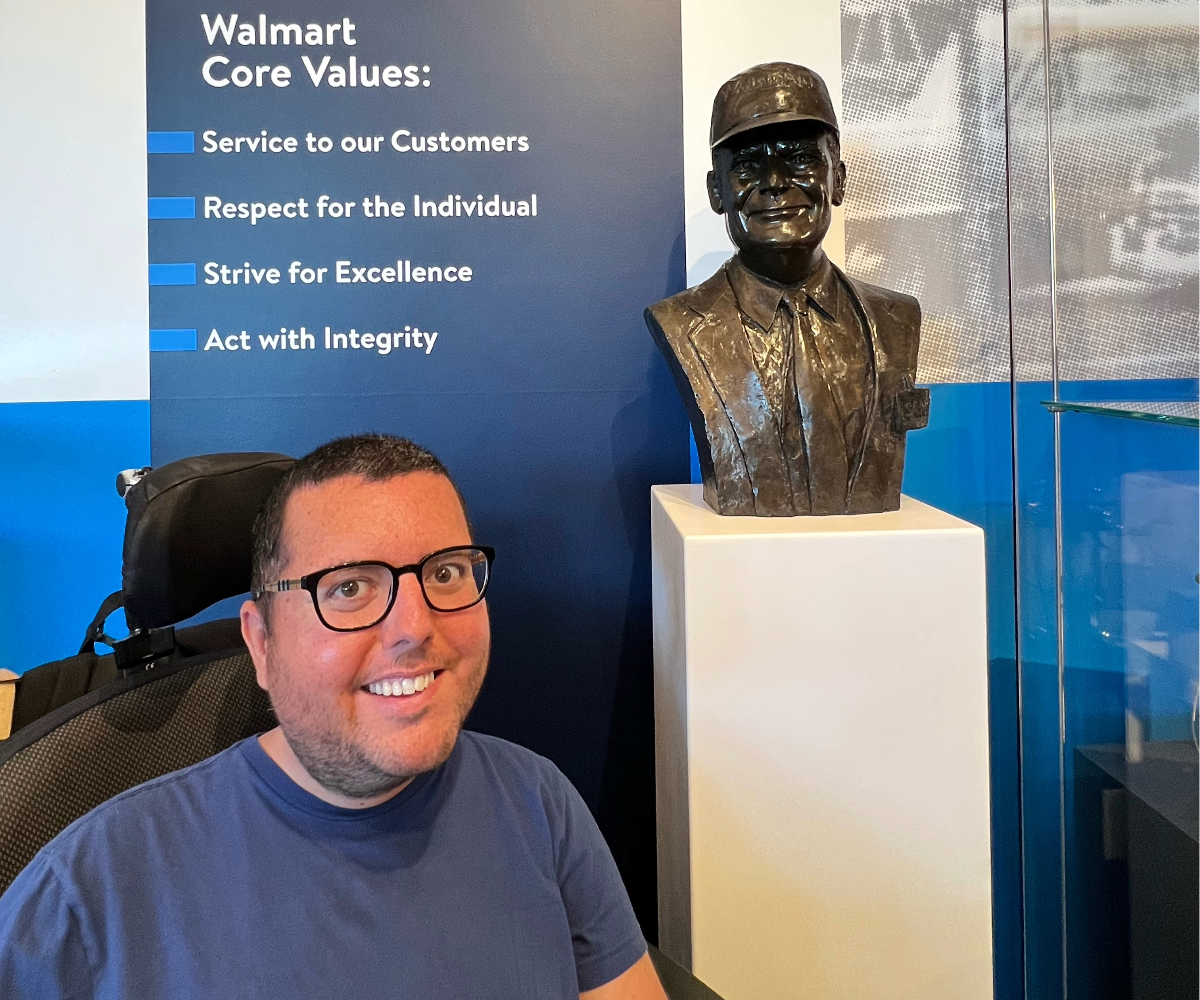 5. Downtown Bentonville
Downtown Bentonville is actually what I fell in love with the most about this city. It is such a vibrant area that made me feel so welcome. It has a festive and artistic feeling, and some great specialty shops, brewpubs, and scrumptious eateries with great indoor and outdoor dining. 
The Bentonville Square has a lovely little fountain and the area is well landscaped and manicured. I found the curb cuts were flat and easy to maneuver, and I loved exploring that area.
 If you are looking for a delicious meal while rolling through downtown, I thoroughly enjoyed eating at The Hive at 21c and The Preacher's Son. The Hive at 21c is beautifully decorated with honeybees and hives, and it really brings the dining experience to a whole new level. While I scoured down a tasty breakfast, they also offer lunch and dinner. I would highly recommend this restaurant while here! 
The other must-visit restaurant, The Preacher's Son, is stunning both inside and out. The outside of this restaurant looks just like a gorgeous brick church, as this is exactly what it used to be. The inside is complete with stained glass windows, but the food here is still the star of the show. This restaurant is only open for dinner, but it's definitely worth waiting for. You may want to get reservations though, as it tends to fill up pretty fast.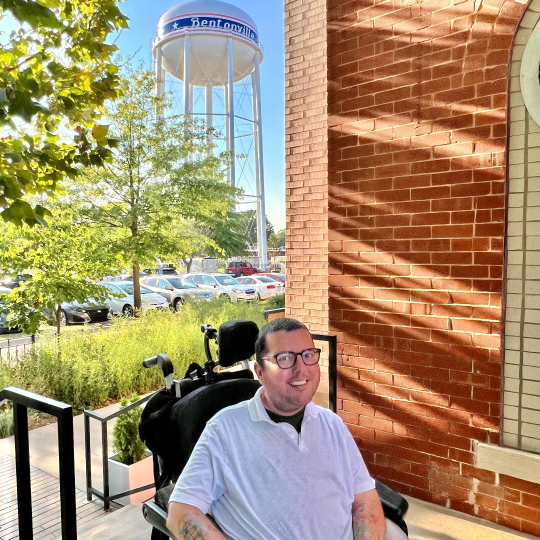 I hope that after reading this, you are packing your bags and planning your trip to this perfect little city. Bentonville is extremely wheelchair friendly and one of my favorite cities in the U.S. I am already looking forward to returning to this city one day soon!
We're happy to help you with any additional information needed during your stay in Bentonville. Our Visitor's Center is open 9 am to 5 pm, Monday through Friday, and 9 am to 3 pm on Saturdays. Stop by and see us at 406 SE 5th Street, Suite 6.