What does the US Constitution mean to you? The world's longest-surviving written charter of government is much more than a piece of paper seen behind glass on a field trip. It is a living, breathing document that affects our lives every day.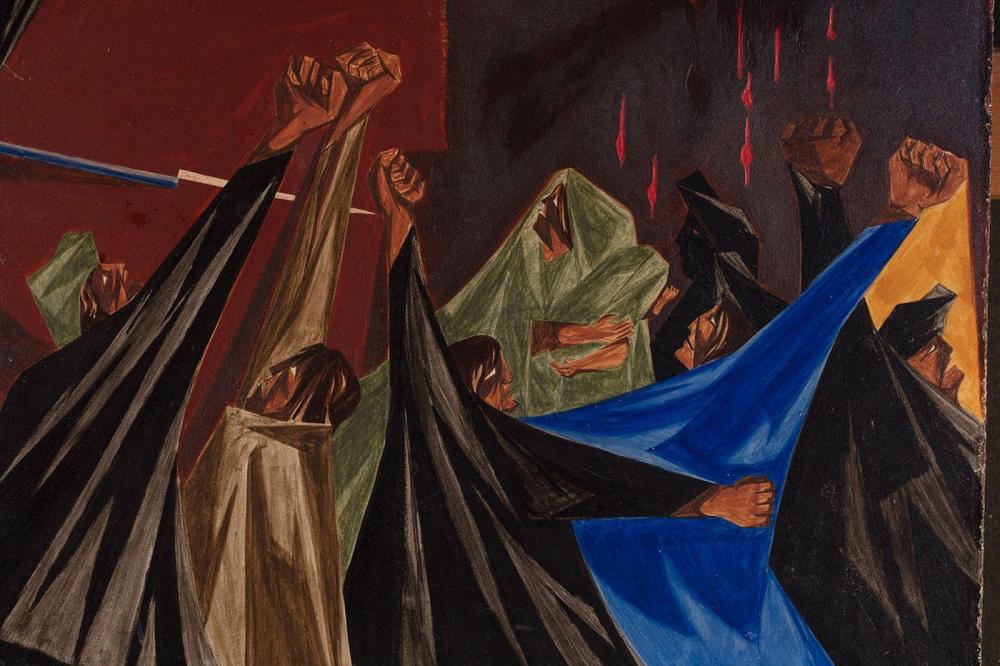 Jacob Lawrence, . . . is life so dear or peace so sweet as to be purchased at the price of chains and slavery?—Patrick Henry, 1775 , Panel 1, 1955, from Struggle: From the History of the American People, 1954–56, egg tempera on hardboard. Collection of Harvey and Harvey-Ann Ross. © 2022 The Jacob and Gwendolyn Knight Lawrence Foundation, Seattle / Artists Rights Society (ARS), New York.
A once-in-a-lifetime opportunity, a rare, original print of the US Constitution (one of only eleven known in the world) is going on view at Crystal Bridges in We the People: The Radical Notion of Democracy. In this free exhibition, the document is displayed in conversation with works of art by influential historical and contemporary artists that provide diverse American perspectives on the nation's founding principles.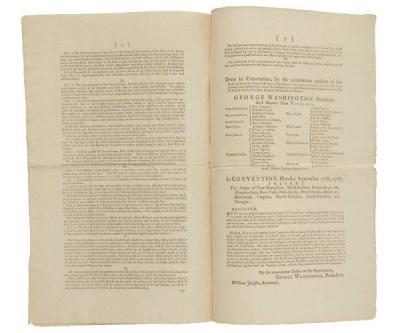 John Dunlap and David Claypool, The Official First Edition of the Constitution, 1787, ink on paper, 16 1/8 x 10 1/8 in. Private Collection. Photograph Courtesy of Sotheby's, Inc. ©2021.
Original prints of the Declaration of Independence, the proposed Bill of Rights, and the Articles of Confederation can be viewed along with several new acquisitions. Portraits of Native American leaders, including John Mathies's depiction of Seneca leader Red Jacket, hang beside familiar paintings of revolutionary leaders such as Alexander Hamilton by John Trumbull. Constitutional themes of equality, freedom, and justice are explored in twentieth-century works by Jacob Lawrence and Gordon Parks, among others, while living artists such as Roger Shimomura, Luis C. Garza, and Shelley Niro address past and present struggles for equality.
Opening July 2, we welcome all to witness history and consider our present moment through the power of art with this unique exhibition.
Admission to this exhibition and Crystal Bridges Museum of American Art is free.
We the People: The Radical Notion of Democracy is sponsored by Kenneth C. Griffin.
About Constitution Weekend
On September 16 and 17, you're invited to join artists, scholars, and civic organizations for a weekend commemorating the enduring impact of our nation's founding documents with artmaking, conversation, performances, and more. See the full weekend lineup to learn more.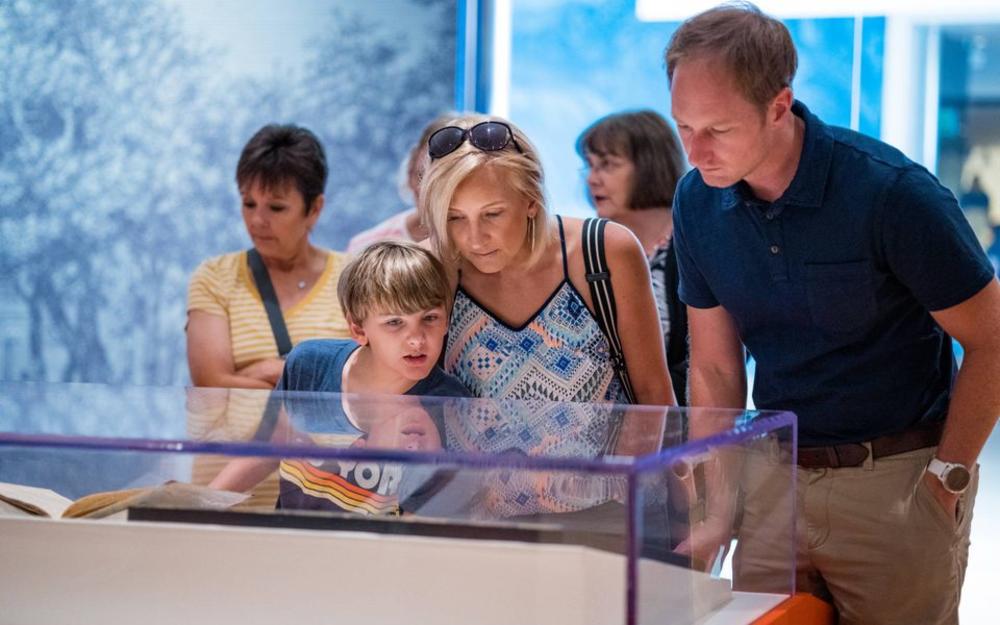 A Revolutionary Museum Itinerary Based on the We the People Exhibition
Among the rare documents and influential artworks, visitors will have an opportunity to explore constitutional themes of equality, freedom, and justice in the context of rights and the role of art in response.
The exhibition is located in the museum's Modern Art Gallery, among the collection galleries. Depending on the time of day, there might be a line to enter the exhibition, but visitors can enjoy several interactives while waiting in line, including a Road to Revolution wall timeline and a digital interactive to test your Constitution trivia.
If you are planning a Crystal Bridges visit specifically to see We the People, here's an itinerary to plan your museum trip and visit all things revolutionary:
 1. Try your hand at artmaking in the Constitution Studio
Located just off Walker Landing, the Studio is an artmaking space for kids and adults alike that is rebranding as the Constitution Studio during the course of the exhibition. This hands-on space welcomes visitors of all ages to engage creatively with the ideas that inspire our nation with themed artmaking projects and activities.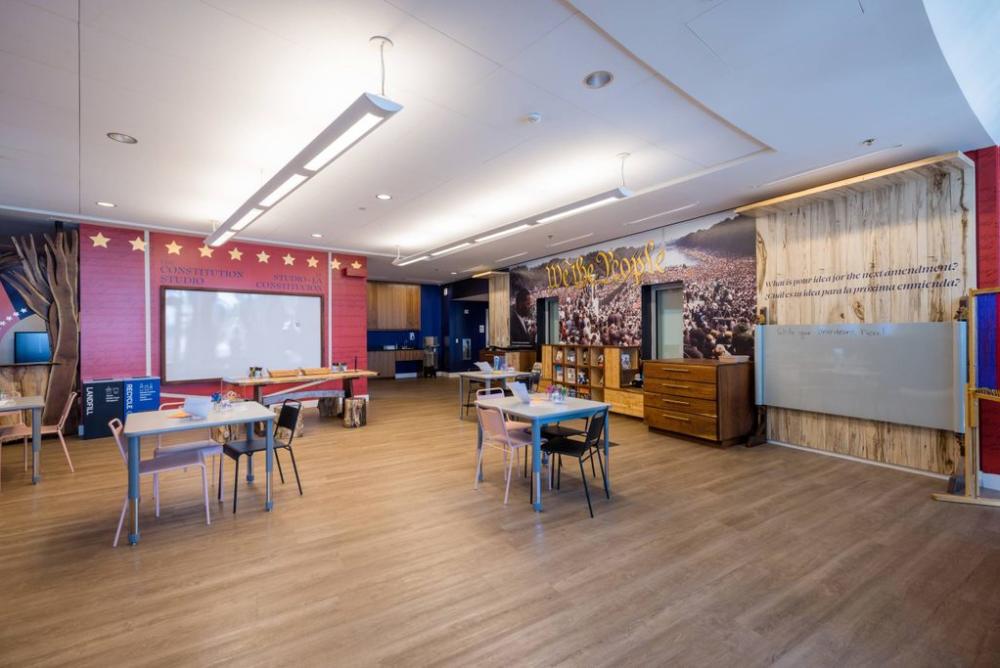 Photo by Ironside Photography / Stephen Ironside.
2. Shop the store pop-up and have a hot dog on Walker Landing
The Museum Store will have a pop-up store located at the end of We the People with branded merch, books, and gifts to remember the time you saw the Constitution at Crystal Bridges. After shopping, take a break out on Walker Landing and enjoy food cart favorites like hot dogs, BBQ sandwiches, and cold drinks.
Photo by Ironside Photography / Stephen Ironside.
3. Discover more revolutionary art in the collection galleries
Want to continue your exploration of art that responds to American history after touring the exhibition? Crystal Bridges is an American art museum, after all! Here is a list of some of the artworks we recommend visiting to continue exploring artistic responses to the nation's founding principles:
Early American Art Galleries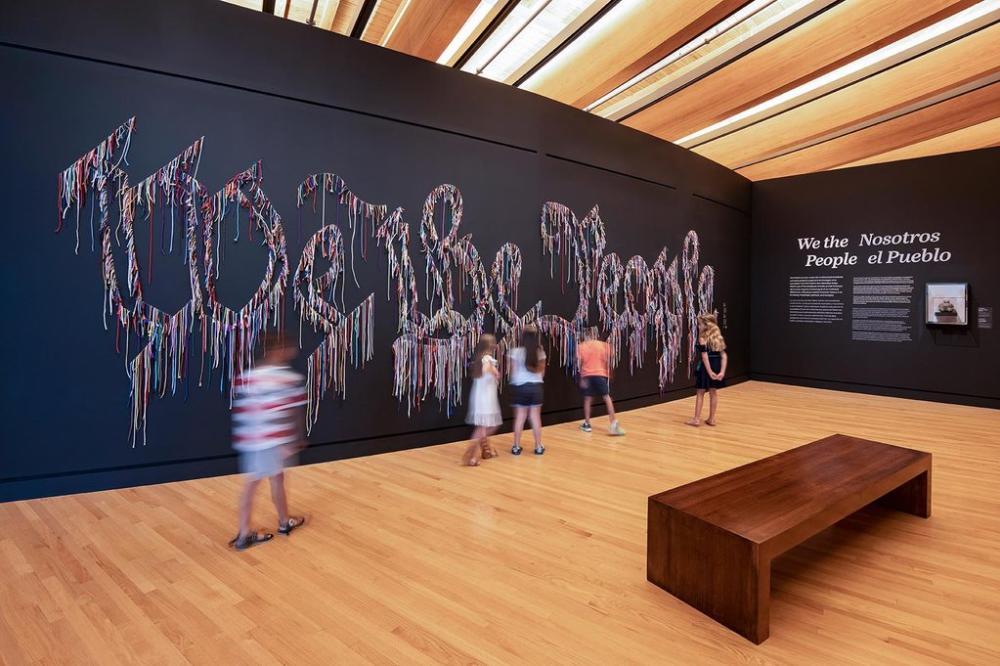 Nari Ward We the People (black version), 2015, Shoelaces, 8 ft. × 27ft. Crystal Bridges Museum of American Art, Bentonville, Arkansas.
Nari Ward, We the People, 2015
Nari Ward is known for his sculptures made from found materials discovered in and around New York City. With the hanging shoelaces spelling out the words "We the People," Ward asks us to reconsider the phrase. Has its meaning changed? Who are "the people"? How do these words apply to our society today?
Giuseppe Ceracchi, Alexander Hamilton, 1794
Samuel F.B. Morse, Marquis de Lafayette, 1825
John Singleton Copley, Daniel Rogers, 1767
Charles Bird King, Shaumonkusse, Oto Half Chief (Husband of Eagle of Delight), c. 1822
Charles Bird King, Wakechai (Crouching Eagle), Saukie Chief, c. 1824
Charles Bird King, Portrait of John Ridge, 1825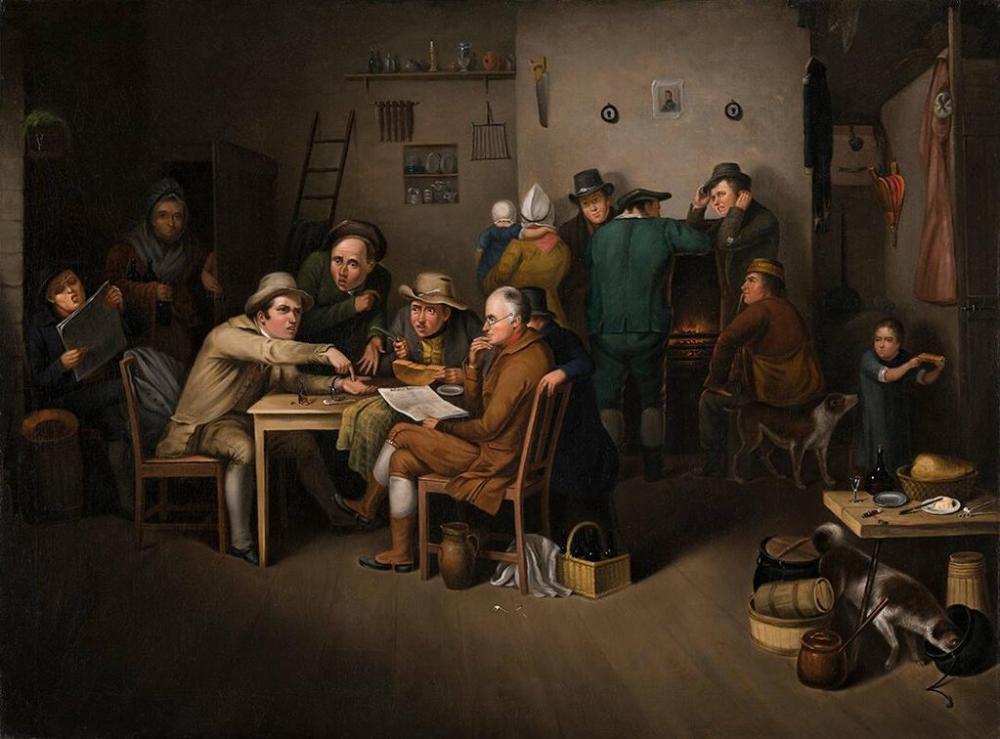 John L. Krimmel, The Village Politicians, ca. 1819, oil on canvas, 35 1/2 × 48 1/4 in., Crystal Bridges Museum of American Art, Bentonville, Arkansas, 2007.5.
John L. Krimmel, The Village Politicians, ca. 1819
It may have been turned into a meme, but this painting marks an early example of a genre painting (a scene from everyday life). In 1819, political topics discussed might have been the Panic of 1819, the first major financial crisis in the US, continuing debate about the expansion of slavery, or even then-president James Monroe. What community conversations are carried out in scenes like this today?
David Drake, Twenty-Five Gallon Four-Handled Stoneware Jar, 1858
Richard Caton Woodville, War News from Mexico, 1848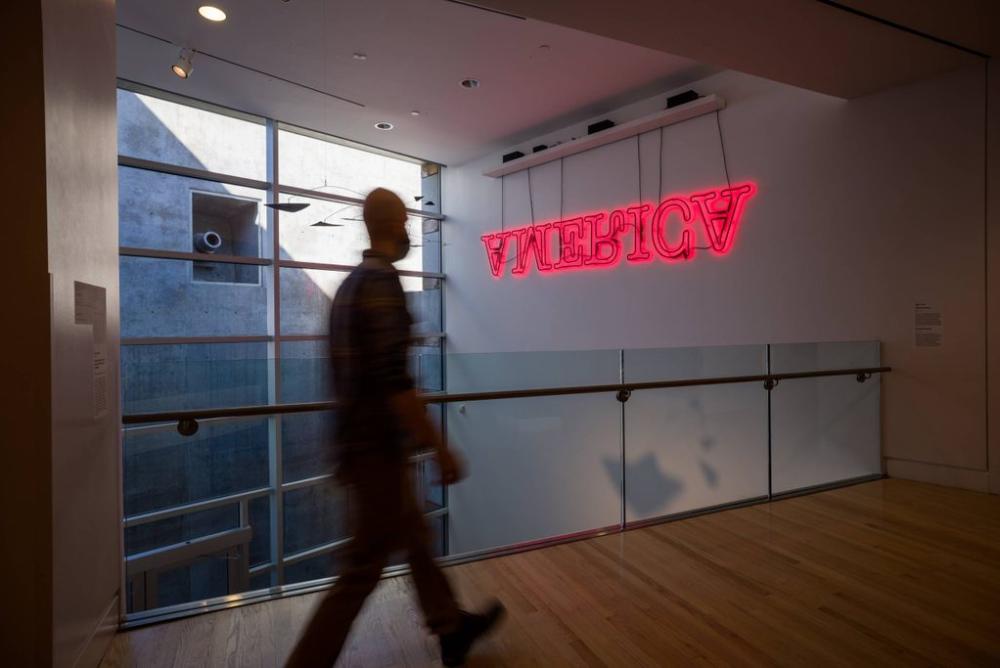 Photo by Ironside Photography / Stephen Ironside.
Glenn Ligon, Untitled (America), 2018
Glowing in red neon, "AMERICA" beckons the viewer, much like our country which has often served as a beacon of hope for many around the world. However, by coating the front of the tubes in black paint and inverting the word, Glenn Ligon acknowledges that the United States also embodies negative associations tied to dark histories and continuing acts of oppression. Sporadically flashing off and on, Ligon's work visualizes his observation that for many, "America, for all its dark deeds, is still this shining light."
Contemporary Art Gallery
Titus Kaphar, The Cost of Removal, 2017
Kerry James Marshall, Our Town, 1995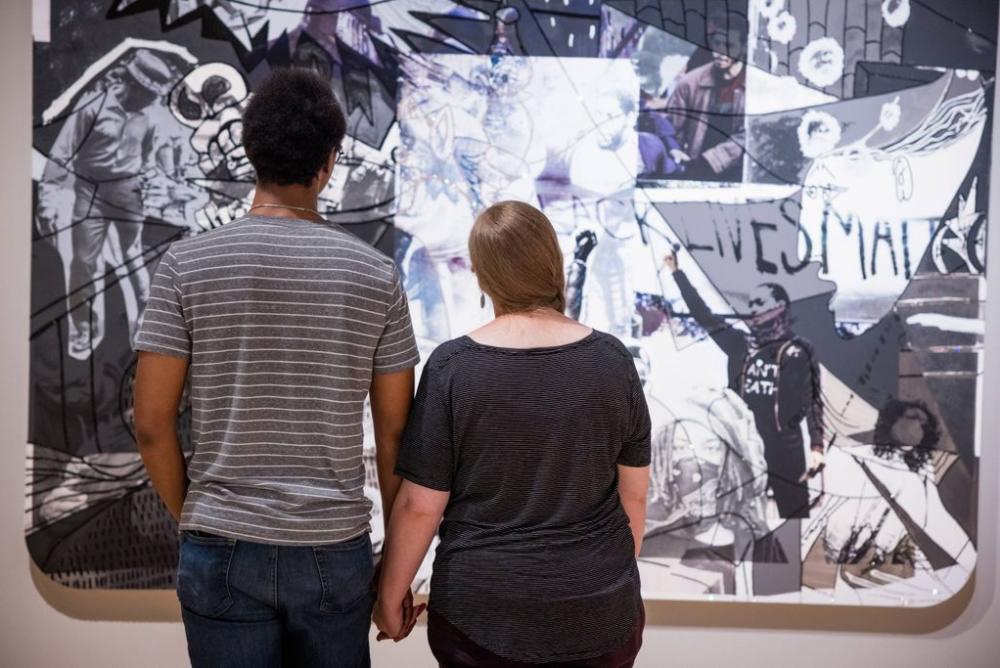 Photo by Ironside Photography / Stephen Ironside.
Mickalene Thomas, Guernica (Resist #3), 2021
Mickalene Thomas's work layers imagery from the civil rights and Black Lives Matter movements to create parallels between histories of violence and injustice across time and place.