Just a block off the downtown square in Bentonville, Arkansas, you'll find one of the friendliest and delicious pizza joints in town — 
Oven & Tap
. This isn't your average pizza parlor; they offer "simple & delicious dishes inspired by southern fare & hints of Italian flair."
The Neapolitan pizzas at Oven & Tap are made with fresh ingredients, feature inventive combinations, and are even cooked in a wood-fired oven that was crafted in Italy! The pizzas aren't the only stars in the joint though. Several non-pizza crowd favorites include wood-fired edamame with rosemary and lemon, fried mozzarella, homemade meatballs, their seasonal salads (my mom's favorite is the shaved Brussels sprouts), and a rotating menu of dinner specials.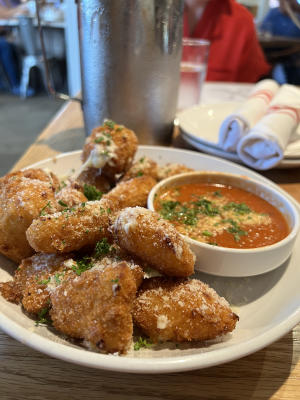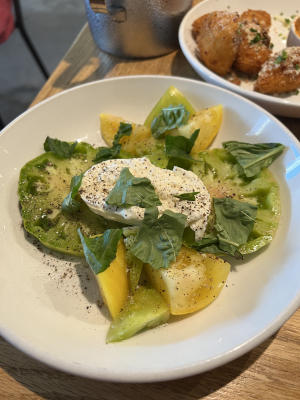 From left to right: Oven & Tap's Fried Mozzarella with red sauce, parmesan, and herbs and the Summer-ish Salad with burrata, fresh tomatoes, basil pesto, and a basil-garlic, vin. Photos by Emily Neuman for Visit Bentonville
But back to the pizza…all of them are dynamite. However, without a doubt, get the Spicy Joe. It's been my #1 since they opened in 2015, and I pray they never take it off the menu. The Spicy Joe includes Sugo (aka traditional red sauce), mozzarella, parmesan, pepperoni, sliced jalapeño peppers, and honey. Think of it as a spicy spin on the traditional pepperoni pizza, bringing a wave of heat and sweetness to your taste buds all at once. My #2 pizza choice is the Cacio e Pepe, but that's a rare gem in rotation on the menu. It tastes just like the pasta that dons the same name, but in pizza form. If you ever do see it on the menu, get it. You won't regret it.
Oven & Tap's Spicy Joe pizza with Sugo, mozzarella, parmesan, pepperoni, jalapeño, and honey. Photo by Emily Neuman for Visit Bentonville
Overall, Oven & Tap is the place in Bentonville I always go for a casual dinner with friends or family or a fun business lunch (they do have lunch specials and can get you in & out in under an hour!) The exploration of food and family-like feeling from staff instantly transports me to my days living in Italy during college. And who wouldn't want that?!
Before your next visit to Oven & Tap, here are some important details to keep in mind:
Location: Main entrance is located off SE A Street, just past Tusk & Trotter. While 215 S. Main Street is technically their address, you may feel like you are entering from the back (which is okay!)
Parking: It's free and located in front of the main entrance (see map here). There are several free spots around the downtown square if full. Biking? A bike rack is located near the front entrance as well.
Reservations: Reservations are not needed at Oven & Tap, however, you can make them online via Tock here. I'd recommend making reservations in advance if you have a large group and/or on a tight timeline.
Hours: Closed Sundays & Mondays. Open 11 am–2 pm & 5–10 pm, Tuesday–Thursday and 11 am–3 pm & 5–10 pm, Friday–Saturday. Their Instagram is a good source for updated hours and closures as well. 
Dining Area: Includes an array of seating options from tables and booths, to high-tops and bar. Outdoor seating is available as well pending weather conditions.
---
About Emily Neuman
Emily is all about travel, wine, art, and food. She has lived in Northwest Arkansas for over 12 years, and has a bachelor's degree in hospitality management and a master's degree in communications. When not exploring Northwest Arkansas, you can find her traveling to some of her favorite spots around the world and discovering new ones. 
---
Looking for food recommendations during your visit? We've got you covered! Browse our Restaurant Guide.
We're happy to help you with any additional information needed during your stay in Bentonville. Our Visitor's Center is open 9 am to 5 pm, Monday through Friday, and 9 am to 3 pm on Saturdays. Stop by and see us at 406 SE 5th Street, Suite 6.