A new display of artwork at One Wall Gallery may evoke a sense of familiarity among visitors who've experienced Bentonville's vibrant street art.
That's because this rotation of work is by Paige Dirksen, a local artist and educator who's transformed several walls throughout the region into lively murals. The prints highlighted in our gallery are part of a new body of work by the artist that explores minimal design. Each one is printed from wood and linoleum blocks that Dirksen carves out herself, she said.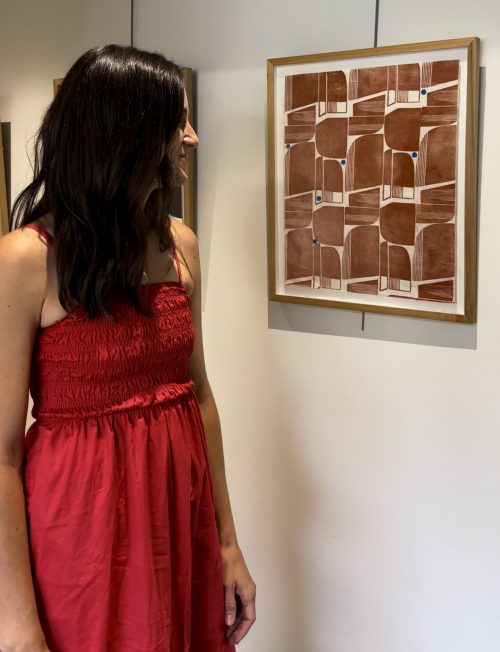 Artist Paige Dirksen stands next to her print "Untitled," August 1, 2023. The work is on view at One Wall Gallery in the Visit Bentonville Visitor's Center.
"I really enjoy, with this series, being able to kind of create tension between organic imagery and geometric imagery and shape," said Dirksen, adding that she likes considering how viewers' own life history informs their experience with her work. 
Dirksen's passion for community arts has fueled much of her practice, including her involvement in a number of large-scale mural projects, she said.
Visitors can find two of Dirksen's murals in Bentonville, one on the grounds of Fifth Street Studio, a community ceramics workplace, and another on the building of Pedal It Forward, a local nonprofit working to distribute bikes to under-served populations.
"One of the things I enjoy—and I found that I enjoy most—about doing those murals is getting to be in those spaces, and getting to see the daily operations of places like that," said Dirksen.
Dirksen and her family moved back to Northwest Arkansas in 2021, and since then they've been delighted by the volume and quality of art in the area, she said.
"There's a lot of people working really hard to make the arts, and resources for artists, really accessible for everyone," said Dirksen. 
In addition to our One Wall Gallery and murals throughout Northwest Arkansas, Dirksen also has an exhibition on view at The Medium, an arts venue by the Creative Arkansas Community Hub & Exchange (CACHE) located in Springdale. Her work will be there through the end of August and a closing reception will be held from 5 to 7:30 pm on August 24. 
One Wall Gallery at Visit Bentonville is a tiny but mighty contemporary art space located in Bentonville, Arkansas. The gallery is known for its innovative exhibitions, featuring works by emerging and established artists from the local community and beyond. One Wall Gallery is committed to promoting and supporting the arts in the Bentonville area, offering a platform for artists to showcase their work and engage with the community.