Gleaning inspiration from interactions with the natural world, artist Jorge Valenzuela creates landscape paintings that capture the essence of fragmented memories.
"It's nostalgic to believe that every second [a memory] just kind of dissolves," said Valenzuela. "You're losing all these little important fragments of information." 
Valenzuela's landscapes are unusual, composed of bright colors and abstract lines. Currently on view in our One Wall Gallery, Valenzuela's series of colorful oil paintings point to themes of nostalgia and anticipation tied to place.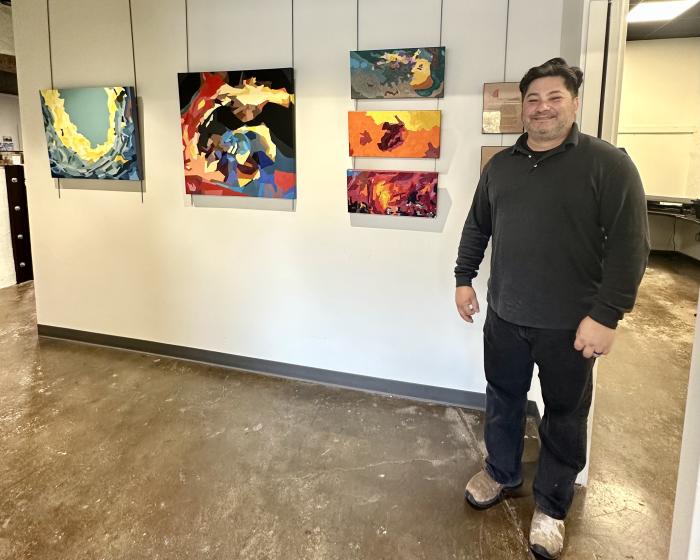 Jorge Valenzuela stands in front of his paintings at the One Wall Gallery at Visit Bentonville.
Valenzuela moved to Northwest Arkansas from Florida two years ago to take a job as senior preparator of collections at Crystal Bridges Museum of American Art. Over time, he's been influenced by the vibrant colors of the region, changing his palate from blue tones to warmer tones, he said.
"Look around at the colors in Bentonville," said Valenzuela. "They're amazing. They have that clarity, crisp, sharpness on everything—landscapes, people."
One of the paintings on view is based on a sunset that Valenzuela experienced on his drive home from work. "It was like this purple fire sunset, and as I was driving, I was like how cool would it be if all the lines would be this color," he said.
When Valenzuela took to paper, he started drawing lines. That's when a feeling of anticipation emerged. "I'm losing time, and I need to put it into painting," he said.
Like the process for many of his other paintings, the lines he drew took forms, the forms were filled with color, and the memory of the sunset became the painting.
In addition to being surrounded by artwork during the day at work, Valenzuela is energized by the support for arts and culture in the Northwest Arkansas region, he said.
"The art community is growing and expanding and it's very exciting to be a part of it," said Valenzuela.
Visitors and locals alike can see Valenzuela's work in our Visitor's Center now through the end of the year.
---
One Wall Gallery at Visit Bentonville is a tiny but mighty contemporary art space located in Bentonville, Arkansas. The gallery is known for its innovative exhibitions, featuring works by emerging and established artists from the local community and beyond. One Wall Gallery is committed to promoting and supporting the arts in the Bentonville area, offering a platform for artists to showcase their work and engage with the community.