Bentonville, Arkansas is an unexpected paradise for art lovers. Whether it be hanging in the gallery of our world-class art museum, woven throughout about 70 miles of our cycling trails, or popping up on the side of a new building in town, art is an integral part of our city's culture.
Now, thanks to a partnership with Ben Edwards, an artist and curator with over a decade of experience working in Northwest Arkansas, you can discover inspiring artwork when you stop by our Visitor's Center.
"There are enough artists and more moving here every day that we can have excellent art from locals on a regular basis," said Edwards. 
Currently on view is Nissel Body and Tangible, a painting and sculpture series by Jordanian artist Issac Younis who moved to the U.S. in 2015 and has spent the last three years in Northwest Arkansas working as an artist and respiratory therapist before starting medical school this July.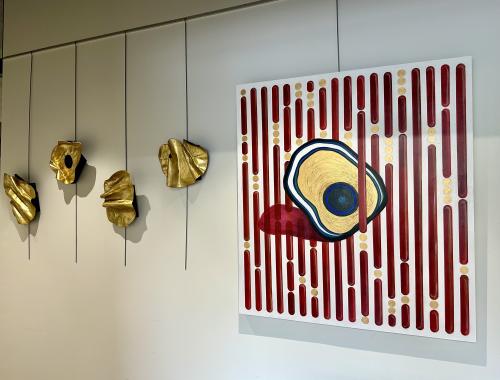 Issac Younis, Tangible VIII, 2023, paper, plaster, acrylic on wood. • Tangible VIII, 2023, paper, plaster, acrylic on wood. • Tangible VI, 2023, paper, plaster, acrylic on wood. • Tangible VII, 2023, paper, plastic, acrylic on wood. • Nissel Body, 2023, acrylic on canvas.
Younis' artwork focuses on the intersection of visual arts and medical practice. While some may think of art and science as opposites, Younis said working in the medical field has helped him become a better artist in many different ways.
"My artwork helps me to navigate a lot of uncertainty and the feeling of uneasiness that comes with our day-to-day lives," said Younis.
The artist also draws inspiration from his patients' resilience, love for life, and desire to recover. By choosing to incorporate bright colors and intricate patterns, Younis hopes to inspire viewers to slow down and appreciate the body and the miracle of being alive through his artwork, he said.

Visitors and locals alike can see Younis' work in our One Wall Gallery now through mid-July. Starting July 7, the artist will also have works on view alongside four other artists in Hang, a sculpture exhibition opening just down the street at Gallery on 6th.
One Wall Gallery at Visit Bentonville is a tiny but mighty contemporary art space located in Bentonville, Arkansas. The gallery is known for its innovative exhibitions, featuring works by emerging and established artists from the local community and beyond. One Wall Gallery is committed to promoting and supporting the arts in the Bentonville area, offering a platform for artists to showcase their work and engage with the community.