In celebration of Women's History Month, this March we're putting the spotlight on the women leaders of the City of Bentonville. Today we're featuring Dana Sargent Schlagenhaft the Executive Director at Downtown Bentonville Incorporated.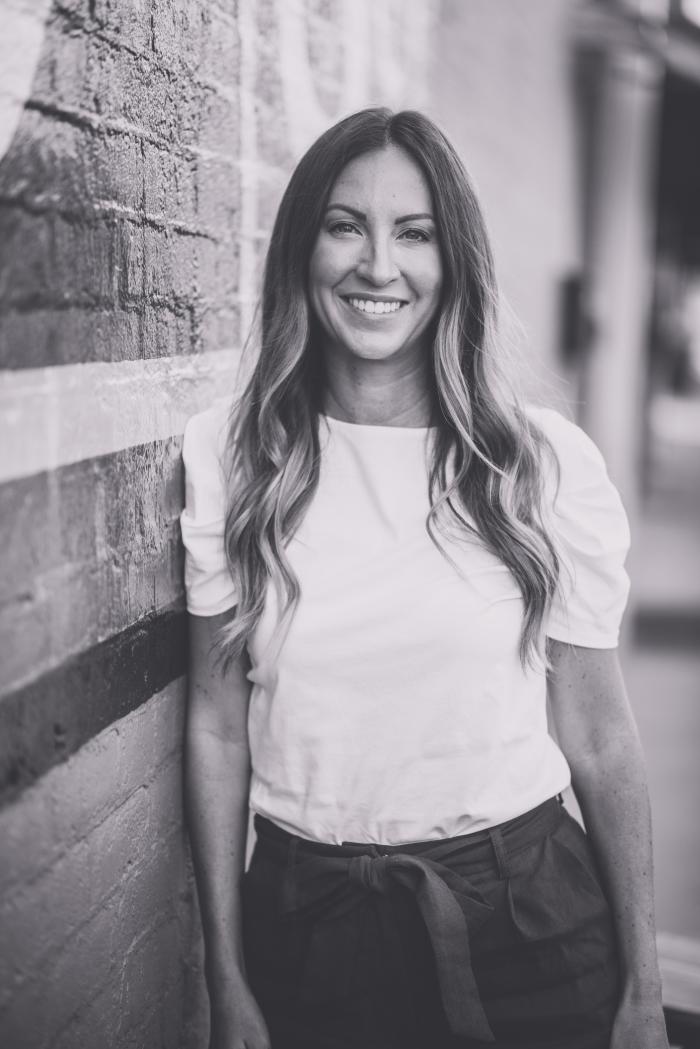 About Dana's Role: 
Dana Sargent Schlagenhaft stepped into the role of Executive Director at Downtown Bentonville Incorporated in February 2023 after serving as the non-profit's Communications Director. In her new position, Dana will lead a team working to enhance the Downtown Bentonville experience for everyone. DBI is best known for its inclusive, family-friendly events like First Friday, the Bentonville Farmers Market, Lighting of the Square, and the Bentonville Christmas Parade. More recently, DBI launched a weekly television show, DWTN Now, which takes an authentic, inside look at everything happening in Bentonville and encourages a sense of belonging we believe each member of our community should experience. Dana's background includes over twenty years of experience in broadcast news, digital marketing, publishing, and strategic communications.
What does Women's History Month mean to you?
Women's History Month serves as a time to reflect on the important role that women have played throughout history in shaping our world, whether in politics, science, art, or literature. It's a reminder of the efforts of those who paved the way for current and future generations of women, enabling them to take leadership roles.
What does it mean for you to be a woman leader in your field? 
I believe that having a voice in the community comes with a responsibility to amplify the voices of others, which is an honor that I don't take lightly. Over the last two years in my previous role at DBI, I have had the privilege of sharing the stories of exceptional women in our city and using our DWTN Now television show to support the important work being done in our communities. 
I had the opportunity to interview Scarlett Lewis, the founder of the nonprofit Jesse Lewis Choose Love Movement, as part of Choose Love Day organized by Bentonville Schools. Scarlett established the movement in honor of her son, who was tragically killed during the Sandy Hook Elementary School shooting in 2012. The Choose Love Movement has been adopted by over 10,500 schools in more than 120 countries to help children develop resilience, have difficult conversations, and respond with love. 
In addition, our team amplified the voices of FemHealth Founders, an innovation hub empowering female founders who are tackling women's health-related issues. We highlighted DEB Project, a local nonprofit led by Sammy Laney that assists foster children in our area and featured a conversation with Bentonville Film Festival founder Geena Davis about her advocacy work promoting equal representation in media.
We amplified women-owned Downtown Bentonville businesses, including The Improv Lab, Onyx Coffee Lab, Markham & Fitz Chocolate, Engel & Volkers, Yoga Story, Southern Style, Remedy Road, Label, Blue Moon Boutique, and many more.  
The stories of the women leaders, advocates, and entrepreneurs in our community serve as a powerful reminder of the boundless potential and energy that women possess!    
From your seat, what makes Bentonville a special city to work and live in?
Bentonville exudes a spirit that is truly one-of-a-kind. The city's charm is a blend of its people, their personalities, and a belief that nothing is impossible. In Bentonville, you won't find many who think that their dreams cannot be realized or that their visions cannot be transformed into reality. This optimism permeates all aspects of our lives, from our day jobs to our daily routines. It's a contagious energy that you can feel through smiles on the streets or see in the innovative projects sprouting up downtown.