From the founding of the United States to the present day, artists have employed mythic imagery—towering mountains, placid rivers, and sunlit plains—to illustrate the vast expanses and striking scenery of the American West. In the nineteenth century, painters and sculptors presented the frontier region as a new Eden: a blank canvas devoid of inhabitants and unspoiled by encroaching industrialization. But these romantic, mythologized, canonized visions have proven deeply problematic in their erasure of Native peoples and the realities of settler colonialism. European American artists painted a version of the world they wanted others to see. What has been left out–the footprints, fences, military trenches, deeds, handshakes, broken treaties, and blood–tells a darker, more accurate story.

 A Divided Landscape, seven contemporary artists confront the historical and cultural narratives of the American West. Through paintings, drawings, sculpture, and mixed-media installations, this sweeping exhibition reclaims space throughout the Momentary galleries and outside around the grounds. Themes encompass ideas of wilderness and indigeneity, interactions between humans and animals, and humans' conquest of nature. Together, the artists in this exhibition will examine landscape paintings that promoted westward expansion and then present a post-colonial version of those landscapes to share the full story of the American West.
A Divided Landscape includes original work from Matthew Barney, Andrea Carlson, Nicholas Galanin, Brian Jungen, Lucy Raven, Xaviera Simmons, and Kara Walker, as well as historical drawings and paintings from the collection at Crystal Bridges Museum of American Art by Arthur Fitzwilliam Tait, George Catlin, Jasper Francis Cropsey, and others that speak to the preservation of the dominant frontier narrative.
Find out more about the art and artists HERE.
---
In his solo exhibition Let Earth Breathe, Esteban Cabeza de Baca interrogates the American landscape tradition by deconstructing its linear, colonial narratives with original works of painting, sculpture, and outdoor, site-specific installations conceived as collaborations with nature. Utilizing indoor and outdoor spaces at the Momentary, Cabeza de Baca explores our relationship with the environment, the present climate crisis, and our own national history.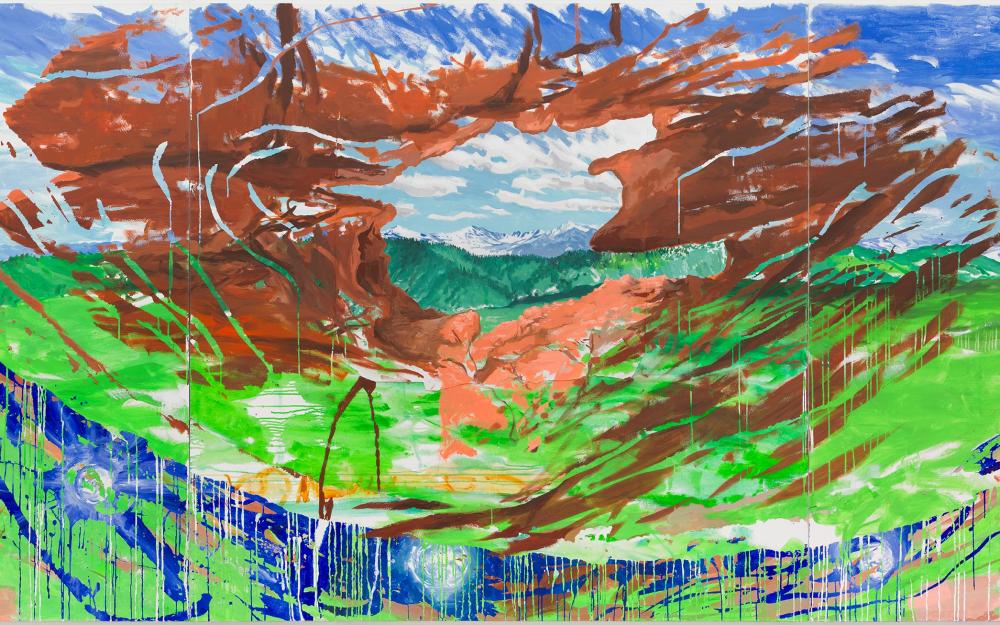 Seed packets will be available and free for the public to pick up throughout the run of the exhibition. As the artist says, "Native plant-based models of care can relinquish our dependence from the industrial models of subsistence."
Born in San Ysidro, California and based in Queens, New York, Esteban Cabeza de Baca employs a broad range of painterly techniques, entwining layers of graffiti, landscape, and pre-Columbian pictographs in ways confounding Cartesian single-point perspective.