The Momentary has several exciting, new exhibitions to unveil in the coming month! 
The Momentary is a contemporary art space satellite to Crystal Bridges Museum of American Art! Situated along the Razorback Regional Greenway near 8th Street Market. The space was originally a decommissioned 63,000-square-foot cheese factory and has since been transformed into a multi-disciplinary space for visual and performing arts, culinary experiences, festivals, and artists-in-residence.
The galleries are currently closed through October 28th; however, the Tower Bar, Onyx Coffee Lab, and the Momentary grounds are open in the meantime. 
---
SUB | KURT HENTSCHLÄGER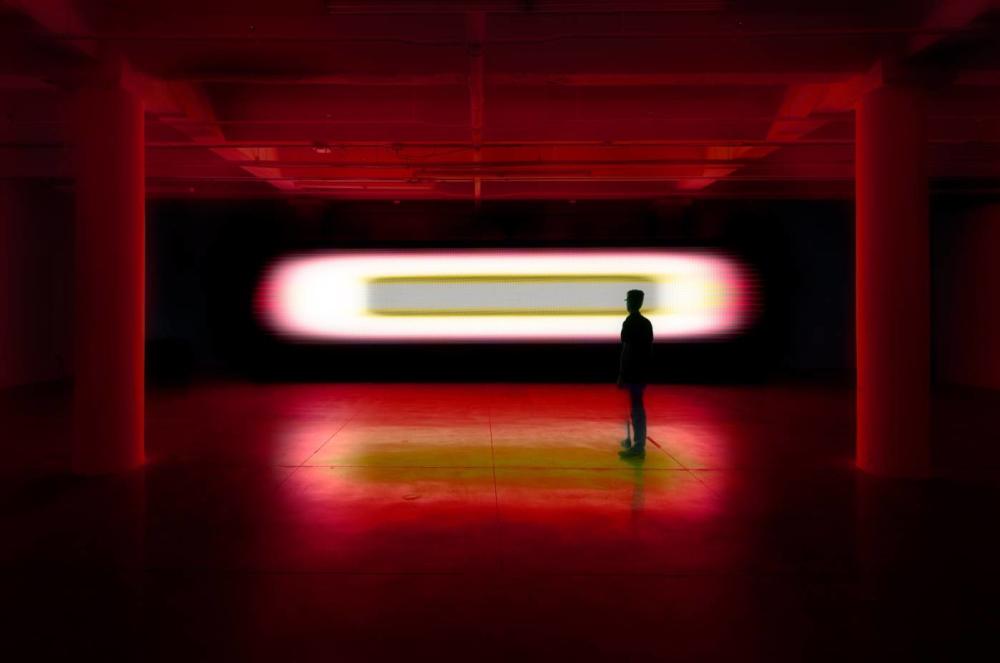 SUB Kurt Hentschlager; Photo by Bruno Klomfar.
---
MUSIC |  THE SQUARE 
OCT 20 - DEC 31, 2022 (ON SELECT DATES) 
Set in complete darkness, SUB is an immersive, meditative environment created by Kurt Hentschläger. The installation induces a simple, dramatic, perceptual shift: Embarking into pitch black, visitors are invited to drift off into an ambiguous state of sensory deprivation and overload, slowly adapting to an unfamiliar terrain. The predominant absence of light in SUB is contrasted, in intervals, by bright bursts of animated abstract forms and patterns. Returning back into darkness, ghostly retinal after-images linger, slowly fading until the next eruption of light.
SUB is a timed-ticketed experience on view in the Square, located at the edge of the Momentary's campus near 8th St. Market.
Experience SUB Fridays, Saturdays, and Sundays through December 31, 2022.
HOURS:
Fridays & Saturdays | Oct 28 through Dec 31 – Open 2 – 8 pm
Sundays | Oct 23 through Dec 18 – 12 – 6 pm
*Note: last ticket sold one hour prior to closing. No tickets are sold on December 24.
Tickets are $8 ($6/member, $5/student), reserve your spot online or by calling the Box Office at (479) 657-2335.
Student tickets available to all guests under 17 or those with a valid student ID, presented upon entry.
---
HANNAH PERRY: RAGE FLUIDS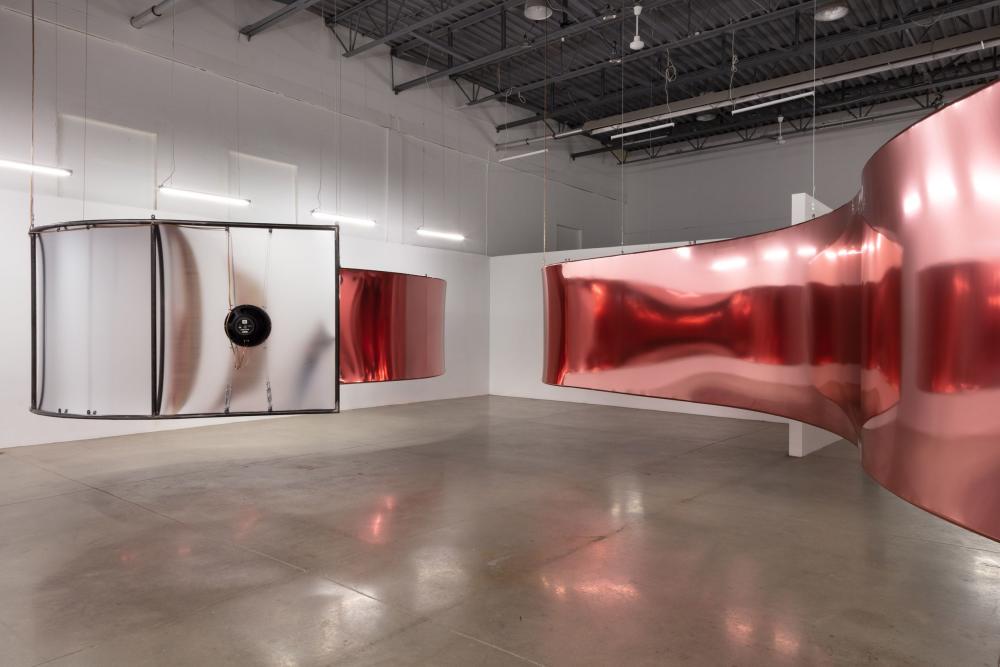 Hannah Perry, Rage Fluids, 2018, Metal Sound Sculpture, 780 x 140 cm 307 1/8 x 55 1/8 in. Photography courtesy of Arsenal Toronto and the artist.
The immersive installation Rage Fluids by London-based artist Hannah Perry presents a fluid version of reality. The massive, labyrinthine sound sculpture flows from solid to liquid as its surface pulsates, distorting the viewer's reflection as subwoofers rumble with increasingly violent menace. The effect is physical and destabilizing, reaching a point just before the metal frame is torn apart by vibration before retreating to calm, stable silence. Experience unsteady feelings of an unpredictable environment that was in part inspired by the automobile industry and the cult surrounding it.
---
YVETTE MAYORGA: WHAT A TIME TO BE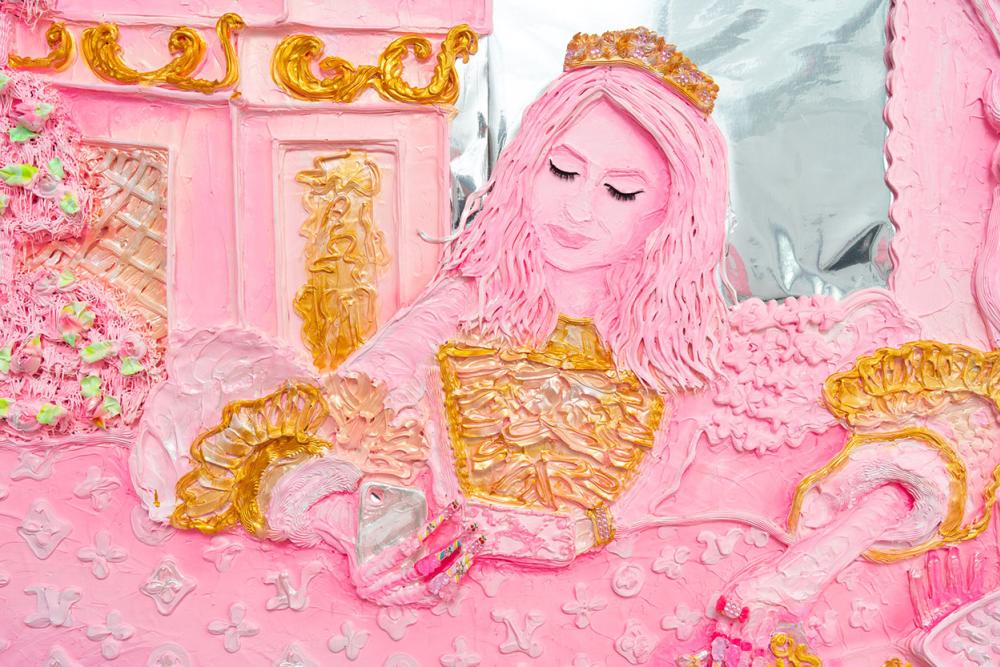 Yvette Mayorga, detail of The Reenactment with Nike Air Jordans After the Last Supper, 2022, acrylic nails, Nike shoes, false eyelashes, collage, plastic ring, plastic gummy bears, cherry nail rhinestones, rhinestones, car wrap vinyl, and acrylic piping on canvas, 60" x 60". Courtesy of the artist. 
---
In her solo exhibition What a Time to be, multidisciplinary artist Yvette Mayorga combines images of family, found objects, '90s nostalgia, moments of Midwest life, and her signature pink and frosted style to interrogate the art historical canon and the meaning of belonging. From elaborate collage portraits of her family members posed to resemble seventeenth-century Rococo paintings to sculptures that weave together symbols of family and memory to a reimagined installation of her bedroom from the '90s, Mayorga pushes beyond her comfort zone in her first solo museum presentation to introduce new, original works that interrupt the landscape of art history. The exhibition's title speaks to the many lives lived and the privileges and upheavals that have come with surviving in our contemporary life. 
---
FIRELEI BÁEZ

Firelei Báez, To breathe full and free: a declaration, a re-visioning, a correction (19°36'16.9"N72°13'07.0"W, 42° 21'48.762" N 71°1'59.628" W, 36° 22' 0.1848'' N94° 12' 8.64'' W), 2021. Installation view, ICA Watershed, 2021. Courtesy of the artist and James Cohan, New York. Photo by Chuck Choi. © Firelei Báez
---
In her largest sculptural installation to date, Firelei Báez invites visitors to traverse passageways and travel through time and space, engaging with streams of intervention and interconnectedness. In its second iteration, Báez's sculpture revisits the centuries-long exchange of ideas and influence between Europe, the African continent, and the Americas, reclaiming and revisiting the Caribbean's place in the story of Western world history through a presentation that the New York Times calls "history meets flamboyant fantasy." 
To breathe full and free: a declaration, a re-visioning, a correction (19º36'16.9"N 72º13'07.0''W, 42º21'48.762''N 71º1'59.628''W, 36° 22′ 0.1848" N94° 12′ 8.64" W) reimagines the archeological ruins of the Sans-Souci Palace in Haiti, as if it were emerging from the Atlantic Ocean through the Momentary's galleries. The longitudinal and latitudinal coordinates signify where the ruins are located, the location of ICA Watershed in Boston (where this work was first presented), and the location of the Momentary. The installation also features an immersive mural and hanging tarps that evoke both being underwater and the starry night sky. The monumental structure's intricately painted architectural surfaces include symbols of healing and resistance, patterning drawn from West African indigo printing traditions (later used in the American South), and sea growths native to Caribbean waters, reconsidering the complex history of interaction between each of these sites.