"A staple in Bentonville the last eight years, The Hive's menu pays tribute to the High South, specifically Arkansas cuisine. Located inside of 21c Bentonville, The Hive follows suit of the museum hotel, highlighting contemporary art through the site-specific, "Buzzkill" by Johnston Foster. This work transforms the restaurant into a work of art itself, with glowing honeycomb, kudzu vines, swarms of bees, and random hidden objects and creatures interspersed throughout the lounge and dining spaces. We take dining with art to a new level at The Hive from décor to food. Executive Chef Matthew McClure has led The Hive since our opening, ensuring local, seasonal ingredients are always on the plate. We asked Chef McClure to discuss a few current seasonal items he's excited to be making this month.
Roasted okra with whipped cream cheese and jalapeño pepper jelly: If you have ever grown okra, you know that it produces beautiful flowers, if you live in Arkansas, you also know that it grows like weeds here. If you don't pick it at least every other day, you will risk it becoming overgrown and woody. To me, okra is one of my most nostalgic childhood foods, I never remember a time that I did not enjoy eating it but it was always served fried. Here, we roast it, which cooks out the slimy texture and yields a tender juicy vegetable that pairs well with the tanginess of the cream cheese and a bit of sweet and spicy for the pepper jelly.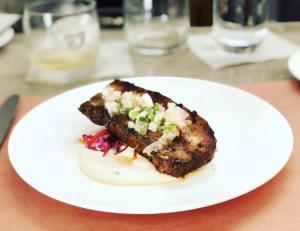 Pork Belly and watermelon. I feel like most people identify with watermelon as its own composed dish, meaning, it is usually eaten all by itself and not paired with anything. If you think about all of the flavor profiles of watermelon, its sweetness, acidity, crunchy texture, it is perfect for pairing with rich ingredients. Enter the pork belly. This pork belly is slow smoked and cut into bite sized chunks and then flash fried to finish. Think of all the things about BBQ you love, this dish has."