Written by Joey Zapoli/Flying Fish
 
Bentonville's favorite seafood shack, Flying Fish has been serving up the freshest seafood to the community for over a decade. Friendly staff, warm smiles and the quirky atmosphere make this a dining destination for all ages. Menu favorites include fried shrimp and catfish, grilled red snapper and salmon or shrimp tacos served in crispy corn tortilla shells and stuffed with pico de gallo, coleslaw and the signature "Comeback" sauce, a spicy smoky remoulade sauce.
 
With crawfish now in season, Flying Fish is the expert on mudbug boils. Harvested from Louisiana, the spicy crustaceans are boiled to order in Flying Fish' signature seafood seasonings and served ready to "pinch, twist and suck" along with smoked andouille sausage, corn and potatoes.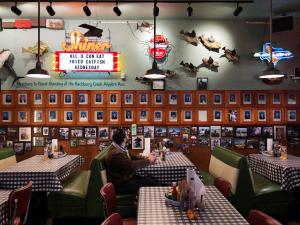 The extensive menu features catfish, shrimp, oysters, alligator, frog legs, calamari, grilled fish, crab legs, burgers, chicken and mudbugs. Offerings including grilled fish are grilled (with your choice of traditional, snappy, chimichurri or with garlic butter), boiled platters, fried seafood baskets, salads, seafood gumbo, crawfish chowder, oysters on the half shell, fish tacos as well as Southern specialties including po' boys, jambalaya, grits and gumbo, homemade hushpuppies, pickled green tomatoes and from scratch desserts. Ice cold bottle or draft beer, wine and home-made Jose Cuervo margaritas also available.
 
Flying Fish is home to the "Billy Bass Adoption Wall", promising to house, shelter, love and protect each adopted Billy Bass. Bring in your "Take Me to the River" crooner and receive a free basket of catfish and get your name on the wall next to the beloved Billy Bass. The "Liars Wall" celebrates great moments in angling history submitted by Flying Fish fans eager to share their fishing lore.
 
Popular daily specials include All You Can Eat Catfish on Wednesdays and "The Preacher's Special" - $1 oysters all-day every Sunday. Kids Boats with choice of hamburger, catfish, jumbo shrimp, chicken strips or chicken sandwich served with fries and hushpuppies, a drink, animal crackers and a toy, are available for children 12 and under ($5.95).
Flying Fish is located at 109A Northwest 2nd St. Hours of operation are Sunday-Thursday 11 a.m.-9 p.m. and Friday-Saturday from 11 a.m.-10 p.m. For more information go to www.flyingfishinthe.net or call 479-657-6300 and ask for Lupita, our General Manager. Sign up for the Flying Fish Grub Club for exclusive discounts and freebies.