Northwest Arkansas is a fast-growing, dynamic region of over 500,000 people. The area boasts more than 400 miles of mountain biking trails and paved pathways, a thriving arts community complete with world-class museums, a fun beer and food scene and live music options for everyone. Access to these amenities – combined with the region's great employment opportunities, low cost of living and availability of high-quality educational options – has helped land Northwest Arkansas on numerous lists of top places to live and best-performing metros. Community and business leaders continue investing to make the region more attractive as leading companies must be able to recruit the best, brightest talent to remain competitive in the global marketplace. The Northwest Arkansas Council is leading efforts to better position the region as an attractive place for professionals and creatives from across the country.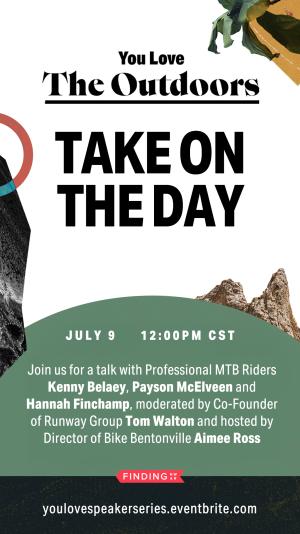 The latest in these efforts is FindingNWA's You Loveseries which launched in June to promote the amazing quality of life experiences in Northwest Arkansas. 10 online events are planned throughout the summer to explore points of passion and bring together local and national experts to inspire community and conversation during these challenging times. The topics range from art and culinary experiences to outdoor exploration, music and entrepreneurship. 
The second event is this Thursday, July 9 at noon hosted on Zoom. Runway Group Co-Founder and Walton Family Foundation Home Region Program Chair Tom Walton will moderate a panel focused on cycling and mountain biking. Panelists include professional mountain bikers Kenny Belaey, Payson McElveen and Hannah Finchamp. The event is hosted by Bike Bentonville's Aimee Ross. 
Northwest Arkansas a place where everyone is welcome. No matter where you come from, you'll find your place and your people. It's a vibrant place where the ambitious come to craft a fulfilling life.