Camping is good for you (it's a fact - look it up)!
---
Amid the day-to-day duties of life and living, we often forget to step away from our phones, computers, tablets, and television screens to appreciate and enjoy connecting with nature and other individuals authentically. Camping at Coler Mountain Bike Preserve is ideal for all individuals looking for an escape - regardless of your outdoor expertise!
​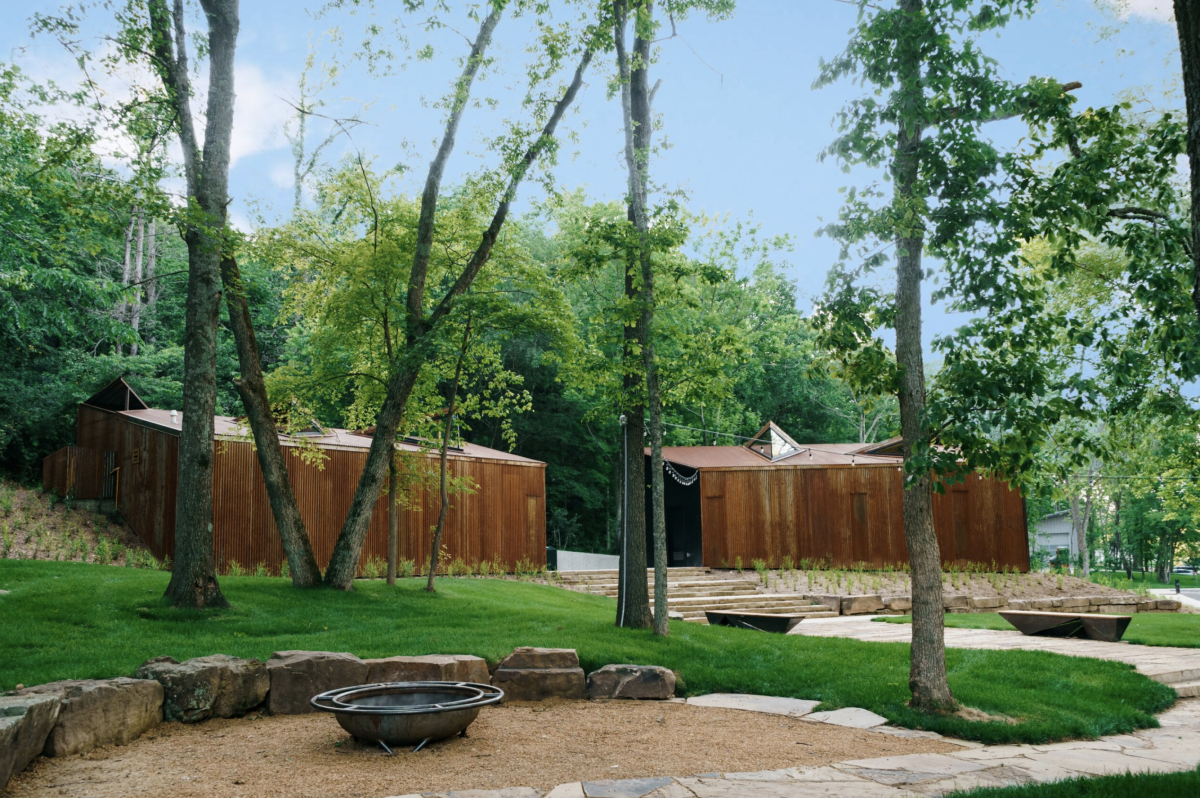 With easy access to the most scenic beauty nature has to offer, it's no wonder Arkansas is known as The Natural State. Located just two miles west of downtown Bentonville, Coler will have you feeling like you're in the backcountry of the Ozarks. While there's no wrong time to Visit Bentonville, we invite you all to take advantage of the natural beauty the Ozarks have to offer during fall.
The weather in Bentonville is comparatively mild, especially in the autumn months. The average high temperature is about 81 degrees in September, 68 degrees in October, and averages in the mid-to-upper 50s throughout November. The average number of sunshine days per month is about 15 in September, 18 in October, and 19 in November, meaning there's ample opportunity for you outdoor enthusiasts to enjoy your favorite activities. Start planning your trip to Visit Bentonville and camp at Coler Mountain Bike Preserve – an outdoor oasis ideal for any adventurer looking for an escape.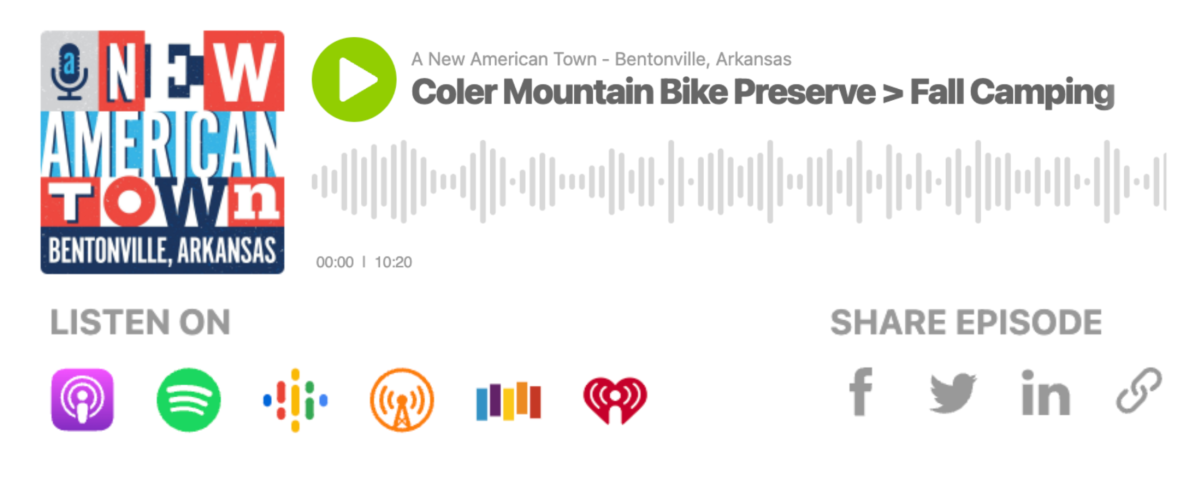 ---
Campsites
Camping at Coler is dry, primitive camping. The Campsites are tent platforms in the heart of the Preserve nestled along the trails and near downtown Bentonville, Arkansas. Year-around availability is available.  
The Campsites feature eight small elevated tent 9′ by 9′ platforms, eight large elevated tent platforms that are approximately 12' x 12' plus one large ADA campsite (with adjacent parking), and five camper van (Class B) parking spots.  As the campsites are elevated platforms, no tent stakes are needed, but extra cords are recommended to secure your tent to the cleat tie-downs.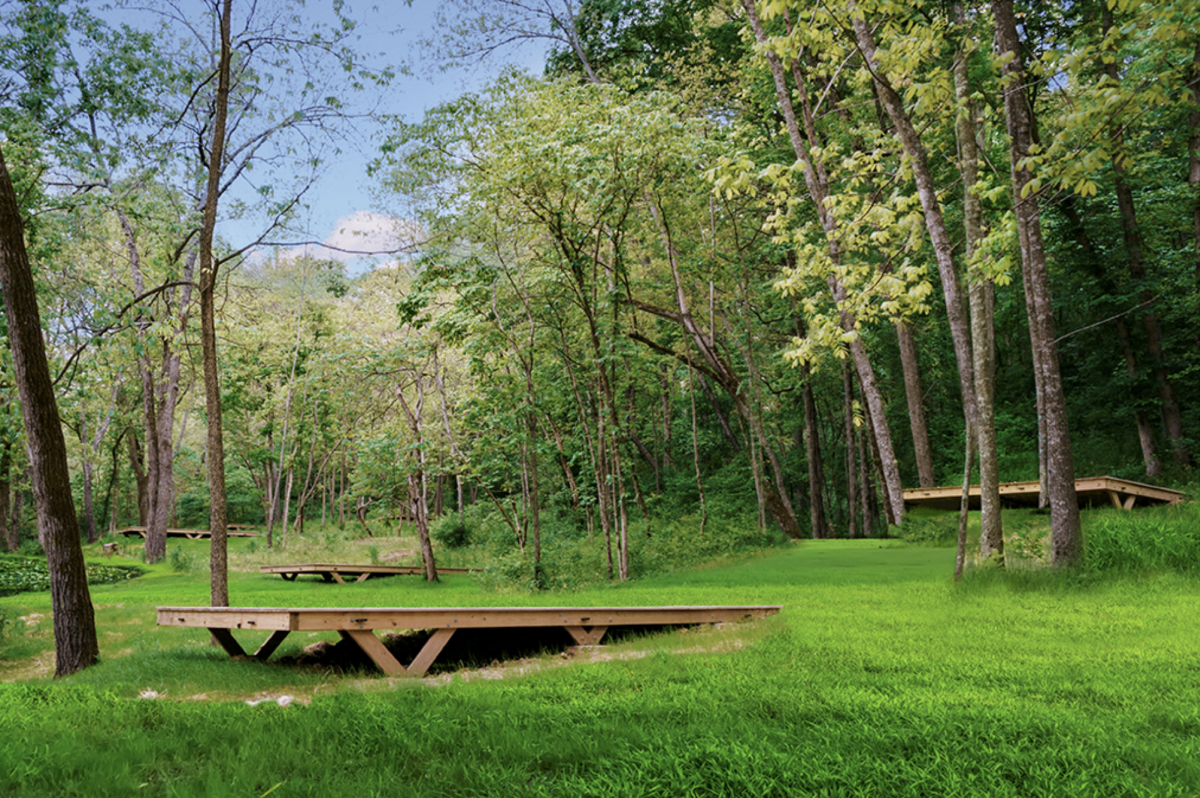 As the Campsites are dry and primitive in nature, there are no water, sewer, or electrical hook-ups or WI-FI service. In addition, the only cooking permitted is portable, propane gas grills; so no charcoal or wood burning grills. 
---
Amenities
Whether you're looking to rough it and ride the trails of the #MTBCapital, or you're interested in a more leisurely escape - Coler Mountain Bike Preserve has something for individuals of all walks of life. The Coler Campgrounds allow visitors to determine for themselves just how off-the-grid they're wanting to go.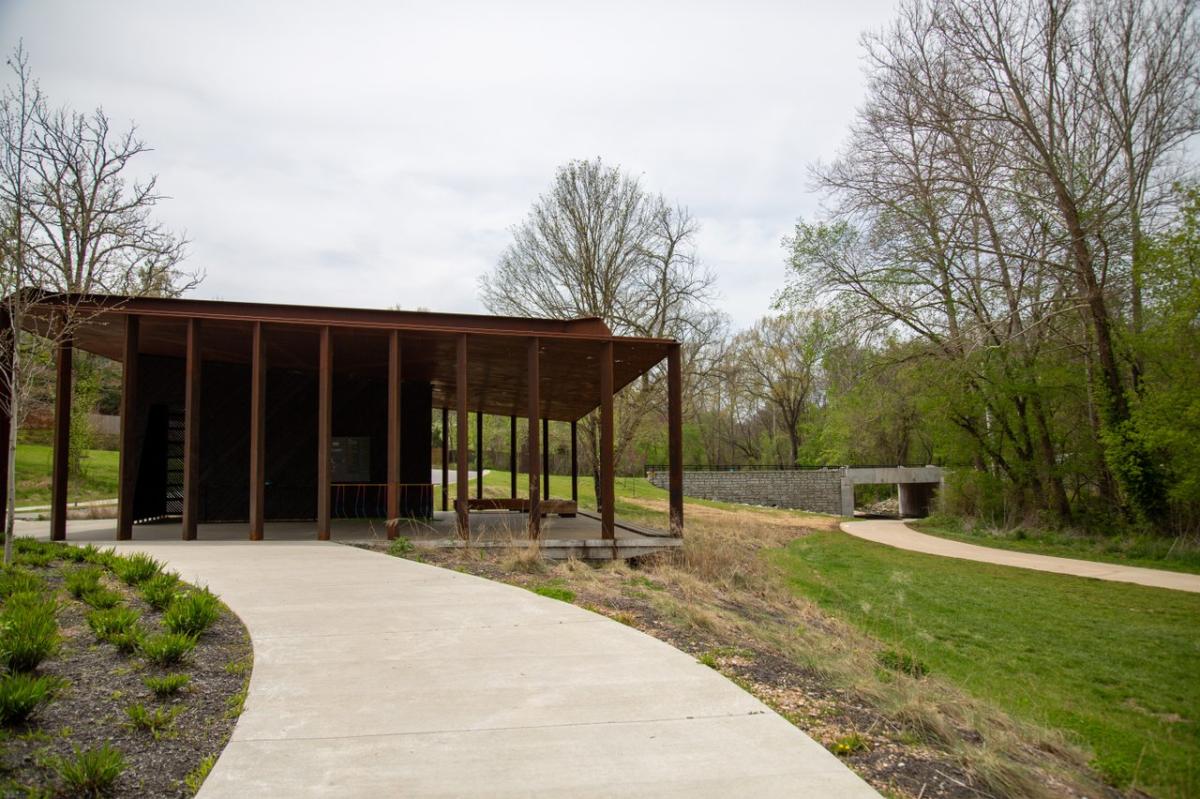 Coler provides wagons to assist with loading and unloading cargo. The Campgrounds are equipped with modern restrooms, hot indoor showers, outdoor showers, water bottle refill stations, bike wash and repair stations. Find yourself kicked back and relaxed in one of the dispersed hammock stands on the Preserve or gathered around the community fit pit roasting wienies. Coler conveniently has firewood available for purchase. From bear-proof trash cans to a community water spigot - camping at Coler can be made as relaxing and rejuvenating as you want it to be! 
---
Airship at The Homestead
Coler Campers can find paradise in the heart of Coler Mountain Bike Preserve at The Homestead, an open-air barn with seating for small groups. Just steps away is Airship Coffee, one of Bentonville's best. Airship at Coler boasts its biggest culinary menu yet. Alongside delicious drinks, visitors can find breakfast, lunch, and energizing snacks.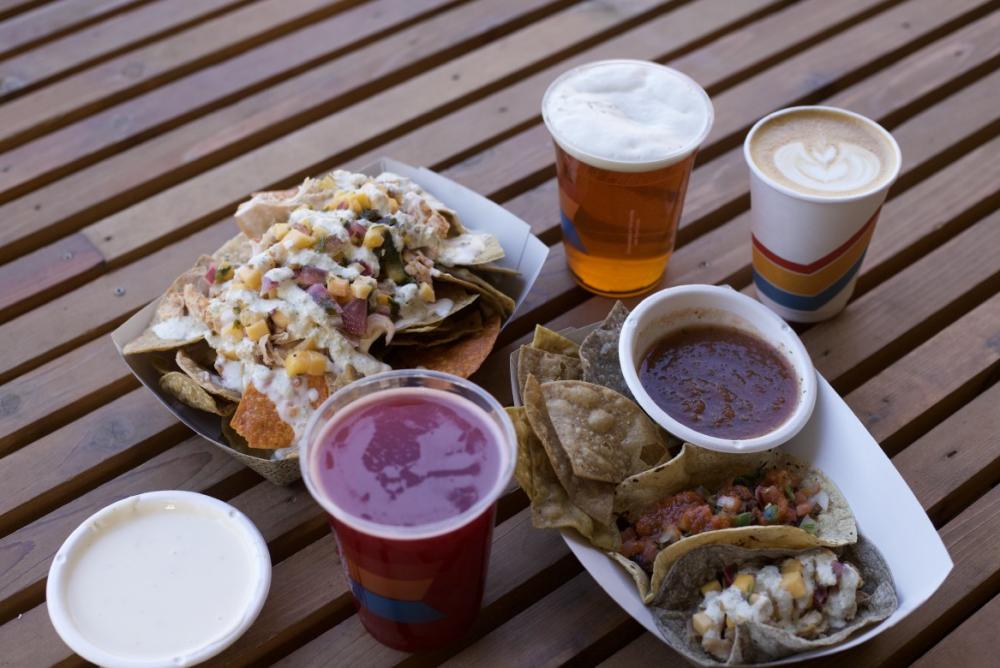 ---
Adventure
At Coler, all are invited to adventure! You will find the opportunity to shred on your bike, run on the trail, stroll on the walkway, camp with friends, or relax with your family in nature. With truly something for everyone, Coler is an outdoor destination for all walks (or rides) of life. Its mountain bike trail system is maintained and operated at a world-class level and is the mecca for mountain bikers looking for the most diverse array of options in Northwest Arkansas. For low-key adventure, it offers walking trails and various features for celebrations, events, or reflection.
Mountain Biking
Coler Mountain Bike Preserve is built on land designated as a mountain bike preserve about a mile west of downtown Bentonville. Although you might think you are in the backcountry of the Ozarks while riding Coler, the trails are actually located about two miles west of downtown Bentonville. The trails feature multiple flowy jump lines, challenging technical rocky sections and several huge gap jumps.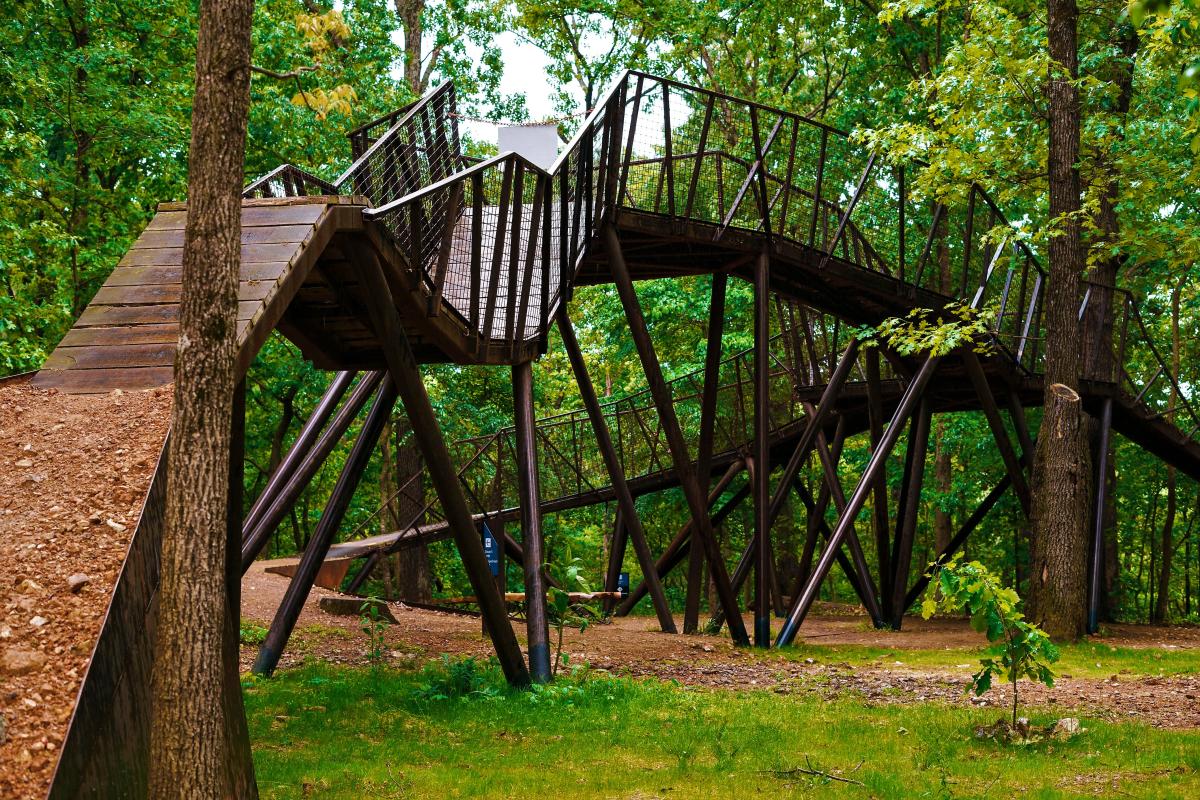 Phase 1 culminates at the spectacular "Hub" near the top of the mountain, a 20-foot-tall steel-and-wood structure that guides riders to the start of three downhill runs. From there, you can choose which trail to take and the level of difficulty. If you are an expert level downhill or enduro rider, try Cease and Desist. It features the "Drop the Hammer" — a double black alternate line featuring a 12-foot drop into a valley setting you up for 10-foot step-up jumps and two more large drops.
If you love a rocky technical trail, then try out Rock Solid – a super technical trail with, you guessed it, rocky goodness. Coler is now the state's most challenging enduro-style jump trail system.
---
#CatchYouAtColer Camping this Fall
Bentonville, Arkansas is easily accessible from all directions. Located in the heartland of the country, getting to Bentonville is only about a three-hour drive from Kansas City, a nine-and-a-half-hour trip from Chicago, under five hours from Memphis, and about five-and-a-half hours from the Dallas-Fort Worth area. Additionally, Northwest Arkansas National Airport (XNA) offers an average of 30 flights a day to major cities all over the country.
Plan your trip to visit Bentonville today!
---
Explore Coler Mountain Bike Preserve