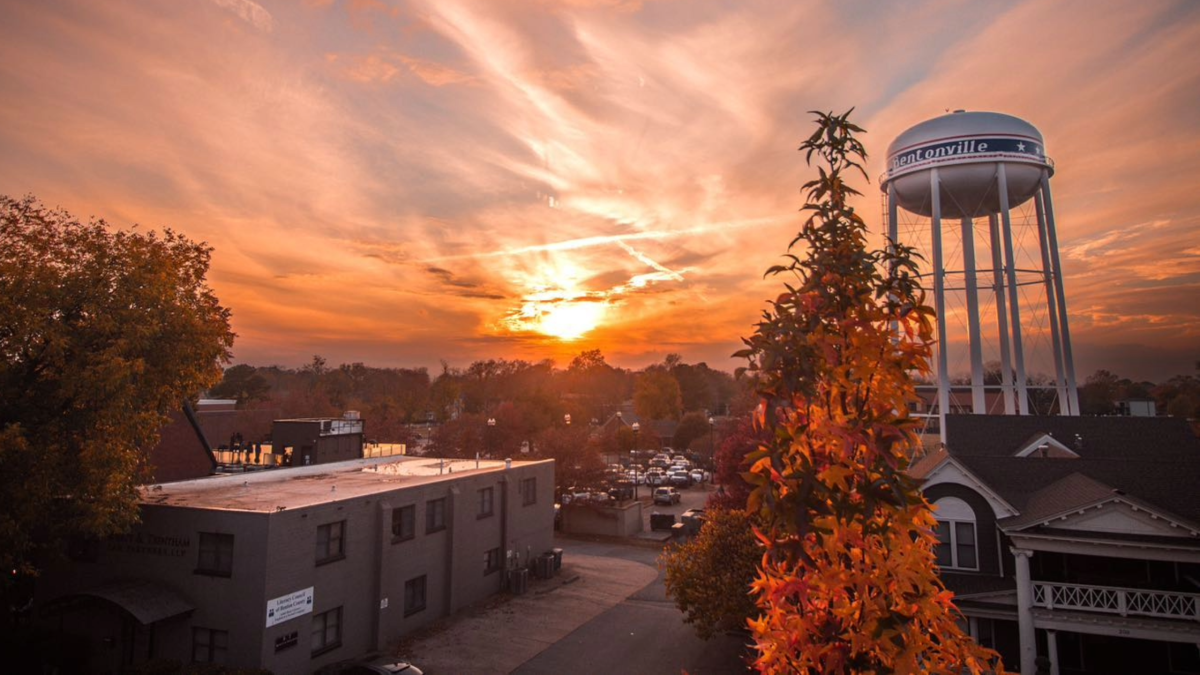 @jld_fotography
We visited Bentonville, Arkansas, for our first time in September 2023, and it exceeded our expectations!
If you haven't heard of Bentonville before, it's "the mountain biking capital of the world" and has a small town's charm that offers something for everyone to enjoy with its combination of art, history, outdoor activities, and biking trails. Read on for our 3-day itinerary of Bentonville, Arkansas. It's perfect for first-timers!
Friday:
We took a red-eye flight and arrived at XNA (Northwest Arkansas National Airport) in the morning. We ate breakfast at the Louise at Thaden Field House. It's a unique dining experience in a stunning setting because you can watch small airplanes flying in and out of the airport and eat your food at the same time. After breakfast, we took a free, self-guided tour of Peel Museum & Botanical Gardens. The home was built in the 1870s by Colonel Samuel West Peel, a prominent businessman and civic leader. The Peel Family lived in the home for over 100 years, and it is now furnished with period pieces and artifacts from the family's collection.
Then we visited the Walmart Museum Heritage Lab, a temporary, experimental space located on the first floor of the Ledger building. It opened in 2023 while the original Walmart Museum location is being renovated. You can learn about the history of Walmart and the Walton Family through many interesting exhibits! Admission is free.
For lunch, we grabbed crêpes quickly at Crêpes Paulette, a popular lunch spot. After lunch, we drove to Bentonville's neighboring city Bella Vista to visit the Mildred B. Cooper Memorial Chapel, a beautiful and historic chapel built in 1975 in memory of Mildred B. Cooper, a longtime resident of Bella Vista. The chapel is known for its stunning architecture, which features a soaring glass ceiling and a large stained-glass window. The chapel is a popular venue for weddings and other special events.
We hiked at Tanyard Creek Falls, which includes a beautiful waterfall located in the Ozark Mountains. The waterfall is approximately 20 feet tall and cascades over a series of rocks into a pool below. The water is clear and refreshing, and the surrounding rocks provide a great place to sunbathe or relax. The trail to the waterfall is easy to hike—approximately 2.2 miles round trip. After hiking, we checked in at 21c Museum Hotel Bentonville, a modern boutique hotel, contemporary art museum, cultural center, and home to The Hive restaurant. The hotel features a variety of amenities, including a gym, loaner bikes, and easy access to the city's miles of trails and downtown square. It was a wonderful stay at this nice, luxury hotel! 
We ate dinner at Yeyo's, a casual Mexican restaurant located at 8th Street Market. The restaurant serves a variety of Mexican dishes, including tacos, burritos, quesadillas, and enchiladas. Yeyo's is known for its fresh ingredients and its authentic Mexican flavors. After dinner, we visited the Momentary, a satellite contemporary art space of Crystal Bridges Museum of American Art. It's also a former Kraft cheese plant. The Momentary opened in 2020 and features a variety of art exhibitions, performances, and educational programs. We also enjoyed drinks at the Tower Bar, a rooftop bar located at the Momentary. It offers stunning views of the Bentonville skyline. The Tower Bar serves a variety of cocktails, beer, and wine.
Saturday:
We grabbed breakfast at Onyx Coffee Lab, a specialty coffee roaster and retailer. It's a popular coffee spot and serves delicious coffee! We strolled through the farmer's market on the Bentonville Square. Then, we met up with Ciara Logan and James Mattox of Shoreline Shuttle, Deaf and hearing biking enthusiasts for a half-day of biking throughout the OZ trails, Slaughter Pen, and Coler Mountain Bike Preserve. Bentonville is known as "the mountain biking capital of the world" because of an impressive trail system with over 250 miles of trails throughout Northwest Arkansas and over 80 miles of trails in Bentonville itself. We stopped by Airship at Coler, another popular coffee shop. It's a great place to stop for a cup of coffee or a bite to eat before or after a ride. The cafe is open-air and offers stunning views of the surrounding trails. We are very impressed with how creative Bentonville's biking trails are! 
For lunch, we stopped by Tavola, a popular Italian restaurant. Tavola features a variety of classic Italian dishes such as pasta, pizza, and seafood. After lunch, we visited the Museum of Native American History dedicated to the preservation and presentation of Native American history and culture. Here, you can learn about the diverse cultures and traditions of Native American peoples through the museum's exhibits and view the museum's collection of over 10,000 artifacts from Native American cultures across the Americas.
We ate dinner at The Preacher's Son, a fine-dining restaurant located in a restored 19th-century church. The restaurant is known for its creative and seasonal menu, which features dishes made with locally sourced ingredients. The atmosphere is elegant and refined. The restaurant is decorated with original stained-glass windows and hardwood floors. The dining room is intimate and romantic, making it a perfect place for a special occasion. After dinner, we went to Undercroft, a cocktail bar and restaurant located in the basement of The Preacher's Son for drinks. The bar is known for its creative and seasonal cocktails.
We ended our evening with a visit to Listening Forest at Crystal Bridges, an outdoor exhibition featuring 8 immersive installations by artist Rafael Lozano-Hemmer. We had a great time seeing amazing installations made of light, which were so colorful at night time! Listening Forest is on view until January 1, 2023. Make sure not to miss it when you're in Bentonville!
Crystal Bridges Museum of American Art
Sunday:
We ate breakfast at The Hive, the restaurant located in the 21c Museum Hotel Bentonville which is known for modern American cuisine. We went for a walk at Compton Gardens and the Art Trail to Crystal Bridges. Compton Gardens is a 7-acre garden celebrating the rich history of Arkansas natives plants. The gardens are home to over numerous champion trees, native plants, and public art from the OZ Art NWA Collection. The Art Trail to Crystal Bridges is a 1.5-mile paved trail that connects Compton Gardens to Crystal Bridges Museum of American Art. You can enjoy viewing the sculptures and stunning views of nature on the Art Trail.
We took a guided tour of Frank Lloyd Wright's Bachman-Wilson House. It is a Usonian house that was originally built in New Jersey in 1954, and moved to Bentonville in 2015. The house is an example of Wright's commitment to affordable housing and his belief in the importance of integrating architecture with nature. Wright was one of the most important architects of the 20th century. His work is known for its innovative design, its use of natural materials, and its focus on integrating the building with its surroundings.
We also took a drop-in tour at Crystal Bridges. This free, 30-minute tour offers an overview of the museum's permanent collection. The tour is led by a knowledgeable guide who shares information about the artists, the artworks, and the museum's collecting philosophy. After the tour, we ate lunch at Eleven, the restaurant at Crystal Bridges. The restaurant has a large dining room with floor-to-ceiling windows that offer stunning views of the museum's grounds.
Overall, our trip to Bentonville, Arkansas was so much fun, and we had a great time that made us wish we could stay a bit longer!