June is Pride Month, a time set aside to honor one of the most famous events in the queer liberation movement, the 1969 Stonewall Uprising. This historic event was a turning point in LGBTQ+ political activism, leading to America's first gay pride parade on the one-year anniversary of the Uprising and serving as a catalyst for many gay rights organizations. 
Pride Month is also a time when the LGBTQ+ community comes together to celebrate their identities and accomplishments, bringing alongside corporate and individual allies to amplify and show their support for this community.
In Bentonville, we have a vibrant network of LGBTQ+ creatives, business owners, teachers, and allies. We're grateful for everything LGBTQ+ people bring as part of our community, and we're committed to reflecting and celebrating with them in June and throughout the whole year. And that goes for our LGBTQ+ visitors too! 
Read on for ideas about celebrating Pride in Bentonville during June and throughout the whole year:
Check out events around town celebrating Pride Month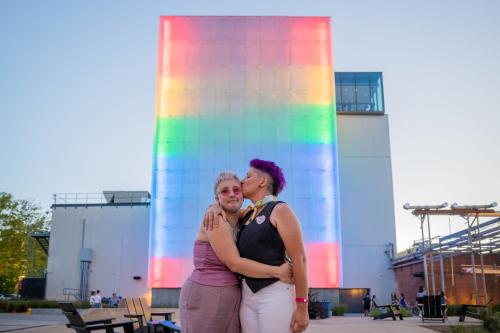 Image by Iron Lotus Creative, courtesy of The Momentary
Visiting Bentonville in June? We've got an exciting lineup of Pride Month events for you! Plan your trip around these events in town: 
Read a book by an LGBTQ+ author at Two Friends
Image courtesy of Two Friends Bookstore + Cafe
In June, Bentonville's awesome independent bookstore, Two Friends, has a thoughtfully curated display of books about the LGBTQ+ experience by LGBTQ+ authors. Stop in, grab a cup of coffee or a summer spritz, and read a new book on their beautiful patio! 
P.S. You can do this throughout the year, even when the display rotates. Just ask a friendly bookseller to point you in the direction of their selection of books by LGBTQ+ authors.
Discover artwork by LGBTQ+ Artists at Crystal Bridges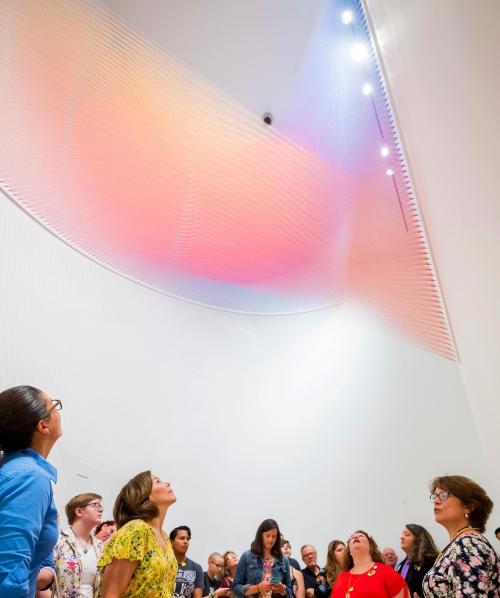 Gabriel Dawe "Plexus No. 27," 2017, thread and steel hooks. 120 in. x 132 in. x 20ft. Crystal Bridges Museum of American Art, Bentonville, Arkansas, 2015.30. Image courtesy of Crystal Bridges Museum of American Art.
Throughout art history, LGBTQ+ creatives have used their work to express themselves, promote social justice issues, explore issues of identity, recognize systems of oppression, and more. Many of these inspiring works are on view for everyone to see right here in Bentonville at Crystal Bridges Museum of American Art. 
General admission to the museum is free, so be sure to plan a visit, and keep an eye out for these artworks by LGBTQ+ artists along the way:
Tap here to explore more works in the Crystal Bridges collection by LGBTQ+ artists online! 
After you're done exploring the galleries for the day, make plans to join the Crystal Bridges team at the NWA Pride Festival on Saturday, June 24 in Fayetteville.
We're happy to help you with any additional information needed during your stay in Bentonville. Our Visitor's Center is open 9 am to 5 pm, Monday through Friday, and 9 am to 3 pm on Saturdays. Stop by and see us at 406 SE 5th Street, Suite 6.