It's been over six months since we put the One Brick Wall Gallery exhibition on hold, and I'm thrilled to say Visit Bentonville is open again, and the show must go on!  This specific series of works by artist Justine Beech has remained up, awaiting the day visitors can meet them.  I say "meet," because these works portray musicians, most of whom are no longer with us.  These musicians were based in the Delta and helped create the legendary Memphis sound, which came to be known as southern soul. Beech's series of works playfully takes you back to the music-filled walls of Stax Records in Memphis, where history was in the making on the daily. Stax was also a place where the music came first, where the music surpassed the trouble of the times. Stax featured bands, artists and staff who were culturally, racially and ethnically integrated, which was unprecedented in the 1960s South.  
Many of the names and faces you see in this series of works by Justine Beech, are of the house band at Stax, a group of musicians including Booker T. Jones, Steve Cropper, Duck Dunn, and Al Jackson, a group better known as Booker T. & The M.G.'s. A horns section made up of Andrew Love and Wayne Jackson later joined the house band, then became known as The Memphis Horns, a duo for hire, who would add their signature sound to tracks like Elvis Presley's "Suspicious Minds," Al Green's "Let's Stay Together," Neil Diamond's "Sweet Caroline," Anne Peebles' "I Can't Stand the Rain," U2's "Angel of Harlem," Aretha Franklin's "Think," Dusty Springfield's "Son of a Preacher Man," and countless others incuding Wilson Pickett, Sam & Dave, Otis Redding, the Doobie Brothers, Willie Nelson, The Racontours, Jimmy Buffet, Robert Cray, Steve Winwood, Peter Gabriel, Bonnie Raitt, Marty Robbins, Rod Stewart and Sting. 
Just think about the songs you probably hear every day, on the radio, in television shows and commercials.  I don't get through a single day where I don't hear a song that The Memphis Horns are on.  As Wayne Jackson always said, "You can't escape Wayne Jackson." That statement would go on to prove true.  
Which leads me to a personal story- my introduction to Justine Beech. True story!
I met this artist via text through a mutual friend.  As the introductory story goes, she married a guy from West Memphis, has spent a lot of time over the years in the Memphis area, and now lives in Northwest Arkansas.  I hear she has an illustration series on Stax, so I ask to see some of her work. Justine sends me an illustration that makes my jaw drop.  
Yes, I'm from West Memphis/Memphis originally.  Yes, I'm VERY familiar with Stax. And yes, that is my Uncle "Wayne" in the illustration.  How the stars align that make these moments happen, I don't know, but I'm glad they do!  I'm honored and overjoyed that artist Justine Beech allowed us to exhibit this series at the One Brick Wall Gallery at Visit Bentonville. The mini exhibit will be up through October 15, 2020.  Visit Bentonville has reopened, and this show needs to be a stop on your next downtown adventure!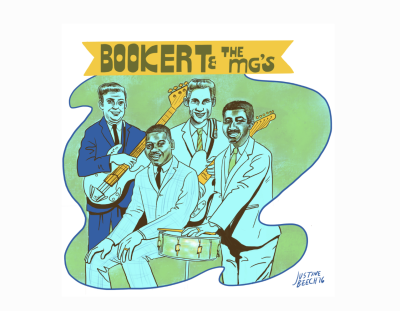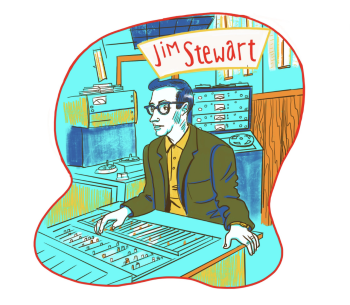 About the Artist
Justine Beech is a freelance illustrator and artist. New to Northwest Arkansas via Austin Texas, Beech grew up in New England and has spent time in West Memphis the hometown of her husband, Arkansas native and local chef, Jeff Beech. She received her BFA in illustration from Pratt Institute in Brooklyn, NY. After school, she began an interior painting and mural company painting across New York and Connecticut, and has worked as a visual display artist for Urban Outfitters, J. Crew, and Patagonia. Her artwork ranges from contemporary oil portraits and landscapes to illustration, comics, and other creative services. She has been creating custom family portraits for the past seven years through her Etsy store Etsy.com/shop/thedenarchive while raising her two kids, Ione and Milo. This led Beech to do live event portrait drawings at corporate events and graphic recording. Some of her projects include her love for cult film, and she's created a 44-page book called Video & Chill Zine. 
Beech has been inspired by her visits over the years to West Memphis, AR and across the mighty Mississippi into Memphis. History, research, and story of a subject are most often her jumping off point before beginning a series of work. In 2014, she recalls being in West Memphis the day B.B. King passed away, and she immediately drove through his old haunts drawing in ink wash from the photographs of the neighborhoods and the old juke joints. After an inspiring visit to the Stax Museum, in 2016, she created a body of work to pay homage to just some of the many great people who created Stax Records and their songs and artists, emotion, movement, freedom, which shone like a light during dark times. Stax provided a safe place where there was no difference between superficialness of skin color, they were a family, the soul of their music connected them, and it moved many people.
Beech uses a strong graphic style inspired by the 60's tour posters for musicians like Rufus, Otis, Isaac, Sam and Dave and so on. The Stax sound could only come from a specific time, place, and with these amazing musicians and support. Along with the Stax series, the collection of prints here at Visit Bentonville showcases some of her different interests, from environmentalism to other genres of music and movies.  Beech is in the process of a new body of paintings and can be spotted around Bentonville gathering inspiration and drawing at local coffee shops. 
For more visit JustineBeech.com 
About the Author:
Anne Jackson, an Arkansas native, has lived and worked in Northwest Arkansas for nearly 20 years. With a passion for and experience in the arts and nonprofit communities, Anne collaborates with artists and organizations to raise awareness and promote cultural literacy and creativity in the region.