Located about two miles away from the Bentonville Square, Coler Mountain Bike Preserve provides a whimsical escape to the outdoors. With accessible trails, a bikeable coffee shop, and artwork along the way, Coler has something for everyone, making it an ideal location to explore with your visiting family and friends.
  Inclusive for everybody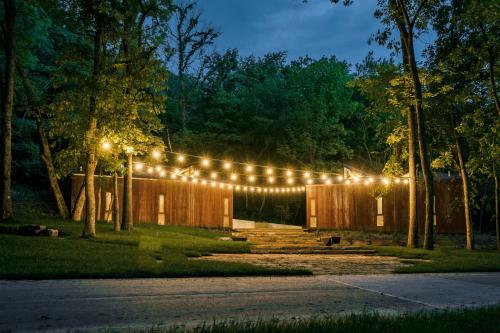 Coler Mountain Bike Preserve includes over 19 miles of trails where you'll find bikers, walkers, skaters, and one-wheelers, along with hammocking spots, natural streams, and so much more. One of the main goals of the mountain bike preserve is to provide an "outdoor destination for all walks or 'rides' of life." An example of this vision is "The Rise," a new addition of 185 stairs created for runners and walkers who want to "The Hub"— the highest point at Coler. Not to mention, they have a beautiful camping site at Coler as well with tent sections and up to 5 camper sites. When you camp here they also provide warm showers and there's wonderful scenery around you the whole time you're there!
Need a snack?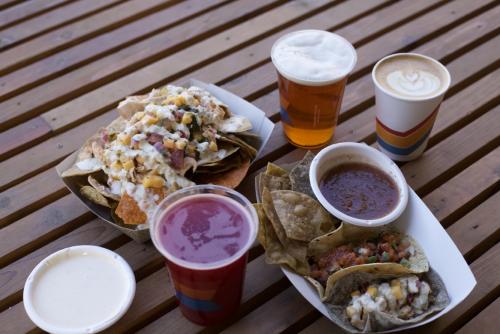 Airship Coffee has placed one of their shops in the center of Coler Mountain Bike Preserve, and it is such a refreshing place to grab a drink and relax for a while—especially after a long day's worth of play on the trails! Airship's menu includes delicious food offerings to satisfy your hunger. (Pro tip: get the nachos!) Last, one of the best things about Airship being at Coler is that you feel like you're in a remote location with the surrounding trees and trails and still have a modern coffee shop right at your fingertips.
For mountain bikers
Coler Mountain Bike Preserve is home to some of the most exciting mountain bike trails in Northwest Arkansas. With Courses tailored to all different levels of experience, you can keep coming and making progress. It's a great challenge for beginners and professionals alike. To start your ride, you'd go to "The Hub" and work your way down from there, enjoying the beautiful views and adventurous jumps. Noah Collins, professional mountain biker and outdoor recreation sales and events manager at Visit Bentonville, said his favorite parts of Coler are Thunderdome and Fireline. "You can literally do hundreds of laps of the dual slalom and increase your bike handling skills while getting comfortable in the air," Collins said. "Coler is my immediate go-to if I want a quick mountain bike ride at lunchtime."
Bonus: Artwork along the trails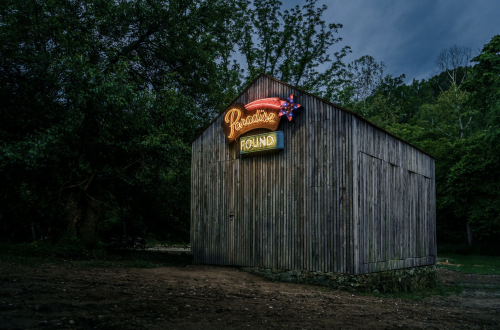 Incorporated along the main trail leading to Airship Coffee, are several incredible art installations, including a sound installation by Arkansas artist Craig Colorusso, referred to as "The Singing Bridge." Located near the first entrance on 3rd Street, the installation makes you feel like you're surrounded by a choir and metal structures. At the entrance of another trail is an installation resembling a rainbow arch. Further along the trail, you'll find barns transformed into exciting play spaces for kids. The colorful and lively trails make Coler very Instagramable, and nothing beats experiencing the power of art while walking or riding through nature.
For more information about Coler Mountain Bike Preserve, visit their website. See you on the trails soon!  
We're happy to help you with any additional information needed during your stay in Bentonville. Our Visitor's Center is open 9 am to 5 pm, Monday through Friday, and 9 am to 3 pm on Saturdays. Stop by and see us at 406 SE 5th Street, Suite 6.