For more than a quarter century, tourism has been a transformative force in Bentonville, breathing new life into the town. From hidden gems that have blossomed into iconic landmarks to the development of biking trails throughout the city, Visit Bentonville, along with several other organizations and individuals involved in the tourism industry, have played a pivotal role in stimulating the local economy, enhancing the cultural landscape, and fostering a vibrant atmosphere.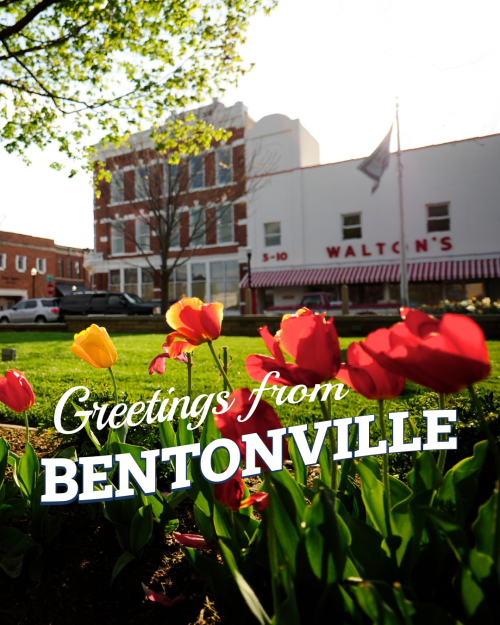 Throughout the month of August, Visit Bentonville is thrilled to highlight many of the initiatives our organization has been involved in, and we invite you to join us in celebrating all the ways our organization and industry have contributed to progress, inclusivity, and dreams realized within our city.
Visit Bentonville
Visit Bentonville began in 1996 with a vision by Bentonville's city council leadership to create the Advertising Promotion and Commission, also known as Visit Bentonville, which would fund a tourism bureau, said Visit Bentonville CEO/President Kalene Griffith. At the time, Bentonville was primarily a business destination because of Walmart, she added.
However, the town had limited attractions, the Peel Mansion, now known as Peel Museum and Botanical Gardens, and the Walmart Museum being some of the few, Griffith said. Today, the city has over 10 popular attractions, including Crystal Bridges Museum of American Art, a world-class art museum, and the Momentary, its satellite contemporary art space. That's not to mention the 80 miles of trails connecting key experiences throughout the city.
As the premier destination marketing organization of the city, Visit Bentonville's mission is to brand, promote, and sell Bentonville as a tourism destination, improving the quality of life and stimulating economic development. With that mission in mind, the organization has played a fundamental role in telling the story of arts, cycling, and culinary opportunities abundant in the destination, Griffith said.
Success Stories
Visit Bentonville has influenced and contributed to several initiatives to advance the city. The following are some of the team's proudest moments:
Each year, Visit Bentonville brings in and supports an average of 85 sporting and cycling events, resulting in a direct economic impact of $11.5 million.
Visit Bentonville is also involved in bringing in an average of 40 meetings, conferences, and retreats each year, resulting in a direct economic impact of $2 million.
In partnership with Bentonville Parks and Recreation, Visit Bentonville has invested millions of dollars into capital improvements over the years, leading to the creation of Lawrence Plaza splash pad and ice rink, Memorial Park scoreboards and turf, the Old Tiger Track, and several other projects.
Visit Bentonville has invested 200,000 in establishing Bentonville as a top-tier public arts city
Get Involved
The team at Visit Bentonville is eager to continue bettering the city for locals and visitors alike, and we look forward to what's to come in the years ahead.
You can get involved in the excitement by planning your next event, meeting tournament, race, tour and more in Bentonville. Reach out to one of the sales team members, and make the most of your visit to our charming city.
Kalene Griffith, CEO/President
Kim Krutsch, Director of Sales
John Hysell, Sports Sales Manager
Noah Collins, Outdoor Recreation Sales & Events Manager
Heather Diebold, Events Services Manager
Marlesha Scullawl, Tourism Sales & Services Manager
Want to know more? Tune in to this special episode of A New American Town and hear from Visit Bentonville team members Alison Nation, VP of communications and marketing, and Natalie Demaree, communications coordinator, as they sit down with Visit Bentonville President/CEO Kalene Griffith to talk about how Bentonville has transformed, through the lens of tourism.