Winter is coming to an end, which means spring is right around the corner! Each season provides unique opportunities for visitors to experience enjoyable outdoor and indoor activities. Bentonville is a great place to visit year-round due to the excellent weather conditions in Northwest Arkansas. In honor of the perfect weather, here is an official Bentonville Spring Bucket List for everyone to enjoy!
 
Photos: Peel Compton Foundation
Celebrate the Buffalo National River's 50th Anniversary
Compton Gardens & Arboretum is hosting the 50th anniversary of the Buffalo National River. Enjoy events and programs all throughout March such as a documentary premiere at Skylight Cinema, native plant programming sessions, and much more! More info on events & programming here.

Photo: Vintage Market Days of Northwest Arkansas
Vintage Market
From April 8th-10th, visit the Vintage Market at the Benton County FairGrounds where hundreds of booths sell unique and homemade items. Support your local business and shop at the annual Vintage market! Learn more here.
Farmers Market
Starting April 9, the Farmers Market will be hosted by Downtown Bentonville, Inc. every Saturday from 7:30 a.m.-1 p.m. and Thursday 5- 8 p.m. on the Bentonville Square. Apply to set up your own booth or shop to support our local businesses. Info here.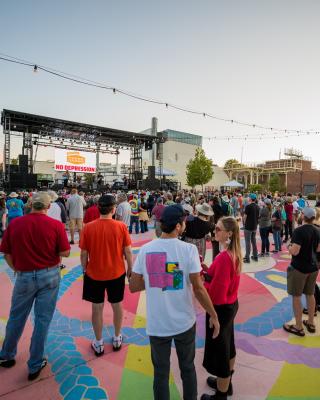 Photo by Ironside Photography, courtesy of the Momentary
FreshGrass Festival
Spanning two days (May 20-21) and multiple stages across the Momentary, FreshGrass | Bentonville is an all-ages festival celebrating today's bluegrass and progressive roots music. Knockout performances will be accompanied by fun family-friendly activities, great local food and drink, homegrown retail vendors, artist merchandise, and more! Info and tickets here.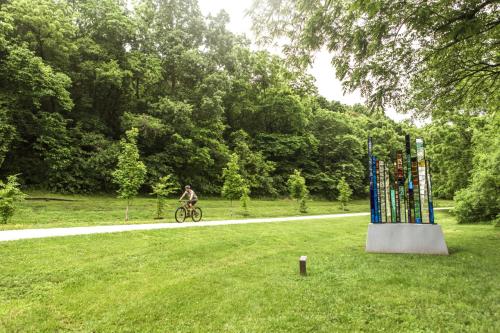 Enjoy Crystal Bridges' Trails
Bike, walk, and explore more than 5 miles of the best trails on the museum's 120-acre site! Then, head inside Crystal Bridges for famous food, coffee, and art. Discover for yourself here.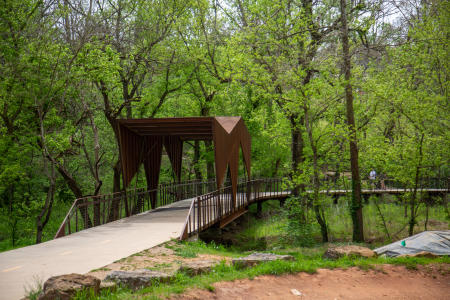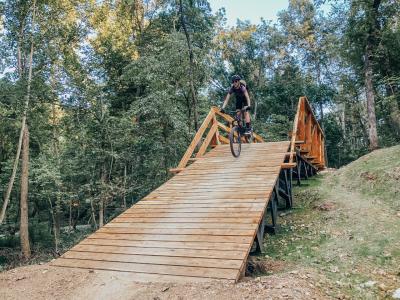 Shred the trails or walk the greenway at Coler Mountain Bike Preserve
This is the one-of-a-kind destination for nature lovers. The 17 miles of trails are waiting for you to camp, bike, walk and run! Don't forget to stop by Airship Coffee, located in Coler! See more here.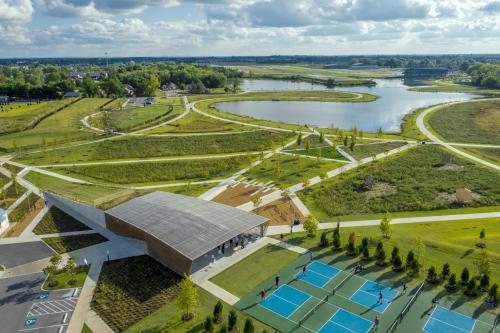 Enjoy the Outdoors at Osage Park
Don't worry, you don't have to be a professional mountain biker or marathon runner for this urban park! Enjoy all your favorite biking and running activities as well as the archery range, food trucks and pickleball courts. Take in the amazing views of Lake Bentonville, where fishing, kayaking and canoeing is welcome! Learn more here.

Thaden Field
Don't be surprised if a plane flies right over you while taking your walk at Osage Park. The Thaden Fieldhouse is connected to Osage and Lake Bentonville. Whether you are a pilot looking to learn or fly one of the many planes Fly Oz offers, or just an enthusiast looking for adventure, Thaden has it all! Book a scenic flight with a pilot or learn how to fly, anything is possible at the Fieldhouse. Adventure junkies, head here.

Slaughter Pen
Your most unique mountain biking experience yet! Find art all along the 40 miles of trail systems, which range from beginner to expert. This is why Bentonville is the Mountain Biking Capital of the World! See trail maps here.

Compton Gardens
Welcome to the green space paradise in the heart of Bentonville. This stunningly peaceful sanctuary of over six acres celebrates the rich history of Ozark horticulture. Discover lively woodlands, Champion Trees, native plants, and impressive greenery. Experience the magic of Compton Gardens and Arboretum by foot or by bike and enjoy nature and art on the trails. More info here.
We welcome you to Bentonville this spring. If you need help planning your visit, call 479-271-9153 or go to VisitBentonville.com!