Museum dates are one of our favorite Bentonville pastimes! Whether you're planning a visit with your bestie, family member, S.O., or you're taking yourself out for a stroll, our city has lots of options to explore. Read on to learn what's offered at each of the seven museums in town:
Art
Crystal Bridges Museum of American Art
Did you know there's a world-class art museum right in the heart of Bentonville? Designed by renowned architect Moshe Safdie, Crystal Bridges Museum of American Art, is a spectacular oasis of art, nature, and architecture. 
The museum's permanent collection spans five centuries of American artwork, from Early American to the present, and is always free to visit. From the trails to the galleries, you can discover works by prominent artists such as Asher B. Durand, Gilbert Stuart, Georgia O'Keeffe, Kerry James Marshall, Maya Lin, Yayoi Kusama, Félix González-Torres, Amy Sherald, and many more. The museum also includes a restaurant and coffee bar and a library for guests to enjoy.
10 am–5 pm, Sat–Mon + Wed
Closed Tue
10 am–8 pm, Thu + Fri
P.S. Check out Crystal Bridges' satellite contemporary art space and performance venue, the Momentary!
Dreaming of art? How could you not when you're sleeping surrounded by it! The 21c Museum Hotel is located on the northeast corner of the Bentonville Square. It includes 104 snazzy hotel rooms, 12,000 square feet of exhibition space, and The Hive restaurant. Even if you aren't staying at the hotel, it's worth popping in to explore the galleries, open for free every day with rotating exhibitions. 
Open 24/7
History
Created in 1990, the award-winning Walmart Museum tells the story of Sam Walton and the heritage of Walmart, the company he founded. While the museum is undergoing extensive renovations and updates, the Walmart Museum Heritage Lab is open and welcoming visitors from all over the world with free admission!
Located in Ledger, the world's first bikeable building, just two blocks south of the Bentonville Square and the renovation site, the Walmart Museum Heritage Lab gives visitors a glimpse into the future of the new Walmart Museum. Drop by and test out new exhibits, technologies, and more.
9 am–7 pm, Mon–Sat
12–6 pm, Sunday
Museum of Native American History
Situated on the ancestral lands belonging to the Quapaw, Caddo, and Osage people, Bentonville holds many Indigenous cultural practices and histories. The Museum of Native American History, established in Downtown Bentonville in 2006, seeks to honor the Indigenous people that occupied and occupy this land by dispelling myths about Indigenous people through education. Founded by David Bogle (Cherokee), the museum houses over 10,000 Indigenous artifacts and features other collections on loan. Admission to the museum is free.
11–5 pm, Tue–Sat
Closed Sun–Mon
Peel Museum and Botanical Gardens
Travel back in time to Bentonville in the 1800s with a free interactive tour at Peel Museum and Botanical Gardens, and learn about the importance of the Peel family to Bentonville's history and the thriving apple industry at that time. Then, explore beautiful displays of blooms from the Heirloom Apple Orchard to the Rose Garden in the Botanical Garden.
10 am–3 pm, Tue–Sat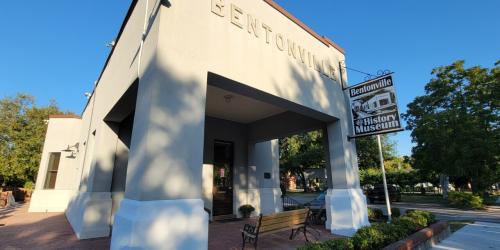 Want to know more about the unique city of Bentonville? Look no further than the Bentonville History Museum! Aiming to preserve the past for the future through collection, display, and education, this museum showcases the long and rich history of our city with free admission!
10 am–4 pm, Tue–Fri
11 am–2 pm, Sat
Closed Mon
Kids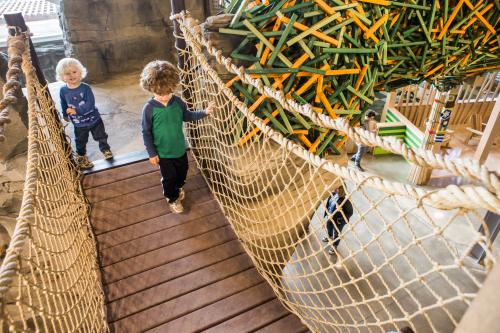 For interactive, educational play, make your way over to the Scott Family Amazeum, located across from Orchards Park in Downtown Bentonville. Featuring approximately 50,000 square feet of exhibit and learning spaces, the museum seeks to bring learning to life and enhance family involvement while evoking a sense of curiosity and discovery through hands-on activities.
Be sure to check out all the great exhibitions—both inside and outside! Admission is free to members and children under 2 and costs $12 for all others.
1–5 pm, Sun
10 am–5 pm, Mon
Closed Tue
10 am–7:30 pm, Wed
10 am–5 pm, Thu–Sat
So now that you know what's all offered, it's time for the fun part: choose the museum or museums you'd like to visit, and enjoy a museum date tailored to what suits your style!
We're happy to help you with any additional information needed during your stay in Bentonville. Our Visitor's Center is open 9 am to 5 pm, Monday through Friday, and 9 am to 3 pm on Saturdays. Stop by and see us at 406 SE 5th Street, Suite 6.