Challenged by the global housing crisis, five contemporary architecture firms propose new concepts for living spaces through full-scale prototypes installed on our grounds.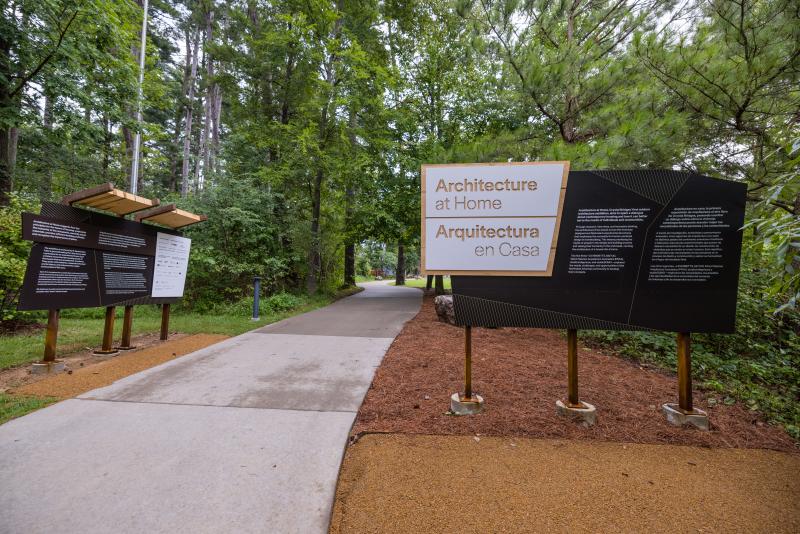 Inspired by architect and inventor R. Buckminster Fuller's lifelong mission of making "the world work, for 100% of humanity, in the shortest possible time, through spontaneous cooperation, without ecological offense or the disadvantage of anyone," Crystal Bridges Museum of American Art presents Architecture at Home, the museum's first outdoor architecture exhibition.
Five architecture firms from across the Americas were chosen to create prototypes to examine the current housing system, our relationship with the natural world, and the history of how we got here — all against a backdrop of examples of how we could live today if we designed housing that was more human. The exhibition aims to contribute to a national conversation around housing by boldly demonstrating that housing can be beautiful, attainable and connected to something innately human. The museum acknowledges that this exhibition cannot single-handedly solve the housing crisis, but can contribute ideas and be a relevant space for reflection in Northwest Arkansas and beyond.
The five architecture firms participating in this exhibition are studioSUMO, MUTUO, PPAA (Perez Palacios Arquitectos Asociados), LEVENBETTS, and studio:indigenous. These firms are led by architects from diverse backgrounds, cultures and experiences — and each surveyed the needs, challenges, and opportunities of the Northwest Arkansas community to develop their prototypes. Selected because of their unique personal stories and professional practice, these firms worked with Crystal Bridges and the larger community to listen and share ideas on how housing can work for more people.
Their housing prototypes on view in Architecture at Home are ideas — rooted in reality and hope for the future, but with an understanding that in order to succeed, we will have to change how we build and how society understands and values housing, as well as address the economic realities of materials and regulations. The exhibition utilizes these five solutions to illustrate that change is possible and provide a diverse array of creative, human-centered solutions to complex issues that surround attainable housing.
Anchored by Fly's Eye Dome, a prototype for a lightweight and affordable home designed by Fuller, the five prototype units are exhibited along the museum's Orchard Trail for all visitors to explore for free.
"The impetus for this project is the current housing realities in Northwest Arkansas," Curator Dylan Turk notes. To design and construct their installations, each firm pulled from their own personal experiences and perspectives on how we could live — the humanness of home. "My goal is to prove that affordability, beauty, and diversity in housing type can coexist when designing, regulating and developing housing. For the first time in any architecture exhibition I've experienced, these installations unite to articulate the profound influence the spaces we inhabit have on us as individuals as well as the health and sustainability of our communities and cities."
At Crystal Bridges, the vision of architects such as Moshe Safdie, who designed the museum and its forthcoming expansion, and Frank Lloyd Wright, whose Bachman-Wilson House is in the museum's permanent collection, celebrate the institution's ethos to exist in harmony with the natural environment. The works in Architecture at Home continue a tradition of inquiry and ingenuity around the concept of "home" and the realities of housing in the 21st century.
A short distance from the temporary exhibition along another of the museum's trails, Wright's Bachman-Wilson House, built in 1956, was developed to exemplify a thoughtful dwelling that might be within reach of the average middle-class American family of the era. The works commissioned for Architecture at Home press further into that exploration, bringing culturally informed details, intentional balance with landscape, and great care for the needs of people, resulting in five thought-provoking examples of architecture intended to invite discovery, conversation and action.
Architecture at Home is organized by Crystal Bridges and curated by Dylan Turk.
About the Architects
LEVENBETTS approaches architecture from the mindset of an artist. Stella Betts's and David Leven's exploration of shape, form, and structure is essential to their creative process, counterbalanced by a belief that architecture must connect with and support the people who live in it. They understand that one's relationship with a building pushes us to better understand the landscape in which we live while challenging the preconceptions of traditional building types. Focused on houses, housing, education spaces, and public libraries, LEVENBETTS has explored how people live and learn for over two decades.
MUTUO has practice is informed by their upbringings and education in Brazil and Mexico. Fernanda Oppermann and Jose Herrasti have been developing "affordable-by-design" housing solutions that simplify construction while addressing the question of what makes a home. MUTUO finds extraordinary uses for ordinary materials and methods. They use design as a tool in their pursuit to discover new perspectives to alleviate big social challenges.
PPAA (Perez Palacios Arquitectos Asociados) is driven by an architecture of ideas rather than an architecture of forms. Based in Mexico City, Pablo Perez leans on the beauty of materials to ground the firm's work in the history of a place while creating forms that signal their difference in articulating space. An advocate for attainable housing, PPAA has a track record of making buildings functional as well as beautiful. Their conception of architecture is based on an understanding of the body and the relationship everyone establishes with their surroundings. Furthermore, in order for architecture to be capable of conveying an idea of intention, it has to speak of the individual, or the sum of individuals, and the way they relate to their environment, on both a sensorial and emotional level.
studio:indigenous explores the stories, architectural traditions, and needs of Indigenous people. Chris Cornelius's research and practice opens up the architectural translation of culture. The firm's work primarily serves Indigenous clients across North America, emerging from the earth in support of the tradition, beliefs, and needs of each unique project. Heavy research in housing forms and attainability drives the firm's projects to make architecture more inclusive, culturally specific, and connected to people and place.
studioSUMO, a research-driven practice founded by the architects and educators Yolande Daniels and Sunil Bald, is informed by a humanist approach to architecture that expands and evolves the field to serve constituents and communities. Small in scale and large in concepts, the practice has earned the respect of architecture communities globally through a design-research approach that explores materiality, spatial experience, and the social structures underlying the built environment.
Visit & Engage
Architecture at Home is on view now through 2023 and is free to attend with no reservations required. The exhibition is accessible daily from sunrise to sunset along the Orchard Trail, which leads to Crystal Bridge's' main entrance. Crystal Bridges is open Mondays and Wednesdays 10 a.m. – 6 p.m., Thursdays and Fridays 10 a.m. – 8 p.m., and Saturdays and Sundays 10 a.m. – 6 p.m. The museum is closed on Tuesdays, Thanksgiving Day, and Christmas Day.
Opening Lecture Panel: Friday, August 26, 6:30 – 8 p.m.
This opening discussion celebrating Architecture at Home will feature all of the architects in the exhibition and will be moderated by the curator, Dylan Turk. Guests will gain an expert look into the themes of the exhibition, how this unique collection of works came together, and learn how the artistry of architecture can inform discussions about contemporary housing. This event is free, but tickets are required. Tickets may be Tickets may be reserved online or by calling Guest Services at (479) 657-2335.
Further programming with community partners to be announced. Digital offerings, including a microsite for online exploration and connection, are coming this fall.
Sponsors
Architecture at Home is sponsored by Ford Foundation, Airways Freight Corp., Engel & Völkers, Michelle Dearing, Ken and Liz Allen, The Incredible Building Co., Tartaglino Richards Family Foundation, and Steve and Susan Nelson. Crystal Bridges 10th Anniversary Exhibition Season Sponsors are The Coca-Cola Company, Goldman Sachs, Tyson Foods, Tyson Family Foundation, The Willard and Pat Walker Charitable Foundation, Walmart, James Dyke and Helen Porter, Christies, Sotheby's, Stout Executive Search, Trott Family Philanthropies, Del Monte Foods, Inc., Terri and Chuck Erwin, Shelby and Frederick Gans, Sybil Robson Orr, ConAgra Brands, The Kroenke Family Foundation, The Bogle Family, Rick and Beverly Chapman, Pat Cooper, Valorie and Randy Lawson | Lawco Energy Group, and Kelly and Marti Sudduth.
About Crystal Bridges Museum of American Art
The mission of Crystal Bridges Museum of American Art is to welcome all to celebrate the American spirit in a setting that unites the power of art with the beauty of nature. Since opening in 2011, the museum has welcomed over six million visitors, with no cost for admission. Crystal Bridges was founded in 2005 as a non-profit charitable organization by arts patron and philanthropist, Alice Walton. The collection spans five centuries of American masterworks from early American to current day and is enhanced by temporary exhibitions. The museum is nestled on 120 acres of Ozark landscape and was designed by world-renowned architect Moshe Safdie. A rare Frank Lloyd Wright-designed house was preserved and relocated to the museum grounds in 2015. Crystal Bridges offers public programs including lectures, performances, classes, and teacher development opportunities. Some 300,000 school children have participated in the Willard and Pat Walker School Visit program, which provides educational experiences for school groups at no cost to the schools. Additional museum amenities include a restaurant, gift store, library, and five miles of art and walking trails. In February 2020, the museum opened a satellite contemporary art space in downtown Bentonville called the Momentary (507 SE E Street). For more information, visit  CrystalBridges.org. The museum is located at 600 Museum Way, Bentonville, Arkansas 72712.