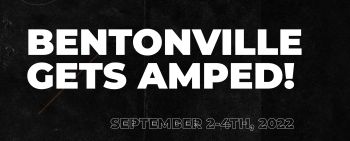 Bentonville, Arkansas has been chosen by the Amped Electric Games to host the 2022 Electric Unicycle competition, a first of its kind! 
Electric Unicycles (EUC) are self-balancing transportation devices that operate similar to the Segway, with one tire and no steering mechanism, keeping riders' hands-free and allowing them to turn in place. Like the Segway, all control is determined by the riders' leaning and pivoting.
The 2022 Electric Unicycle competition will take place at The Benton County Fairground, September 2-4, hosting over 60 booths featuring all of the major EUC manufacturers including Begode, Inmotion, and King Song. Major EUC vendors such as RevRides, eWheels, Free Motion Shop, and Alien Riders are also expected to participate. Exhibitors from crossover industries such as downhill mountain biking, BMX, skateboarding are also invited to attend the event. Booths will be available at eventhub.net.
Bentonville, Arkansas is home to world-class mountain bike trails, which EUC riders covet, making it one of the main reasons the city was selected as the host venue.  
In addition to attending the events, riders will also have the opportunity to compete at "The Thunder Dome" a dual downhill slalom at Peel Compton Foundation's Coler Mountain Bike Preserve. There will be limited space for spectators, but all of the races and events will be live-streamed on the Amped Electric Games YouTube channel.   
Participant riders are invited to purchase tickets and bring their electric unicycles to compete. Spectators will be able to purchase tickets from the Amped Electric Games website.
If you are interested in learning more about Amped Electric Games, CLICK HERE and check out an interview with James Bell with the Bentonville Chamber of Commerce!