The Ledger features bikeable exterior, local insect mosaics by John Magsam | November 27, 2022
---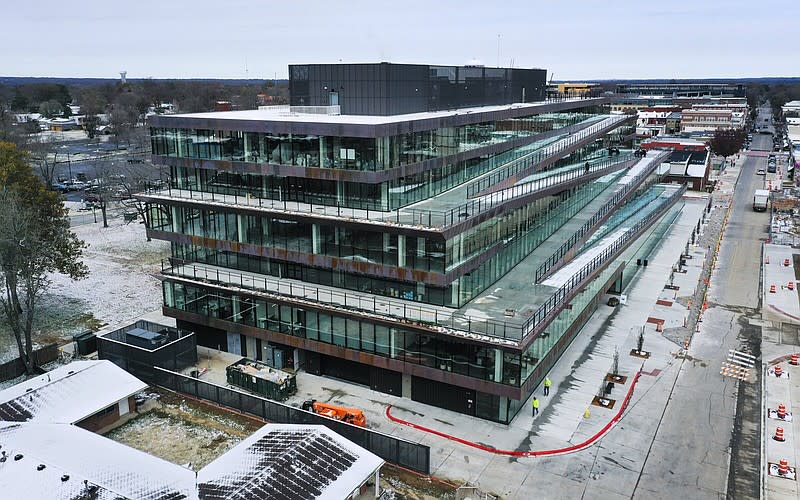 Two floors of the Ledger, a new six-story office and work space in Bentonville, are set to open this week. (NWA Democrat-Gazette/Charlie Kaijo)
---
BENTONVILLE -- The newest office building downtown is six-stories tall, bikeable, filled with art and offers a mix of traditional and fluid leasing options, and it's set to open this week.
The Ledger is a 230,000 square foot hybrid workspace with some of its areas bookable for a quick one-time meeting; a week of remote work; a month of head-down collaborating; or for even simply longer-term, dedicated office space. The Class A office building at 240 S. Main St. will provide everything from a desk or private work booth, to easily configured classrooms, boardrooms kitchens, and even dedicated event space. The building's ground floor is open to the public.
The first and second floors are scheduled to open this week. The sixth floor will open in 2023, the fourth floor in 2024 and the fifth floor is currently uncommitted with a variety of uses under consideration.
The property is filled with 260 works of art in many mediums. Zigzagging ramps on the outside of the Ledger allow biking along exterior's shared spaces and patios, floor by floor, all the way up to the building's roof. The Ledger also serves as a spot for retail, hosting Mertins Eye & Optical, Specialized Bike Center and is the temporary home for the Walmart Museum Heritage Lab.
Its interior and exterior are meant to reflect the Bentonville community as a place to work, play and enjoy life.
"We want to give you just a little nibble of Bentonville," Mary Best, the Ledgers' director of operations and community, said during a recent tour.
Bentonville is known as an art center, home of Crystal Bridges Museum of American Art and a companion art space called the Momentary. It also dubs itself as the Mountain Biking Capital of the World. It's downtown is ground zero for the city's focus on the arts and outdoors.
Debbie Griffin, director of administration for the city of Bentonville said the Ledger was the first of its kind in the city because of its unique fully bikeable concept. She said the Ledger -- and the Peloton building which followed -- each have built nearby parking structures that will help alleviate congestion.
She said city planners and the project's developers worked closely to make sure the structure meshed well with the existing downtown and its plans for future development.
---
November 27, 2022, by John Magsam, Northwest Arkansas Democrat Gazette