A road trip from Eureka Springs, Arkansas, to Pawhuska, Oklahoma, is fun. This route is definitely worth exploring, from historical sites and charming small towns to restaurants that are sure to please any palate. We took this road trip last fall, and it was an excellent experience. 
In this article, we'll share some of the most beautiful and interesting stops along the way. So if you're planning a road trip in this area, be sure to add these spots to your itinerary!
BENTONVILLE, AR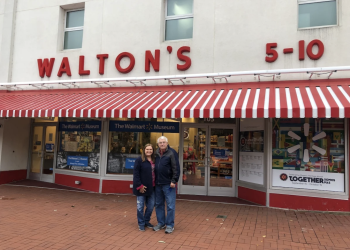 AUTHOR, ROBIN SMITH AND HUSBAND, OUTSIDE WALMART MUSEUM (PHOTO CREDIT: ROBIN O'NEAL SMITH)
Bentonville was a wonderful surprise on our road trip. I wanted to see the Walmart Museum and had no idea what a fascinating and vibrant town it would be in. Bentonville is delightful with something for just about everyone. It is larger than I imagined but has that small-town charm that makes you feel comfortable and safe.
​Story by Robin O'Neal Smith | Travel Awaits