Hear "Arkansas," and you probably think of Bill Clinton. Maybe you think of Maya Angelou. Or the Delta Blues and musicians like Al Green, Glen Campbell, Johnny Cash, and The Band's Levon Helm. Maybe you think of salt-of-the-earth cotton and soybean farmers toiling underneath the hot sun. Or perhaps you think of the Little Rock Nine integrating with a formerly all-white school. That's the thing about a trip to Arkansas: you can't define it in just one image, sentence, or event. It's constantly evolving and surprising you. And the only way to begin understanding The Natural State is to see it yourself. Here are ten destinations that should be on your Arkansas bucket list.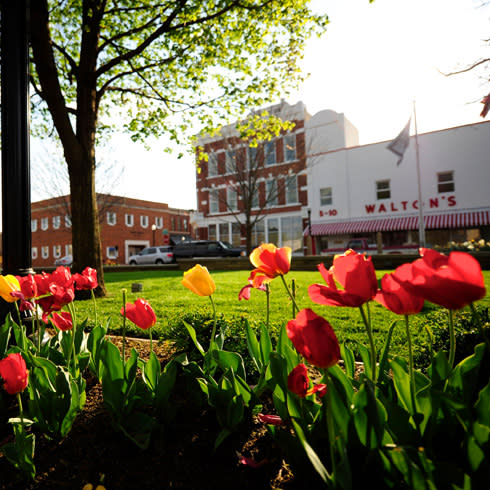 1. Bentonville
Bentonville isn't the largest city in Arkansas, but it's one of the most famous. This is where Sam Walton opened Walton's 5 and 10 which would later become Walmart. Visit the Walmart Museum next to the original five-and-dime on the town square to learn the story of the world's largest retailer.
In recent years, Bentonville has become a must-visit destination for arts and outdoor adventure. Be sure to visit the Moshe Safdie-designed Crystal Bridges Museum of American Art, boasting a collection that includes works by, among others, Norman Rockwell, Jasper Johns, Andrew Wyeth, and Jackson Pollock. Don't miss out on the Momentary, a contemporary art space for visual, performing, and culinary arts that occupies a decommissioned cheese factory. Want to spend time in nature? A trail network of over 40 miles connects Bentonville's parks and scenic spots, including Coler Mountain Bike Preserve. It's not for nothing that Bentonville calls itself the Mountain Biking Capital of the World.
And that's just the beginning. Explore the Museum of Native American History, Thaden Field, Osage Park and the Scott Family Amazeum, an interactive children's museum, as-well-as a vareity of local shops and must try culinary delights throughout the city.
UPDATED JULY 18, 2022 by DOUG MURRAY, HGTV