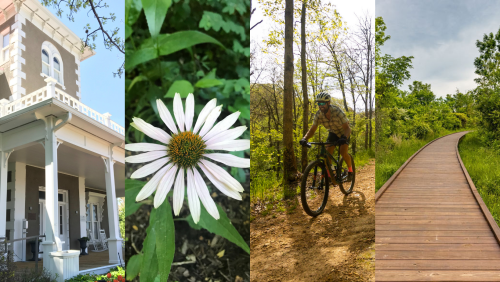 Peel Compton Foundation has free spaces centrally located in Bentonville, Arkansas for all to enjoy. As a local non-profit, Peel Compton Foundation strives to connect the community through nature, education, recreation, and preservation. You can enjoy unique a unique wetlands experience at Osage Park, ride at Coler Mountain Bike Preserve, walk the gardens at Compton Gardens and Arboretum, or open the doors to history at Peel Museum and Botanical Garden.

Osage Park is the ultimate urban park full of natural experiences and recreational adventures. It's a destination for visitors of all ages, interests, and abilities. You can become a champion archer, a leading conservationist, or simply a curious explorer. Access our floating boardwalks around the park's 12-acre wetland ecosystem or try out the unique programming at The Quiver Archery Range. Whether you want to explore the native wetlands, play pickle ball, visit the dog park, enjoy live music, or connect with your surroundings, the adventures at Osage are endless.
Upcoming Events and Programs:
Plants of Osage, July 17th at 9am
Mindful Nature Walk, August 14th at 8:30am & Sept. 25th at 9:00am
A Day at Osage Park, August 28th, 10am-6pm

At Coler Mountain Bike Preserve you will find the opportunity to shred on your bike, run on the trail, stroll on the walkway, camp with friends, or relax with your family in nature. With truly something for everyone, Coler is an outdoor destination for all walks (or rides) of life. Its mountain bike trail system is maintained and operated at a world-class level and is the mecca for mountain bikers looking for the most diverse array of options in Northwest Arkansas. For low-key adventure, it offers walking trails and various features for celebrations, events, or reflection.
Upcoming Events & Programs:
Mountain Bike School, July 10th at 1pm
2 Day Gravel Bike Camp, July 17th & 18th
Girls Nature Retreat (Ages 11-14), July 19th-22nd

All are welcome at Compton Gardens and Arboretum, a greenspace paradise in the heart of Downtown Bentonville. This stunningly peaceful sanctuary of over six acres celebrates the rich history of Ozark horticulture, including the conservation efforts of Dr. Neil Compton who led the fight to save the Buffalo River. Visitors at Compton Gardens will discover lively woodlands, Champion Trees, native plants, and impressive greenery. Experience the magic of Compton Gardens and Arboretum by foot or by bike and enjoy nature and art on the trails.
Upcoming Programs & Events:
Dr. Compton Days, August 2nd-6th

Take a step back in time at Peel Museum and Botanical Garden and explore period pieces and artifacts dating back to the 1800s. Your experience extends to the gorgeous botanical garden that surrounds the Peel Museum. The seven gardens and grounds are inspired by the Victorian era and boast blooms of the season.
Upcoming Events & Programs:
Littles in the Garden, July 14th and 18th at 8:30am
PODCAST
Listen to the latest interview with Peel Compton Foundation HERE