What to expect at Oz Trails Off Road 2021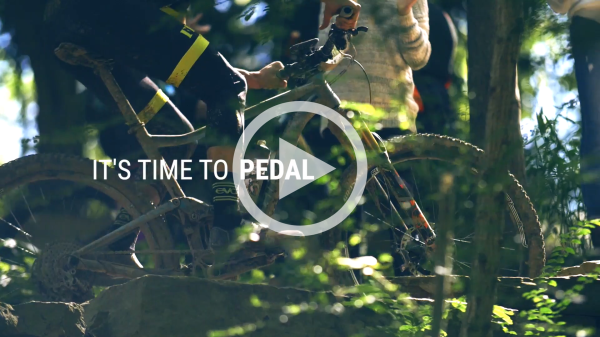 Video: Oz Trails Off-Road
Epic Rides / Bentonville is this weekend (Oct. 15-17)! Below is everything you need to know, from the new 2021 OZ Trails Off-Road courses to the official pro roster list to the schedule of media events you won't want to miss.
OVERVIEW
With help from Visit Bentonville, Explore Bella Vista, and Red Bull, riders and racers will be able to pin it from Downtown Bentonville on 15, 30, and 50-mile routes that navigate to the backwoods of Bella Vista and return to the start/finish located off of Bentonville's town center. 
The greatest difference from the 2019 course, is the 30 and 50-mile routes have been reversed. According to Trailforks, the mapping software and app of choice for Epic Rides, the 15-mile route is green while the 30 and 50-mile routes are considered blue and black level routings accordingly. The 50-mile route includes 3,615 feet of elevation gain. However, don't let the low cumulative gain be misleading, the sawblade course profile is guaranteed to force attrition. 
Upwards of 90% of attendees will travel from outside the region to experience the Mountain Bike Capital of the Worlds unique trail offerings. "We recruit the top trail builders from across the country to push the envelope of trail design and construction," said Walton Family Foundation Program Officer, Gary Vernon. "Trail builders in the Oz region are encouraged to experiment with their craft which results in true innovation. Racers will have the opportunity to ride features that are one of a kind works of art that give the experience of what we call memorable moments as they traverse the route."
The OZ Trails Off-Road routes include Ledges, All American Trail, Blowing Springs Loop, SBAT, Rago, Taylor Holmstead and A-Street Jump Line. With more than $75 million invested in soft and hard surface trails in the region to date, the list of destination-worthy trails included in the course is truly endless.
Safety and participant success are top-of-the-mind and the Cities of Bentonville, Bella Vista and Benton County Sheriff's Department proudly offer police escorts for each neutral rollout start plus traffic control at high profile road crossings. 
A Red Bull Energy Station located in the final 10k of the 30 and 50 routes will be the starting point for a Strava segment to crown the fastest amateur male and female to complete the final 10k of the course.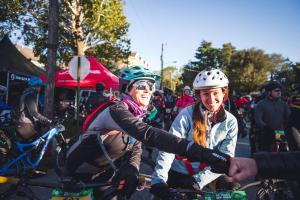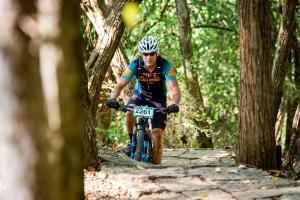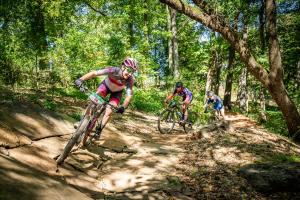 COURSE MAPS
PRO ROSTERS AS OF 9/24/2021
Women's Pro Roster:
Men's Pro Roster: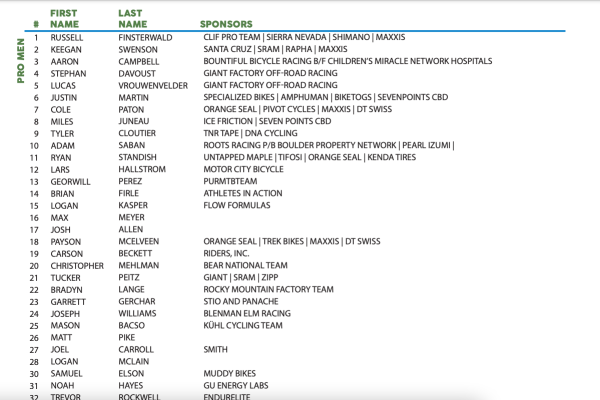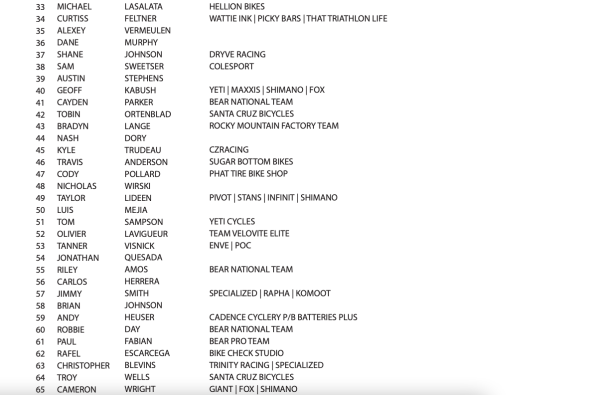 MEDIA EVENTS
Friday, October 15th
1 p.m. | Pro Racer's Panel @ Main Stage
2 p.m. | Ozark 15 Fun Ride
5:30 p.m. | El Yucateco Women's Pro Fat Tire Crit
6:15 p.m. | El Yucateco Men's Pro Fat Tire Crit
7:15 p.m. | Pro Fat Tire Crit Awards & Amateur Rider's Meeting @ Main Stage
---
Saturday, October 16th
7:15 a.m. | Pro Men Backcountry Race Start
7:20 a.m. | Pro Women Backcountry Race Start
8 a.m. | Ozark 50 Backcountry Ride Start
9:15 a.m. | Ozark 30 Backcountry Ride Start
10:15 a.m. | Estimated First Place Pro Male Finisher
10:45 a.m. | Estimated First Place Pro Female Finisher
12:30 a.m. | Headlining Kyle Tuttle Band on Main Stage
2 p.m. | Pro & Amateur Awards Party on Main Stage
5:30 p.m. | Post Ride Parties @ Meteor Cafe, Hub Bike Lounge & Bike Rack Brewing
---
Sunday, October 17th
8 a.m. | Group rides starting from downtown Slaughter Pen trailhead
---
Registration is available on-site this weekend! For all other information, CLICK HERE!