Biking is a significant part of Bentonville culture, establishing community and driving a positive economic impact for our city. Aside from just plain enjoyment, bike commuting has numerous benefits, like boosting your mental and physical health, decreasing your carbon footprint, and saving you money on gas. But getting started for the first time ever—or for the first time this season—can be intimidating, and you may have a lot of questions about what to wear, how you'll carry your stuff, where you'll put your bike, and what to do if it rains.
To help relieve some of those concerns, here are four easy steps to think about ahead of your ride to work, school, brunch, or wherever else your wheels may spin to!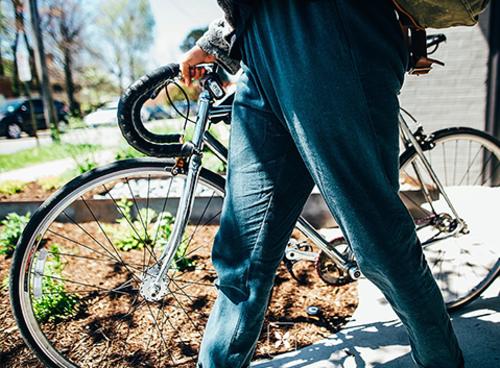 Step 1: Choose your bike
This is the fun part, and honestly, any bike will do as long as it's in working condition. However, if you're looking to purchase a bike specifically for commuting, we suggest looking at an "upright" or "cruiser" bike with multiple gears. This style of bike prioritizes comfort, so it's really great for short trips. A couple of other things to think about are making sure your bike is outfitted with fenders, lights, and racks or baskets. (More on that last one later!)
Step 2: Pack for your ride
Be prepared! Always check the weather before heading out for the day. If the forecast is looking drizzly, rain capes and waterproof packs and panniers are a great choice for staying dry. You could even bike to your destination in clear weather and carpool back with a friend if the rain is starting later in the day. If it's really going to come down, please plan for the safest option, and definitely don't ride through a thunderstorm.
A common concern is what to wear for your bike commute, especially if you're going to work or another location where you'd like to be a little more dressed up. A few brands make office athleisure clothing, but maybe you don't want to buy a whole new wardrobe, or maybe it's still not dressy enough for your situation. Consider packing extra clothes to change into when you arrive. Pro tip: try rolling your clothes to limit wrinkles. 
Do you have errands to run after work? Don't let that be a barrier to enjoying the ride. Equip your bike with a rack and attach a pannier so your bike does all the heavy lifting for you, or consider a cycling backpack if you prefer.
Step 3: Be safe
It's a good idea to test out your biking route beforehand, preferably not during rush hour. This way, you can build confidence in your route and be safer on your way to work. Another benefit is that you can time your commute, and give yourself a good estimate of how long it takes you to get from point A to point B at a comfortable speed. Here's a map of the Bentonville trails, in case you'd like to plan it out on paper first.
Cyclists are expected to follow all traffic rules. So, be sure to obey all traffic lights and road signs, pay attention to commuters around you, and wear protective gear (especially a helmet!)
Step 4: Park your bike
One of the perks of living in a thriving biking community like Bentonville is that there are a lot of bike-friendly offices, schools, restaurants, museums, and hotels with bike racks. You can just ride up to your destination, and find a spot on a bike rack to park! Be sure you have a bike lock to attach to your bike so it's safe while you're away. If your employer doesn't have biking amenities, you could start a conversation highlighting the benefits of adding them.
Join the bike-to-work movement! Discover more information about biking in Bentonville through the following groups:
Trailblazers NWA Park and Rides
Visit Bentonville is happy to help you with any additional information needed during your stay. Our Visitor's Center is open 9 am to 5 pm, Monday through Friday, and 9 am to 3 pm on Saturdays. Stop by and see us at 406 SE 5th Street, Suite 6.