Kalene Griffith serves as the President/CEO of Visit Bentonville, the premier destination marketing organization of Bentonville, Arkansas, and a powerhouse within our community. This year, Griffith celebrates her 18th anniversary with the organization. We had the opportunity to hear what truly inspires her in this role and gain insight into some of the things she's observed regarding Bentonville's remarkable growth over the past several years. Read on for the full interview with Griffith: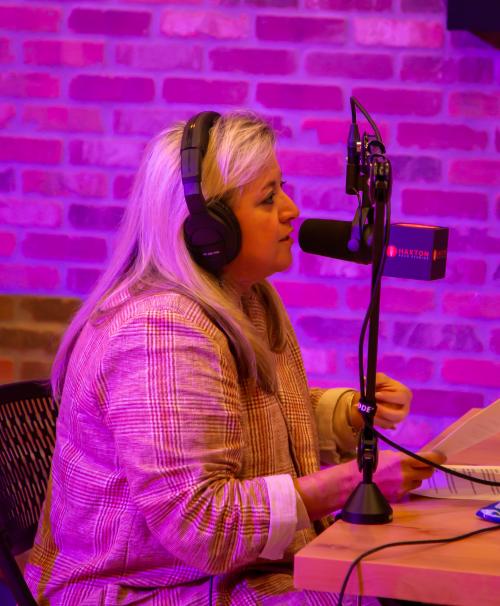 Kalene Griffith, President/CEO of Visit Bentonville. 
Do you remember your first time visiting Bentonville? What was that experience like for you?  
The first time I visited Bentonville was when my parents moved here in August of 2004. I was blown away by the beauty of the Ozarks and the friendliness of the people.
When did you start your role at Visit Bentonville? 
I started working as President/CEO in August of 2005. Over the last 18 years, I've had the wonderful opportunity to partner with so many community leaders to bring some big ideas to life. 
What inspires you about your work?
I'm inspired and energized by the people that I work alongside and the opportunities I have to see so many people succeed. This is a community of innovators. There's always somebody thinking about what to do next, and our city is unique in that we don't just throw out ideas and forget about them. We collaborate with each other to make that idea even better and eventually bring it to life. Innovation happens daily here, and that is really exciting to me.   
Who is someone that you look up to professionally? Why?  
I really look up to my parents. My mother was independent, high energy and always encouraging, and my father was logical, hard-working, level-headed, supportive, and inspirational. They taught my siblings and me to find something that makes us happy, have fun in life, care about others, work hard, strive to be the best, and most importantly, that we could be anything we wanted to be. 
What were some of your professional experiences before coming to work at Visit Bentonville? 
Before working for Visit Bentonville, I had experience working for Dodge City Parks and Recreation, Walt Disney, the YMCA, plus a few part-time jobs in the hospitality industry, including being a waitress, working the front desk of a hotel, working as coliseum security, working as an usher, and working in retail. 
Did you always know this type of work was for you?  
I thought I was going to be a teacher, but my career path brought me to special events and hospitality. I fell in love with tourism during my time at Walt Disney. Experiencing the everyday magic, the training, the hospitality, the relationships, and the way we put guests first at Disney really made me aware of how passionate I was about this type of work.
What's the best piece of professional advice you've been given?
I've had several mentors encourage me to think of myself as a life-long learner and to have fun. I think if you're not having fun at your job, you should go find a new one. 
What makes you passionate about Bentonville?  
Hands down, the people. Our community is filled with so many forward-thinking leaders that I feel so fortunate to work with every day. They inspire a can-do attitude, which is valuable in bringing to life so many of the wonderful experiences our city is home to.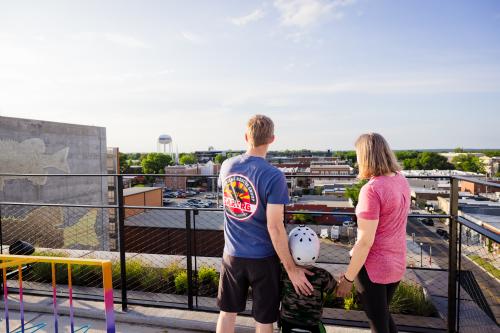 Views of Downtown Bentonville from the top of Ledger, 2023. Photo by Drager Creative.
How have you seen Bentonville change over the last 18 years?  
When I first moved to Bentonville, we didn't have a lot of restaurants and retailers on our Downtown Square, and the experience was very limited. At the time, one of our only restaurants in the downtown area was the Station Cafe, but today, we have over 20 restaurants in the downtown area and numerous retail shops! These businesses contribute to the bustling environment our city is known for today.
How have you seen tourism impact the community during your time at Visit Bentonville? 
When I started, we were a pass-through destination of people coming into town, seeing Walton's 5&10 and the Peel Mansion, and then finishing their trip in another community. I think over the last 18 years, we've had the opportunity to develop as a leisure destination, with the opening of Crystal Bridges Museum of American Art and being named the "mountain biking capital of the world" as the catalyst. This has really instilled a lot of pride in our community and continues to benefit both local citizens and visitors alike.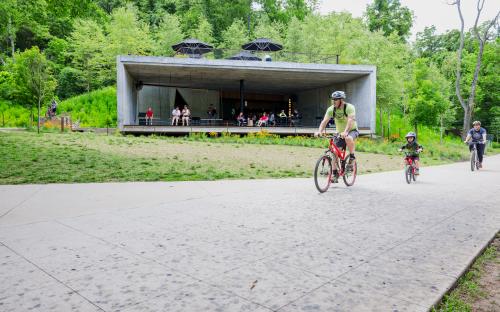 Biking past Airship at Coler Mountain Bike Preserve, 2023. Photo by Drager Creative.
What are your favorite spots in Bentonville to bring family and friends when they visit?  
Everything in Bentonville is my favorite, but since time is limited, our itinerary typically includes strolling through the galleries and trails at Crystal Bridges Museum of American Art, a visit to the Museum of Native American History, an afternoon at the Walmart Museum, riding our world-class trails, touring the Peel Museum & Botanical Gardens, walking Compton Gardens, attending a concert at the Momentary, and of course, stopping to enjoy breakfast, lunch, and dinner at the many amazing restaurants in town!
Could you describe your perfect day in Bentonville?  
The perfect day in Bentonville for me is always going to be with my family. We'd gather and go for breakfast, we may hit the farmer's market on a Saturday morning, my daughter and I may go shopping at the boutiques downtown, we'd get on bikes and head to Coler Mountain Bike Preserve, and just enjoy time experiencing all the fun things we have in the community. In the evening maybe we'd dine at a place where we can enjoy live music while eating.
We've heard you've recently gotten into gravel biking. Tell us about it! 
I am just starting, and I have only been out a few times, but I'm building up my miles with short rides. So far, I love gravel biking because I get to enjoy the peaceful and quiet views of the Ozarks and connect with a region I am deeply fond of.
What are you most proud of regarding the work your team has accomplished?  
One of the things I'm most proud of for Visit Bentonville is that we are a team player. We focus on working with different organizations to make things happen, and we are part of a community that really wants to see great things happen. We are a collaborator and a partner in many initiatives from both a tourism standpoint and a community standpoint. We want to see what's best for Bentonville, and we're excited to continue to see growth and new opportunities for both locals and visitors.
What are some projects you're excited about that the team is working on? 
We have so many projects happening. A big one I'm excited about is our new website and our public art map and I.D.E.A. initiatives.
What's a funny office memory?  
We have a lot of fun in our office. One year, our staff dressed up as the characters of "The Wizard of Oz" for Halloween and all went for breakfast before work. It was a day of laughs, entertainment, and team bonding.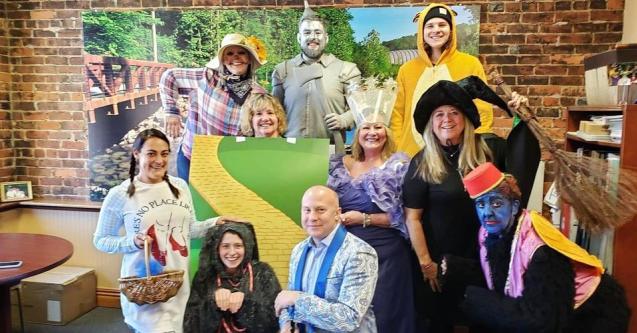 The Visit Bentonville Staff as characters from "The Wizard of OZ," Halloween 2019.
Where do you see the organization in five years?  
Wow, great question. There are a lot of new developments happening in our city today, so in five years, Bentonville will look totally different. The Crystal Bridges Museum of American Art expansion will be completed, we'll have an opened Whole Health Institute next to it and the Alice L. Walton School of Medicine, the new Walmart Headquarters will be opened, there will be a couple of new hotels downtown along with the Quilt of Parks development and new biking trails, and many new restaurants! 
As a community, we value creating engaging experiences for tourists as well as improving the quality of life experiences for our locals. These new developments will open the door for new visitors along with inviting back past visitors. All of these things allow for our neighbors' businesses to continue succeeding. 
Anything else you'd like people to know?  
The most important thing I have learned in the past 18 years of working in this role at Visit Bentonville is that it's people and collaboration that create success. At Visit Bentonville, we have new partners every day, making our work a great environment for brainstorming. In the tourism industry, it's all about working together and supporting each other, and that's really what I love about it.