​Rendering by Polk Stanley Wilcox; Community Lawn, View from J St. (Photo: Business Wire)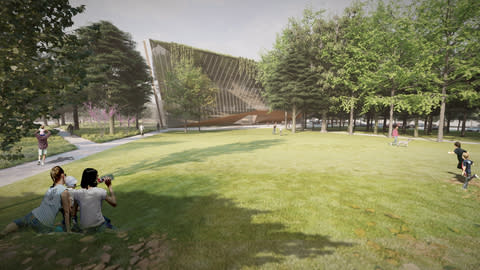 BENTONVILLE, Ark.--(BUSINESS WIRE)--Today, Alice L. Walton School of Medicine announces the next steps in its development, including a new name reflecting its founder's commitment and plans for a state-of-the-art medical education facility to be built in Bentonville, Arkansas.
"The School of Medicine is poised to be an inspiring learning environment that supports well-being, emphasizes innovation, and equips future physicians to be agents of change"
A Name Rooted in its Founder's Vision
Founded in 2021 by philanthropist Alice Walton, the School of Medicine, (formerly named Whole Health School of Medicine and Health Sciences), will offer a four-year, medical degree-granting program that integrates conventional medicine with holistic principles and self-care practices. Taught by leading medical practitioners and scientific minds, the first-of-its-kind medical school will help students rise to the health challenges of the 21st century with a focus on mental, emotional, physical, and spiritual health and will include an attached clinic for clinical training in these concepts. The School of Medicine seeks to be a national medical school with the goal of welcoming its inaugural class in 2025, pending programmatic and institutional accreditation.*
READ THE FULL ARTICLE HERE!