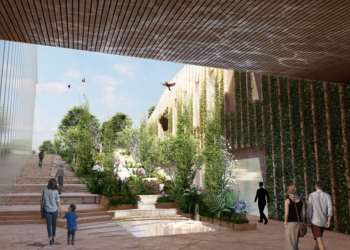 BENTONVILLE, Ark.—Walmart heiress Alice L. Walton is putting her significant philanthropic muscles behind a new medical school, which will bear its dreamer's name when completed in a few years.
The state-of-the-art Alice L. Walton School of Medicine, formerly known as the Whole Health School of Medicine, was first announced in 2021 by Walton herself.  It will offer a four-year medical degree that incorporates both traditional and holistic medical practices into its curricula.  The school will be set up to treat physical as well as mental health afflictions, while also focusing on the overall spiritual health of the patient.  The school will sit near the Crystal Bridges Museum of American Art, which was also funded by Walton's generosity—and which remains free to the public.
The new four-story, 154,000-square-foot medical school will encompass lecture halls, classrooms, a library, clinical learning spaces, student longue, theater, wellness areas and offices for administrative staff.  Parking will be available both underground and at the main entry level.
By Eric Althoff