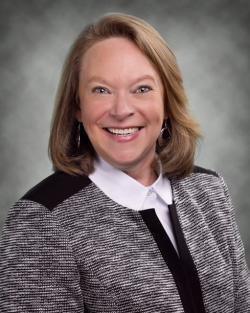 BENTONVILLE, Ark., May 31, 2023—Visit Bentonville, the tourism and promotion bureau of Bentonville, Arkansas, is excited to announce the hiring of Kimberli Krutsch as sales director. Krutsch started in the position in March.
A graduate of the University of Central Missouri, Krutsch has worked for almost two decades in hospitality and accommodations in northwest Arkansas. She previously served as director of sales for Courtyard by Marriott Bentonville and Towneplace Suites by Marriott Bentonville. Since 2015, she has served as general manager of Staybridge Suites in Rogers. 
"I am overjoyed to join the Visit Bentonville team," Krutsch said. "As a sales manager and general manager with local Bentonville hotels, I've been able to see the sizable impact of Visit Bentonville's efforts on tourist visits and occupancy rates. I'm excited to help with the organization's ongoing work spreading the word about everything Bentonville has to offer."  
"Kim brings exceptional knowledge and experience to our team with her strong leadership background as former general manager and director of sales at numerous hotels," said Kalene Griffith, CEO and president of Visit Bentonville. "Kim's focus on expanding Bentonville meeting sales to include niche markets, like the aviation and medical industries along with other associations and corporations, will build on the competitive advantage our city has, with respect to economic impact in the hospitality industry."
About Visit Bentonville
Visit Bentonville is funded by the Bentonville Advertising and Promotion Commission which was established in 1996. The commission is supported by a 2 percent tax on lodging and meeting space and a 1 percent tax on restaurant and dining establishments. The organization's mission is to brand, promote and sell Bentonville as a tourism destination; improving quality of life and stimulating economic development. Visit Bentonville leads the planning of sports, meetings and group tours while also marketing leisure experiences that include arts, cycling, culinary, film, music and aviation. Visit Bentonville also collaborates with tourism offices throughout the state of Arkansas to create positive economic impact while increasing tourism amenities for both visitors and residents.
For more information, please visit www.visitbentonville.com.